How to Avoid Fighting and Managing Disagreements with Love
Still having unpleasant or blow up arguments?
Don't worry, it does not have to be a sign that your marriage is seriously on the rocks. But there are signs that you might be fighting and reacting in ways that are not helpful. Recognizing these signs are the first step to managing disagreements with love.
When you argue, do you do these unproductive things?
Walk away

Yell

Yell louder

Throw things

Walk out of the house

Go silent and withdraw

Throw in the "kitchen sink" of what bothers you

Accuse your partner of things

Call your partner bad names
This list is not complete, but you can see how these behaviors worsen disagreements and impede the healthy habit of managing disagreements with love.
Here are some tested tips that will help in conflict resolution for couples. Try out different ones to see which ones fit your style and relationship to facilitate the process of managing disagreements with love.
There is not just one way—there is your way as a couple to understand and follow through with relationship conflict management.
How to deal with disagreements in a relationship
Recognize the signs that you are getting too steamed up. Typical signs are:

Sighing

Itching to walk away or tune out

Feeling your fists clench up

Feeling your body getting hot

Feeling your jaw clench up

Thinking of getting divorced—for good this time.
One of the simple ways to deal with a disagreement effectively is to tell your partner that you need to take a break to calm down. Stay in or near the room in plain sight.
Or, if you are the one with a cool head, say: "Let's get in a good place emotionally to cool down. I love you. Let's hold hands, let's breathe in slowly together." This one act of kindness will go a long way in managing disagreements with love.
More tips for solving relationship conflicts
This tip comes handy while you are aiming for managing disagreements with love.
It is a good idea to display photos of you two together during happy times. Keep them in rooms where you tend to disagree: your bedroom and bathroom, the kitchen—and even in the glove box of your car! Then, look at them whenever you feel trouble brewing.
While you are each cooling down, think about how you would like your partner to approach you if you were the one to be upset.
You can "edit" what and how you want to bring up the topic.

Keep your disagreement on the issue. Don't mention everything that has been bothering you.

Don't get sarcastic. That nasty tone is too hard to forget.

Be aware when you start your sentences with these words: "You always…" These two little words are like lighting up the entire matchbook!

And please don't fall for the old but potent: "You're just like (fill in the blank: just like your mother, sister, father, brother, uncle, and so on.)

Pick a time to talk that does not have any distractions. If the issue does not need immediate solutions, pick another day. You can even schedule your talk on a "fun" day where you will be in a better mood.

Learn to develop quick and easily understood ways of signaling your partner about the topic you want to discuss. For example:
Pick a number that lets your partner know the urgency and/or significance of the topic to you. For example, you could say that on a scale of one to fifteen, the importance is 12. This number says: important.
Come up with a solution, even if it is tentative. Sometimes, you need to "try out" a few solutions. Couples often give up when they can't find the perfect answer. There may never be a perfect answer. Besides, problems can "morph" into other ones which then need a modified or different solution. Couples are always in flux. Life changes.
Finally, if you really want to be brave and bold, do the "I Am Thinking and Feeling" as though I am you, and I am "Telling Your Story."
This technique is a powerful tool for managing disagreements with love and is one of the ways happy couples deal with disagreements differently.
You might need to let go of your initial discomfort of pretending you are speaking as though you are your partner, but, if you are brave enough to use this approach, it has the power to yield the most lasting results. Remember to "stay in character" as your partner.
Here are the steps to use for just about any issue
Imagine you are your partner. As your partner, you will always talk in the first person, present tense ("I am.")

Speak as though you are your partner and explain your feelings about the issue or decision. Be sure to include fears and any stories from the family.

Switch, so that the other person speaks like they are you.
When you get used to letting yourself become your partner, the solution emerges organically.
If you still cannot resolve the issue, seek help. Don't think that getting professional help is a sign that your relationship is on the brink of ending.
Remember, even happy couples can run into brick walls
However, it is the way happy couples deal with disagreements differently that fortify their relationship despite the conflict.
Talk it out together with someone you respect such as a therapist or religious leader who specializes in couples and you will be well on your way to managing disagreements with love.
Share this article on
Want to have a happier, healthier marriage?
If you feel disconnected or frustrated about the state of your marriage but want to avoid separation and/or divorce, the marriage.com course meant for married couples is an excellent resource to help you overcome the most challenging aspects of being married.
Learn More On This Topic
You May Also Like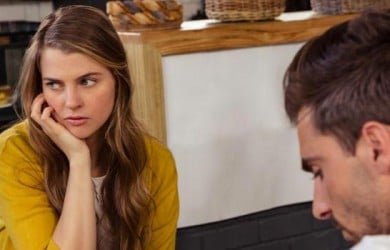 Popular Topics On Married Life