10 Ways To Stop Being Stubborn In A Relationship
As important as it is to stand your ground and be true to yourself, there is a fine line between being assertive and stubborn. This applies to all relationships, whether it's a platonic relationship or a romantic relationship.
However, the issue of stubbornness is a prevalent problem in romantic relationships. If you or your partner is being stubborn in a relationship, it can be very evident. This can lead to a lot of tension and conflict in the relationship.
So, what does being stubborn mean? When a person shows persistent determination in not changing their behavior or belief, even in the face of adequate opposing evidence, or they cannot compromise or collaborate or comply with others to reach a middle ground, they show stubborn behavior.
Stubbornness from either or both partners in a relationship can even jeopardize the future of a romantic relationship. It is very important to stay true to yourself and your values and beliefs, but there should be some wiggle room.
Long-lasting relationships are built on a foundation of trust, respect, good communication, and compromise. So, if you want to know how to stop being stubborn in a relationship, you've come to the right place! Read on to learn how to tackle stubbornness in relationships.
What are the Reasons Behind Stubbornness?
One of the best ways to overcome stubbornness is to understand why you or your partner are being stubborn in a relationship. Once you have a clear understanding of the cause of this issue, it will be easier for you to find ways to deal with this.
Identifying and accepting anything negative impacting your relationship can be an excellent way to start dealing with the issue. So, what causes stubbornness? Here are some probable causes of being stubborn in a relationship:
Often, stubbornness may stem from a place of

self-image

. You may be headstrong about something because you may feel like that's just who you are as a person about that specific issue.

Another reason might be because you or your partner believe that being stubborn may be the only way to fulfill your needs or desires.

Maybe you have been taken advantage of in the past, or you may have been overlooked for your contributions, so you feel the need to be headstrong in your relationship.

There is a chance that you or your partner both view acts of negotiation or compromise as a weakness, when in reality, it is a strength, especially when it comes to

long-term relationships

.

Suppose a person is prone to feeling anxious very often and generally, or they have a hard time trusting people (even loved ones) or

have certain insecurities

. In that case, they may have a stubborn personality.

If your partner is very stubborn, it may also be because they have an overwhelming

need to control the different aspects of their life

. A highly internal locus of control may lead to a headstrong personality.
Related Reading: 

Does Stubbornness Pay Off in a Relationship
10 ways to stop being stubborn in a relationship
When it comes to being stubborn in a relationship, there a re several ways to overcome stubbornness. Let's first take a look at some strategies you can apply to not be stubborn in your romantic relationship:
1.Try to accept the fact that you may not always be right
One of the first things you can consider implementing is fully accepting that every human being is flawed. Nobody is perfect. No one can behave in the right way at all times.
Whenever you feel like, "why am I so stubborn?" be mindful about reminding yourself that maybe your action or behavior in the situation in question may not be correct.
2. Work on your listening skills
As mentioned earlier, a good communication system between two partners is fundamental for a good relationship. Whenever you feel like you're stubborn or your partner says that you're stubborn, it may be because you're not listening to what they're even talking about.
It's important that you actively listen to what they're saying before jumping to your conclusions.
3. Reserve your judgment
This pointer goes hand-in-hand with the previous point. When you listen well to the conversation, you will get an idea of the whole picture. Try not to interrupt or voice your opinion before your partner is done speaking. Listen to the information and consider everything and then, tell your part.
4. Build trust slowly
A lot of the time, to change a stubborn personality, you may have to build on how much you can trust your partner.
If you've been taken advantage of in the past, take time to get to know a person slowly. This will help you build your trust slowly and stop being stubborn in a relationship.
5. Understand what is important to your partner
Every individual has a specific set of topics or issues that are very important to them. Identify what your partner values or considers important. If those things are not very important to you, try not to be headstrong or adamant about those things.
For example, if your partner says that he/she/they work better when their desk is a little messy because it helps them be creative, you can consider not insisting your partner clean up their desk. Your partner's untidy desk is not going to harm your life.
Related Reading: 

How to Regulate Your Emotions From Destroying Your Marriage
6. Take a pause
If you have gotten into an argument with your partner who is adamant, try to pause for some time. Take a breather. Excuse yourself. Walk out of the room and go somewhere you can be alone (e.g., the bathroom, balcony, etc.).
Try and shake it off and come back to talk to your partner. This can reduce the tension.
7. Breaking your point into segments
Perhaps the best stubborn relationship advice is to understand that when your partner is very headstrong, they're not listening to what you're saying.
To effectively deliver your opposing opinion to your partner, try to break up the information into smaller segments.
When opposing information is broken into smaller segments, it will become easier for your partner to listen to that information and understand it.
Related Reading: 

Tips to Be a Better Listener in a Relationship
8. Plan your conversations
Now, this doesn't apply to any interactions between you and your partner. If you know that whatever you're going to say is going to render a headstrong response from your partner, that's when you have to apply this strategy.
You can strategically plan how you're going to have the conversation with your girlfriend or boyfriend. Break your main point into sub-points and try to frame how you're going to have this conversation and prevent your partner from being stubborn in a relationship.
9. The environment matters
If you plan on having a conversation about something that can potentially make your partner behave stubbornly, the time and location of the discussion are important. This will increase your chances of being heard.
For instance, try talking to your partner when she/he is not engaged in some other activity (eg, cooking, cleaning, work, in the bathroom, etc.). Have the conversation when they are free.
Related Reading: 

Conversation in Marriage: Dos and Don'ts
10. Prioritization is essential
A great way to reduce conflict and constant bickering is to identify what's most important to you and your partner, but separately. You can request your partner to make a list of their priorities, and you can make a list of what is most important to you.
You can communicate with each other if you have certain non-negotiable matters. It's best for both partners to have a clear idea of what they can and can't live without.
Learning how to stop being stubborn in a relationship consists of adopting strategies that need to be implemented slowly and steadily.
If you are still in the learning phase, here's a quick video for you to check out:

Related Reading: 

Does Stubbornness Pay Off in a Relationship
Building a Strong Connection to Overcome Stubbornness in a Relationship
When you or your partner aren't listening to what the other is saying or are not willing to come to the middle ground, these are examples of being stubborn. One of the best ways to tackle being stubborn in a relationship is by slowly strengthening the connection between the partners.
According to stubbornness psychology, a stronger connection between you and your lover can increase the long-term potential of your relationship. Often, when you are dealing with a stubborn partner, there may be a lot of arguing or bickering.
However, you and your partner are both in control of what you choose to focus on in your relationship. To stop being stubborn in a relationship, focus on how you both can build your future together. Focus on the positives of your bond.
Both of you can consider trying to operate as a team. When you and your lover work like a team, there is enormous potential to move past the negative past!
So, is being stubborn bad? It's all about balance. Standing your ground on matters that are on top of your priority list is important. But being stubborn about anything and everything can hamper your relationship.
Now that you know how to deal with being stubborn in a relationship, go ahead and implement these strategies!
Related Reading: 

Improve Emotional Connection With Your Partner
Conclusion
Stubborn behavior in a relationship can weaken your bond with your partner. Even if you are a headstrong personality, you need to overcome stubbornness to save the relationship with your partner. This way, you both can lead a happy life together.
Share this article on
Want to have a happier, healthier marriage?
If you feel disconnected or frustrated about the state of your marriage but want to avoid separation and/or divorce, the marriage.com course meant for married couples is an excellent resource to help you overcome the most challenging aspects of being married.
Learn More On This Topic
You May Also Like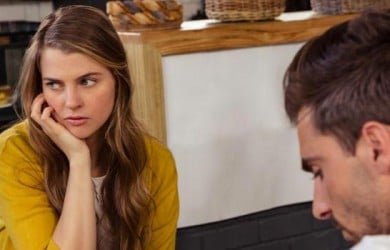 Popular Topics On Married Life