Be Warned! Social Media Can Harm Your Marriage!
Social media as a networking tool
The success of social media cannot be neglected as it serves as a platform to interact while transcending the space-time relationship into subsistent worldly embodiment on your screen.
It facilitates faraway relationships, and as parallel realities merge into a collective reality, you discover it as a captivating and addictive tool to engage in.
Social media is thrilling with topnotch opportunities, stimulating exposure and exploding with latest trends and technology, hence bringing people closer to share values and embark journey toward freedom of expression whilst fulfilling the social needs of man.
Social media – A devil in disguise in your marriage
Social media, on the flip side, has a dark side when it comes to living an actual life and maintaining relationships.
As much as it offers various opportunities for couples to connect and advance on the same grounds, i.e., engaging in online businesses, earning and promoting projects, fighting for common causes, taking a plunge on online couple therapy or online marriage counseling, etc., social media promotes hurdles in running the marathon of marriage.
While marriage bridges the physical gap, extravagant use of social media polarizes you emotionally from your partner.
Furthermore, excessive sharing on social media can rob a couple of intimacy and charm.
The trolls, bullying or unnecessary criticism you may receive on your shared stuff on social media can also cause you to suffer mentally, consequently distancing you from your spouse.
Social media rears overwhelming negative emotions such as envy, insecurity, constant comparisons, distractions, greed to pursue more, unnecessary expectations, toxic behaviors, commitment issues, dissatisfaction with life and inadequacy followed by temptations and paranoiac obsessions.
These feelings negatively affect your mental and emotional health.
Being sucked up on social media, couples do not find time for each other which creates friction between them, and unless they work on solving their problems, it is a risk to their marriage.
The perfect and illusory social media world is a mere deception that people genuinely long for.
Excessive use of social media can cause stress, anxiety, isolation, depression and reduced social skills in couples, giving rise to the paradox effect which stimulates the desire for perfection, limelight, high capital, material resources and a dream life while finding no viable or practical options.
This endless race can lead to your 'have it all' social media life, but you lack it in real life which makes you further disconnected and vulnerable with yourself and your partner. Besides, seeking validation through electronic mode adds to the absurdity of life.
Fear of missing out (FOMO)
Social media breeds the fear of missing out on so much happening around in the digital world.
Though it provides us with the perks of visual experiences of new adventures, global news, entertainment and stuff, it makes us ignorant of our physical surroundings, our friends, family, colleagues and their demands. This blindness can be an ultimate cause of the decline of marital relationships.
Surveillance on current partners and check on ex-partners
The exaggerated relationships, fake materialism and unnecessary exhibition of personal life on social media give rise to the possibility of deep-rooted problems.
When a spouse doesn't fulfill the continually rising expectations, it causes disappointment and eventually these feelings of hurt to boil into a colossal rage for your partner.
Amidst of all the marital issues, social media provides a platform for couples to check on their partners or their ex.
This continuous surveillance can prove to be heartbreaking to some individuals, arising their suspicions over their partners.
They find distractions pleasing and hence hook online with others until they find their new confidant while depriving their marriage of their time or effort. This provokes higher chances of cheating on your spouse eventually.
Social media can display an epic show at your wedding, but marriages require spending time together to nurture a relationship with your partner. It is important to remember that every couple is unique.
According to Relational Dialectics Theory, "Romantic partners have to try to balance the effects of forces trying to bring them together and pull them apart simultaneously."
Therefore marriages need to be looked after and require a dedicated investment of time, effort and commitment. The moderate use of social media allows a couple to prioritize their needs and strike a balance between their individual and social lives.
It also helps to appreciate and cheer each other on and cherish the time spent together, hence eliminating the possibility of marital disputes.
Couples can tag each other, make common friends or indulge in common online activities but share on social media and the number of likes received is not the merit of relationship success.
Thus to groom your marital relationship, it is important to respect the relationship between privacy and boundaries, combat the negative feelings driven by socially poisonous people and have a solution-oriented approach toward every dispute. Last but not the least; couples need to express love – the foundation of marriage –in a rightful manner because:
"Love is patient; love is kind. It does not envy, it does not boast, it is not proud."
Share this article on
Want to have a happier, healthier marriage?
If you feel disconnected or frustrated about the state of your marriage but want to avoid separation and/or divorce, the marriage.com course meant for married couples is an excellent resource to help you overcome the most challenging aspects of being married.
More On This Topic
You May Also Like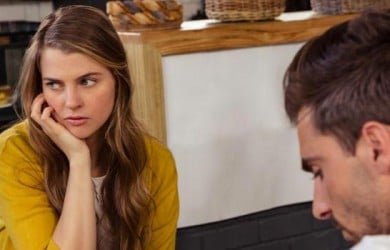 Popular Topics On Married Life