4 Crucial Steps for Finding Closure After a Failed Relationship
Have you ever heard anyone make the comment, "I just need closure from my last failed relationship."
As a number one best-selling author, counselor, and minister, David Essel hears these words regularly as he works with clients from all over the world.
So what is the best way of finding closure in a relationship? Here's where it might get surprising.
Below, David talks about how to get closure from a past relationship. He talks about the 4 steps to follow for moving on from past relationships and finding closure from a failed romantic relationship, something that everyone should focus on in life.
"If you don't come to closure after a failed relationship, if you don't let go of that past relationship, you are doomed to repeat a very similar fate in your future ones.
Relationship closure
Finding closure means we let go of our resentments, hurt, disappointment, and frustrations.
Finding closure after a failed love relationship means we take responsibility for our role in the dysfunction, yes we have a role, to let ourselves off the hook and move forward.
People that don't come to closure? Are jaded. Impatient in love. They are looking to exit the next relationship before they may even have a reason to end it!
We become insecure. Our confidence in love decreases when we still have bad relationships from the past hanging in the wind, and we haven't resolved them.
Now, this is important: there is no need to come to closure in the physical sense, by sitting down and talking with a former partner.
This usually blows up in your face!
The normal method that happens here, as you sit down with a former partner saying you want to come to closure, you want to leave on good terms.
But before you know it, one person is justifying that they weren't the problem that you were, then you're justifying back to them that if they didn't do 'x,' you wouldn't have done what you've done… It turns into a nightmare.
Instead of wasting time trying to get your former partner to sit down and talk, in person, or on the phone, let's follow four crucial steps.
Steps for finding closure
1. Express yourself through letters
Finding closure means that you take the time to work with a professional and write letters of frustration to your former partner that will never be sent to them!
These letters are only for you and the professional to read, outlining all of your anger, disappointment, resentments, and maybe even rage at what they've done in the past.
When you've written multiple letters, it might take 14 straight days or even 30 straight days to get all of this poison and anger out of your system; you're ready to go on to phase number two.
2. Moving towards forgiveness
Not only is forgiveness essential for finding closure but research has also suggested that forgiving a partner is an important factor in maintaining romantic
Once you know for sure that you have no more resentment, anger, or rage at your former partner, we go into forgiveness letter writing.
We write letters to our former partner, once again never sent to them, forgiving them for everything we were angry about in phase 1.
This allows you to get off the hook. It has nothing to do with letting your former partner off the hook; when you forgive them, you are now free to move towards finding closure.
3. Take responsibility
Call yourself out, in letters to yourself, with the things you did in the past relationship that was dysfunctional, not nice, whatever word you want to use.
Are you passive-aggressive? Were you dominating? Were you codependent? Were you a bully? Were you a pushover
Did you not speak with honesty those things that were going on in your mind?
These are all of your responsibilities!
Did you shut down when you needed to be open and discuss tough topics? Did you start to eat more or drink more or smoke more or watch more television, or maybe even did you start to work more to avoid the situation at home?
Everything that you did, and you're probably going to have to work with a professional to go deep here; you need to call yourself out on it.
4. Forgive yourself
Here, you forgive yourself for everything you wrote about in phase 3.
You forgive yourself for being obstinate, stubborn, passive-aggressive, you forgive yourself for being the isolator, the avoider. You forgive yourself for everything you've ever done in this past relationship that was not healthy.
Working with a professional can help you get to the core and see things that we might not be able to see on your own.
Also watch: How self forgiveness leads to light, love and a joyful life!
When you do the above four steps, you are going to be in this place of grace. You will drop your jadedness towards the opposite sex, you will drop your resentments and rage and anger at former partners, and you will be free!
But whatever you do, and 99% of the cases of people that try to sit down with the former partner and try finding closure, it blows up in our faces.
Take the time, hire a professional, go through the four stages above, and you will find yourself to be light as a feather, open, ready, and able to immerse yourself in another love relationship… Once this work has been done."
David Essel's work is highly endorsed by individuals like the late Wayne Dyer and celebrity, Jenny Mccarthy, who says, "David Essel is the new leader of the positive thinking movement."
To work with David one on one, to help you come to closure with any past relationship that is still creating internal distress, reach out to him at www.davidessel.com.
Share this article on
Want to have a happier, healthier marriage?
If you feel disconnected or frustrated about the state of your marriage but want to avoid separation and/or divorce, the marriage.com course meant for married couples is an excellent resource to help you overcome the most challenging aspects of being married.
Learn More On This Topic
You May Also Like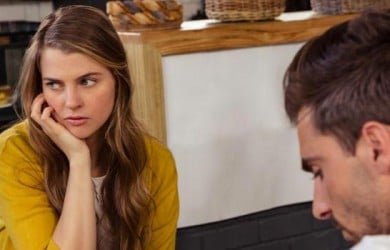 Popular Topics On Married Life