How to Give & Take Constructive Criticism in Relationships
Criticism is a normal part of relationships.
When you spend your life with someone, you will inevitably disagree with them or disapprove of something they did from time to time. While criticism can often be thought of in a negative light, it doesn't have to be that way. Sometimes, criticism is a necessary part of life.
You may have to give your partner feedback about something they did that rubbed you the wrong way or had a negative impact on the relationship, from your perspective.
Learning how to give constructive criticism in relationships can help you to give feedback in a way that your partner is likely to be receptive to, so the relationship can grow. Being able to accept constructive criticism from your significant other is also a part of the equation.
Related Reading: 

10 Opportunities for Relationship Growth
What is constructive criticism
Constructive criticism can also be labeled as positive criticism, as it does not come with the negative connotation that criticism in general can have. According to researchers, there are several features of constructive criticism:
It is non-threatening.

It avoids placing blame on the person.

It gives specific information.

The person giving it uses a considerate tone.
Constructive criticism is in contrast to more hostile forms of criticism, in which a partner is inconsiderate or threatening when offering feedback. The intent of hostile criticism is to hurt someone's feelings, whereas constructive criticism serves as a form of feedback that is intended to improve a relationship.
For example, some constructive criticism examples might be:
"I've noticed that when you come home from work you are often short with me, and this makes me feel like I'm a bother to you. I think it would be helpful to our relationship if you would change your approach toward me when you get home."

"I appreciate that you take the time to plan date nights with me, but when we meet up for dinner, you are often late. Would you be willing to make more of an effort to be on time?"

"It has been bothering me that you leave your dirty clothes lying on the bathroom floor in the evening. It would be helpful to me if you could make an effort to put them in the laundry basket. Is this something that seems reasonable to you?"
As you can see with the above examples of positive criticism, the intent is not to insult the other person, but rather to give specific examples of behavior and request change that will result in the growth of the relationship.
Importance of constructive criticism in relationships
Constructive criticism in relationships is important because it is an alternative to hostile or destructive criticism, which can be harmful to relationships.
In fact, relationship expert Dr. John Gottman describes criticism as one of the "four horsemen" that can lead to the breakup of relationships. The difference with this type of criticism vs. constructive criticism is that negative criticism represents an attack on a partner's character, leading to hurt feelings.
On the other hand, constructive criticism can help to avoid the negative consequences of destructive criticism.
Constructive criticism is important because it helps relationships to grow instead of damaging them. When two people enter into a relationship with each other, they bring with them different viewpoints and life experiences.
This means that they will inevitably have differences of opinion and misunderstandings from time to time. Constructive criticism helps couples to develop a deeper understanding of each other and find solutions to manage their differences so that the relationship can grow.
Related Reading: 

How to Deal with Differences in Relationships Constructively
Benefits of constructive criticism in relationships
It is also important to note that healthy relationships require a certain degree of vulnerability in order to achieve emotional intimacy. When people avoid any and all criticism, including constructive criticism, they miss out on opportunities to grow closer to each other.
Check out these benefits of constructive criticism:
Growth within the relationship is certainly a benefit of constructive criticism and helps partners bond better.

Research

has shown that constructive criticism actually leads to higher relationship satisfaction, meaning that partners who give each other positive criticism are actually

happier in their relationships

.

Furthermore, offering constructive criticism can help people to cope with difficult tasks. If your partner is experiencing stress regarding a situation at work, offering some constructive criticism may just give them the push they need to get through it.

Accepting constructive criticism within a relationship is also healthy. While partners certainly want to have more positive than negative interactions with each other, it is inevitable that there will be disagreements from time to time.

It would be a disadvantage to the relationship for both partners to hold their concerns inside and avoid discussing problems. Constructive criticism offers an opportunity for two people in a relationship, to be honest with each other and work through their differences in a healthy manner.

Being able to offer positive criticism to each other builds trust,

creates healthy communication,

and allows partners to be honest and transparent with each other.
Related Reading: 

Healthy Communication For Couples: Speaking From the Heart
10 ways to give constructive criticism to your partner
Now that you understand the benefits of constructive criticism, it's time to put what you know into practice. Consider the following ten methods of how to give constructive criticism:
1. Express what your needs are
When we give hostile criticism, we tend to state what our partner is doing wrong, which doesn't offer a solution. Instead, tell your partner what you need them to be doing differently.
Hearing what they are doing wrong, or what their flaws are, can wear on your partner, but if you give specific feedback about what you need, your partner can actually do something with it, rather than sitting and listening to what you dislike about them.
2. Prepare for multiple scenarios
Before you approach your partner regarding your criticism feedback, consider how they might react, thinking of multiple potential reactions. Prepare for how you will respond in each case to avoid having an overly emotional reaction in which you say something hurtful that you do not mean.
3. Begin on a positive note
It can be helpful to begin your constructive criticism with a compliment or an acknowledgment of something positive your partner has done, so they will be more receptive to your request for change.
4. Avoid character attacks
This may seem obvious, but it is easy to fall into the pattern of attacking your partner's character when you attempt to give criticism. Avoid making statements such as, "You're so sloppy!" This is a blatant attack and is by no means constructive.
5. Admit when you are wrong
No one is perfect, and your partner will be more open to your constructive criticism if you admit there are areas in which you need to improve, too.
If you bring a communication problem to their attention, for instance, you might indicate that you realize that you also need to work on your communication skills, and explain to them what you will be doing to resolve your role in the problem.
6. Be willing to accept your partner
Sometimes when partners have a disagreement and one person offers criticism to the other, there is no right or wrong party. Two people may simply have different viewpoints, so you have to accept that your partner may not agree with your feedback and may not see a need to change.
If this is the case, you may have to let the issue go and choose acceptance.
Related Reading: 

How To Deal With Disagreements In A Relationship
7. Be willing to table the issue for later
You may attempt to give constructive criticism but find that your partner becomes defensive. If this is the case, you may have to end the conversation and agree to revisit it later.
8. Ask for permission to converse
Instead of assuming your partner is open to your critique, it can be beneficial to ask if they are willing to have a conversation. You might begin by saying, "I have noticed something that is bothering me, and I am wondering if you might be open to having a conversation."
You can also show respect for your partner by asking if it is a good time to talk, rather than confronting them with constructive criticism at a time that may not be best for them.
9. Be cautious about what you say
Since it is important to come across as being non-threatening and considerate, you will need to choose your words carefully when giving constructive criticism in relationships. You may want to rehearse what you will say, or consider multiple ways of expressing yourself before deciding upon the best course of action.

Related Reading: 

Romantic Gestures: How to Express Yourself
10. Express vulnerability
Being vulnerable with your partner can soften their defenses and make them more open to listening to what you're saying. Instead of attacking them for being late or for forgetting your anniversary, you may express that you felt fearful or neglected.
When you express yourself in this way, your partner understands that you are coming from a place of pain and asking for their help, rather than demonizing them.
5 ways to take constructive criticism
Taking constructive criticism is also an important part of a relationship. Consider the following strategies for how to handle constructive criticism when it is given to you:
1. Take some time to process what your partner is saying
When someone offers criticism, even if it is constructive, your initial reaction may be to become defensive. Instead of reacting, take some time to process what your partner has said, and consider if there is truth to their statement.
2. Take time to listen
Just as you might become defensive when presented with criticism, it is also possible to react by interrupting your partner or simply waiting for your turn to speak.
Instead of taking this approach, make an effort to truly listen, so your partner will feel heard. Sometimes, people just want validation that their feelings are recognized.
Related Reading: 

4 Tips to Be a Better Listener in a Relationship- Why It Matters
3. Be open to compromise
You might not agree with everything your partner is saying, and that's entirely acceptable, but even if you aren't on the same page, it can be helpful to compromise.
Perhaps your partner is expressing hurt or frustration over the amount of time you spend with friends, and you may not be willing to give up all of that time, but maybe you would consider planning one date night a month in place of going out with friends, as a way to compromise.
Check out this video to understand the benefits of compromising in a relationship:

4. Ask questions
When your partner offers constructive criticism, you may have questions, and it is okay to ask them! Asking questions can help you to explore the issue further so you understand your partner's point of view.
If they express that they are offended by a behavior, you engage in or a statement you make, ask questions about what they found to be so offensive. This can help you to get to the root of the problem.
5. Be willing to make improvements
If your partner offers constructive criticism and you realize there is some truth to what they are saying, make an effort to change your behavior.
It can sometimes be difficult to swallow your pride and admit to your own imperfections, but when doing so benefits the relationship, both parties win.
Remember, true constructive criticism is meant to offer you feedback so that you can make positive changes, so as hard as it may be to admit to your faults, accepting the feedback and taking action benefits you as well.
Conclusion
People may be fearful of constructive criticism in relationships, but two people will disagree from time to time. Using hostile criticism and attacking each other is not healthy for the relationship, but neither is holding in feelings until they cause resentment to build.
By being considerate and non-threatening and expressing specific behaviors that have created a concern for you, you can offer your partner constructive criticism so the relationship can grow. The only caveat is that you, too, must be willing to accept positive criticism from your partner.
Share this article on
Want to have a happier, healthier marriage?
If you feel disconnected or frustrated about the state of your marriage but want to avoid separation and/or divorce, the marriage.com course meant for married couples is an excellent resource to help you overcome the most challenging aspects of being married.
More On This Topic
You May Also Like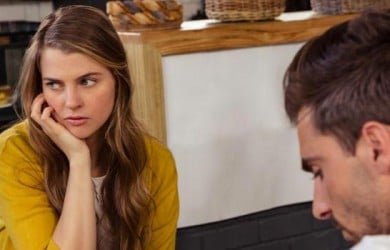 Popular Topics On Married Life