How to Save a Relationship in Crisis: 10 Ways
Relationships can be regarded as a full-time job that can be challenging to nurture. There are times when partners in the relationship share good times, and on other occasions, they might get into an argument that causes long-standing conflicts.
If you are experiencing a relationship crisis, it is important to solve them to make the relationship work again. In this article, you will learn how to save a relationship in crisis. Also, you will know the signs that will tell you if your relationship is failing or not.
What is a relationship crisis?
A relationship crisis is an extended period where couples face complex challenges that threaten to tear their union apart. This is a phase where unresolved issues keep piling up, making it difficult for both partners to love each other as they used to. When these issues are left unaddressed, it can permanently end the relationship.
When a relationship is in crisis, both partners might begin to fall out of love. Here's a scientific study by Joanni Sailor titled A phenomenological study of falling out of romantic love. This study helps you understand why romantic partners fall out of love.
What are the signs your relationship is in a crisis stage?
When you look at your relationship, can you tell if it is in crisis or not? Before learning how to save a relationship in crisis, it is important to know the signs that your relationship is failing.
One of the ways to know is when there is little or no communication. If the both of you find it hard to discuss your feelings, experiences, and fears without keeping anything back, the relationship might be in crisis.
Also, if you fight almost every time, it is one of the signs your relationship is in crisis. The relationship might fail if such fights involve an unprovoked exchange of words and insults.
Similarly, if it gets to the point where either of you tries to avoid fighting because they are tired of the emotional stress that comes with it, the relationship could be in crisis.
If partners do not plan together, it might mean their mind has drifted from the goal of the relationship, and they merely exist within the union. For instance, if one party makes plans for just themselves without considering the other, it is a vital sign the relationship is in crisis.
How to save a relationship in crisis- 10 ways
When a relationship is in crisis, it is possible to implement some measures that will translate into solutions. However, both parties must be deliberate about making the relationship work again.
Here are some ways how to save a relationship in crisis.
1. Discuss the problems with your partner
One of the reasons why some relationships never recover from a crisis is that both parties were unwilling to discuss what went wrong. Therefore, when conflicts arise in relationships, the partners need to have open and honest communication about them.
Although this might be difficult to achieve because emotions might be flying around. However, both of them should take some time off to meet in the nearest future and talk about what transpired. The issues must be addressed during this dialogue phase instead of attacking personalities.
2. Figure out if the relationship can still be saved
Another way on how to save a relationship in crisis is by asking yourself if the union can still be saved or you go separate ways. For example, you can ask yourself if you still want to get married to this individual or not.
Additionally, figure out if they will be good parents to your future kids and if your family and friends will be cool with them. Finally, it is important to list the pros and cons of your partner and see which outweighs the other. Doing this will help you decide if your relationship can be rescued or not.
To learn more about repairing a troubled relationship, read Quincy Lesley Darren's book titled How to save your dying relationship. This book contains quintessential tips to repair a relationship in crisis.
Also Try: 

Is My Relationship Worth Saving Quiz
3. Show your partner care and compassion
During a relationship crisis, partners can say hurtful words to each other. They are equally likely to do unpleasant things that further worsen the crisis. However, during the reconciliation phase, it is important to extend compassion to your partner.
It might be difficult doing this because you expect it from them too. Therefore, instead of investing your energy into remaining angry with your partner and keeping malice with them, use that time to show your partner that you still care about them. They will likely reciprocate your actions if they are intentional about the relationship.
Related Reading: 

How to Practice Self Compassion for a Satisfying Relationship
4. Speak with a few trusted friends and family
One of the ways to save a relationship in crisis is to discuss it with trusted loved ones. Be careful not to reach out to folks who will not give you good advice. Instead, speak with some of them who have previously handled similar issues.
Also, spending time with them can positively affect your mental health because they will open your eyes to things you didn't see previously. Before you tell your friends and family what is going on, tell them to be unbiased in giving you pieces of advice.
5. Write down the good things your partner has done
When it comes to knowing how to salvage a relationship, it is important always to remember that your partner is not as bad as you thought. There might have been times in your relationship when they were the best thing to happen to you. However, when conflicts happen, their foul deeds seem to overshadow the good they've done.
All you need do is to remind yourself of your partner's awesomeness before the crisis. When you list your partner's good deeds, you might become more motivated to settle with them. With this, you will know how to save a relationship in crisis.
6. Try to keep the romance going
When there's a crisis between partners, one of the ways on how to save your relationship from falling apart is to not forget about the romance.
You should prevent making your relationship ordinary because the love can begin to wax cold. Instead, do simple things together like going on a mini date, visiting the cinemas, shopping, visiting some old friends, etc.
You can even spend more time at your favorite hangout spot. The goal is to engage in hobbies that will revive the spark between the two of you. So when you want to resolve the conflict, it would be easier to talk things out.
Related Reading: 

The Role of Romance in a Relationship and its Importance
7. Set some boundaries for each other
Another strategy on how to save a relationship in crisis is to establish boundaries for each other. One of the reasons why a relationship crisis happens is because little or no boundaries exist. Therefore, it is important to communicate the words to say to save your relationship. This can be by telling your partner what you want them to do and what you don't expect from them.
Similarly, your partner should tell you what they expect from you and what you should not do. While communicating these boundaries, remember that the goal is to make the relationship work again.
Watch this video on developing boundaries in healthy relationships:
8. Give each other some time off
While you're trying on how to save a relationship in crisis, one of the options to consider is to take some time off. Even though you're in a relationship, you need space and time to retain your individuality. In addition, this will help you treat your partner better.
During the conflict, give your partner some physical space and time to heal and make your hearts yearn for each other again. While you give physical space, communicate with your partner occasionally, but don't shut them out permanently.
9. Show your partner gratitude
Expressing gratitude to your partner is one of the profound ways on how to save a relationship in crisis. This is one of the ways to give life to your relationship. When they do any little thing, appreciate them.
Doing this over time will let them know you value their input and presence in the relationship. They might also be motivated to practice the same thing.
Related Reading: 

10 Ways to Show Gratitude to Your Spouse
10. See a professional therapist/counselor
Knowing how to save a relationship in crisis includes seeing a professional for help. Often, many partners don't know why they're experiencing a relationship crisis because they don't understand the root cause. With the help of the therapist or counselor, you will learn how the crisis developed and how it can be resolved.
To learn more tips on how to save a failing relationship, check out Laney Hughes's book titled How to save a relationship. This book helps you to stop a breakup and make your relationship healthier.
Related Reading: 

How Seeing a Therapist Can Improve Your Life
Final thought
With the points mentioned on how to save a relationship in crisis, you're now better informed on how to handle your union, which is threatening to hit the rocks. While applying the tips in this article, we advise you to exercise patience because the results might not reflect immediately.
If you still struggle to apply some of these steps to save a relationship, you should see a counselor or take a relationship course related to this.
Share this article on
Want to have a happier, healthier marriage?
If you feel disconnected or frustrated about the state of your marriage but want to avoid separation and/or divorce, the marriage.com course meant for married couples is an excellent resource to help you overcome the most challenging aspects of being married.
More On This Topic
You May Also Like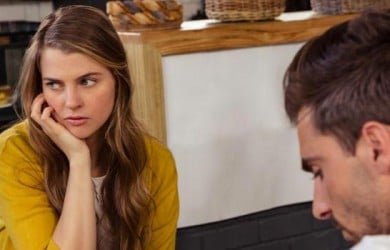 Popular Topics On Married Life