7 Ways to Support Your Spouse During the Coronavirus Crisis
The
COVID-19 crisis
has resulted in a lot of pressures and uncertainty. You and your spouse are likely affected in some way emotionally so it is important you are supporting your spouse but also look after yourself.
You and your spouse may feel a bit lost in the current environment. If you are looking up for advice on how to be a supportive husband or how to be a supportive wife during such overwhelming times, look no further.
Here are 7 tips that may help both of you in being supportive during this difficult time and bring you comfort.
1. How about some grace?
Are you dealing with major stressors such as loss of employment, loss of business or even an unwell family member?
Other stressors right now may come for example from time pressures due to having to work from home but also support your spouse, and look after the kids.
This may put pressure on your relationship especially if you put too much pressure and expectations on yourselves as leaders of the household. So, how to be supportive in a time of such anxiety?
Go easy on yourselves, sometimes things do need to fall behind or not go as smoothly as you would like.
Therefore, to support your spouse, and stay sane and happy, lower your expectations during the crisis and be more empathetic for one another.
Your ability to let go of your partner's mistakes will be critical during this difficult time. Letting go can improve your health. Support each other by cutting your partner some slack.
If you notice that your loved one is upset due to minor issues, it might actually be due to another bigger problem. If that happens, consider asking, "Are you upset about the current situation?"
That could help your spouse to open up.
2. Apologies should count
Annoyance, frustration and other similar emotions may flare up being stuck at home for such long periods.
Be sincere about your apology and if your spouse wants to talk about the issue be open to talking about it.
On how to give emotional support, apologize. Show willingness to put your past behind and start anew.
Accept your responsibility for wrongful actions and purpose to change. Your significant other is going through a difficult time in their life. It is crucial that you support your spouse during the tumultuous time of global pandemic and chaos.
A sincere apology can help to keep your spouse happy and your relationship stronger during the coronavirus pandemic.
In your apology, show your willingness to make things right again and express your determination not to make similar mistakes. However, ensure that you make realistic promises.
In return your spouse is more likely to feel like they can also move past it and forgive. Finally, accept apologies easily and move on.
We need to be extra kind and understanding in a marriage at this time.
Also watch:

3. Try doing some gardening
Mental Health Studies show that gardening acts as a positive mental health intervention. Spending time outdoors and surrounding yourself with greenery and flowers has a positive effect on mental health and wellbeing.
Spending a couple of hours per week in the backyard during this present period will allow you time out of the house as well as provide time for relation. Further, this may be a great opportunity to do something as a couple.
Engaging in gardening with your partner will be a reminder that you're not the center of the universe. Self-absorption during quarantine and lockdown can result in mental health issues. Come out of the house and explore the flower garden.
Gardening is also a form of exercise and hence healthy for your mind. Different gardening activities help to increase dopamine levels and lower the number of hormones associated with stress. You'll also sleep better, which is vital during this period.
4. How do you deal with the changes?
Change is inevitable. However, that doesn't mean we'll get used to it fully. No one expected the coronavirus quarantine to occur. As a result, most people feel helpless. It's normal for you to grieve the loss of your family routine.
As you process the new changes, remember to take care of your spouse's feelings throughout the period.
To support your spouse, make sure that you limit communication to family schedules and routine tasks.
It's natural for people to forget about the need to take care of their health when going through a hard time. For example, most people turn to bread and other baked products. However, ensure that your spouse eats healthy meals as much as possible.
5. Have a routine
The certainty of your routine is helpful in coping with uncertainties in life. If you and your spouse have a routine during the quarantine period, you'll have a structure to look to which can provide a sense of security, and that can help to manage the stress associated with the virus outbreak.
For example, despite what's happening around you, knowing that you'll take your meal at 7 pm and go to bed at 9 pm can help you feel in control and encourage you to support your spouse.
6. Spend some time alone
Humans are social beings.
Growing up, you liked having some company, whether in school or other social places. Also, one of the main reasons for marriage is companionship. However, spending some time alone doesn't mean you have to be lonely.
Pursue hobbies, read books or do other activities that you have not had time to do.
Research has shown that solitude can lead to greater empathy, and your spouse needs that during this difficult time.
To support your spouse, talk to your partner about the types of breaks that work for you and schedule them in so there is a clear understanding.
7. Practice self-care
In some cases, you may have too many responsibilities and end up forgetting to take care of yourself.
So while it's important to support your spouse, take care of the family and others, be mindful that you also need to do the things for yourself that keep you healthy.
This may be as simple as a bit of time out to relax, organize yourself or do some exercise.
Self-care during the current crisis is vital as it triggers a relaxation response, and this prevents chronic stress. Caring for yourself will also help to improve your mental health and wellbeing and give you the energy you need to take care of your spouse.
You may feel like you are being pulled in different directions right now and under a lot of stress so review the above pointers from time to time.
Please share these tips to support your spouse with your partner and maybe even go through them together as a great relationship exercise.
Share this article on
Want to have a happier, healthier marriage?
If you feel disconnected or frustrated about the state of your marriage but want to avoid separation and/or divorce, the marriage.com course meant for married couples is an excellent resource to help you overcome the most challenging aspects of being married.
More On This Topic
You May Also Like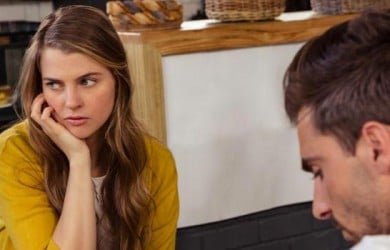 Popular Topics On Married Life