How to Cheer Up Your Girlfriend: 50 Charming Ways
Is your girlfriend feeling down and you looking for ways to put a smile on her face? You want to know how to cheer up your girlfriend and make her feel loved and appreciated. Whether she's feeling down, stressed, or needs a pick-me-up, you're in the right place!
We all know that life can be tough, and sometimes, our loved ones might struggle. As a good partner, being there for your girlfriend and supporting her through these times is important and you'll never be at a loss for making her feel loved.
This article will explore practical and thoughtful ways to cheer up your girlfriend and brighten her day. Whether it's simple gestures to grand gestures which are romantic, we've got you covered. Therefore, let's dive in and discover the best ways to cheer someone up, particularly your girlfriend!
How to cheer up your girlfriend?
Perhaps your girlfriend is going through a tough time or just needs a pick-me-up; you would want to put a smile on her face and bring joy to your relationship.
So many cheer up ideas come to one's mind in this situation and you might feel lost. In the next section of this article, we will cover different ways to cheer up your girlfriend.
50 ways to cheer up your girlfriend
As a caring boyfriend, looking for ways to cheer up your girlfriend is okay. If you are doing so right now, we're assuring you that there are countless things you can do, i.e., things to cheer up your girlfriend, that will make her feel loved, valued, and appreciated.
Here, we have compiled 50 productive tips and tricks that you can use to put a smile on your girlfriend's face. The list is not limited to things to do to cheer up your girlfriend but also includes things to say to cheer up your girlfriend.
1. Listen to her
Sometimes, your girlfriend does not need anything other than someone to listen to her. Listen actively to her problems and show concern without interrupting her. This would make her feel heard and valued.
2. Show her affection
Showing her affection is a meaningful way of conveying how much you care about her. This can be through hugs, kisses, and physical touch. A warm touch can do wonders to lift her mood.
3. Surprise her with a thoughtful gift
Giving your girlfriend a small but meaningful gift that represents your love can show her that she is always in your thoughts and you care about her.
4. Plan a surprise date
When you notice your girlfriend feeling down, take the necessary initiative and plan a special date or outing that your girlfriend will love. Doing this will lift her mood.
5. Cook her favorite meal
Your girlfriend will be surprised and feel valued when you surprise her by cooking her favorite meal. Have you ever heard about candlelit dinners? Check out this youtube video on how to prepare one.
In research conducted by Hamburg et al. (2014), it's noted that preparing a romantic meal for one's girlfriend will make her special and pampered as it has interpersonal effects on both individuals.
6. Write her a love letter
Expressing your love for your girlfriend through a heartfelt, handwritten letter is a great strategy to get her on track. You can write her a love letter or poem.
7. Help her out
It could be that your girlfriend feels overwhelmed or stressed out due to some tasks. Offer to help her out in any way you can to accomplish her goals or tasks.
8. Give her a massage
During this overwhelming period, your girlfriend needs a relaxing massage to help her unwind and de-stress. Try to send her a thoughtful and uplifting text message.
Related Reading: 

Understand How Body to Body Massage Can Save Your Marriage
9. Tell her a joke
An effective strategy to put a smile on her face is by telling her a joke. It's said that laughter is the best medicine, so make her laugh with a funny joke.
10. Play her favorite song
It's essential you know about your girlfriend's likes and dislikes. Once you know these, your relationship is on the right path. Put on her favorite song to lift her spirits and don't hesitate to dance with her.
11. Take her for a walk
Going for a leisure walk can be a great way to spend time with your girlfriend and enjoy the fresh air. Try taking her on a romantic walk or picnic.
12. Watch a movie together
Try to watch her favorite movie or TV show together. You can also choose a feel-good movie to watch with her and cuddle up on the couch.
13. Show interest in her hobbies
A great relationship is one where the partners support each other. Take an interest in her hobbies, interests and passions, and support her in pursuing and achieving them.
14. Leave her sweet notes
In case she does not want to meet anyone, the best thing you can do is to leave her sweet and encouraging notes which she can find throughout the day.
15. Give her a compliment
As a good partner, you should always give her genuine compliments and appreciate her qualities like beauty, intelligence, or talent. She will feel loved and valued.
16. Help her de-stress
Help her de-stress and to let go of her stress and worries. You can do this by doing activities like yoga, meditation, or a bubble bath together
17. Plan a surprise vacation
Try to check your girlfriend's schedule and know when she would be available without her notice. Surprising her with a romantic and fun weekend getaway or adventure will benefit her health and well-being (De Bloom et al., 2011).
18. Do something spontaneous
For the sake of your girlfriend, you can shake up your routine and do something spontaneous with her. This could be something like watching favorite childhood movies. She would be shocked and interested in knowing why you are doing so.
19. Bring her flowers
If you know your girlfriend likes a particular flower, wouldn't it be nice to get one for her? Surprise her with the most gorgeous bouquet of her favorite flowers.
20. Have a water gun
This sounds funny, but it's one of the best things you would ever try to cheer up your girlfriend. The best activities in a relationship are those that bring out our inner child. So? Go for it and cheer her up.
21. Be there for her
In case the cause of her feeling overwhelmed is more than expected, be there for her, and be a supportive and dependable partner for her, no matter what.
22. Make her breakfast in bed
Preparing your girlfriend breakfast while she is in bed will surely win you some points and also cheers her up. Surprise her with a delicious breakfast in bed on a lazy morning.
23. Take her on a picnic
If the weather is nice, pack a basket of her favorite snacks, head to a nearby park for a romantic picnic, and enjoy some fresh air. This is one way to learn how to cheer your girlfriend up.
24. Give her a pet
People who love animals are very empathetic toward animals and enjoy being around them. If your girlfriend loves animals, give her a surprise pet to brighten her day. You can even go to the length of adopting a pet for her.
25. Attend a trivia night
Try to look out for themed trivia nights where any of you will have a chance to show off your immense knowledge about something interesting. Doing this will make her laugh.
26. Remind her of your love
Expressing your love and commitment to your girlfriend is a good idea to cheer her up. Try to remind her how much she means to you and what you have been doing.
27. Do something she's always wanted to do
If your girlfriend has been thinking of doing or trying something new for a long time, use this moment and make her dreams come true by doing that thing for her.
28. Explore the great outdoors
If your girlfriend enjoys seeing the atmosphere, you can walk around your neighborhood together or opt for a walk down tree-lined streets she is yet to see.
29. Offer to run errands for her
As highlighted earlier, a successful relationship needs support from both sides involved. Offer to help and take care of some of her household chores or errands so she can relax and unwind.
30. Take her to a concert
Going to a concert with her or a life event is among the best things to cheer up your girlfriend. You can surprise her with an entry ticket to watch her favorite band or musician.
31. Share a hobby
A good and lively relationship is one where both partners share their interests and do things together. Even if your girlfriend's hobbies differ from yours, sharing her hobbies and interests can lift her mood.
32. Support her goals
It's common to be overwhelmed due to some tasks and your girlfriend might be experiencing this. Show your support and encouragement, and help her to accomplish her tasks or goals.
33. Do a festive activity together
Women love festivals and if the situation is when a festival is going on, they enjoy the festival with her and do related activities.
34. Make her a playlist
Creating a special playlist for your girlfriend with songs that remind you of her is a great way forward. However, please find out the kinds of music she likes so that those you choose make her taste.
35. Have a game night
You can host a game night with friends, or play games together just the two of you.
36. Share a favorite childhood memory
Sharing a favorite childhood memory with your girlfriend can help cheer her up and connect with her on a deeper level.
37. Volunteer together
A relationship is sharing responsibilities not limited to inside the relationship but involved outside it too. You can volunteer for an important cause and make a difference in your community.
38. Take a cooking class together
Taking a cooking class together shows her how caring and helpful you are. Learn to cook a new cuisine together, or take a class on baking and don't forget to practice what you learn surprisingly.
39. Take her to a comedy show
According to Yim (2016), laughter is contagious, can reduce stress and promote positive emotions. Take your girlfriend to a comedy show to lighten her mood by making her laugh. If possible, request for her favorite comedy show to be played.
40. Do a DIY project together
You can work on a DIY project together, like building a piece of furniture or creating a craft. Women love doing tasks like this; trying this out would catch your girlfriend's attention.
41. Help her to relax
As a partner who wants to see his girlfriend smile, you have to be caring enough and pamper her. You can help your girlfriend to relax by running her a bubble bath or giving her a foot massage.
42. Share a memory
Reminiscing about a favorite memory you have shared or making a new one is among the things you can do to cheer up your girlfriend. You can simply bring up your best time together with her and discuss that moment.
Watch this video to learn how to make happy memories:
43. Play a sport together
If your girlfriend loves sports, try playing a sport together in your surroundings to spend time together. It could be table tennis or basketball and should be done fun and actively.
Related Reading: 

10 Ways Couple Fitness Goals Help Relationships
44. Share a dessert with her
Share a decadent and romantic dessert with your girlfriend, recipes like a slice of cake or a bowl of ice cream, for a sweet treat will be the perfect grand finale to cheer her up.
45. Have a picnic in bed
Bringing the picnic to bed is something recommended. You can rearrange the bed if required and enjoy a lazy day in bed together.
46. Share a book or movie recommendation
Initiate a chat with your girlfriend and share a book or movie recommendation with her. Make sure the recommendation aligns with her likes and discuss it together.
47. Create a scrapbook
Put together a scrapbook of your favorite memories you have together, and give it to your girlfriend as a surprise and special gift. This could cheer up her mood, and make her more energetic and lively.
48. Celebrate the little things
During this time, celebrate your relationship's small victories and accomplishments, giving much attention to her accomplishments. This shows her how much you appreciate her.
49. Share your feelings
Be open and honest with your girlfriend about your feelings, and create a safe space for her to do the same.
Related Reading: 

How to Share Your Feelings With Your Spouse
50. Seek professional help
If none of these is not working and your girlfriend seems to be struggling with her mental health, it may be time to seek couples counseling. Encourage her to talk to a therapist or counselor who can provide her with proper support and guidance.
Note these are just a few of the ways you can cheer up your girlfriend. Understanding her needs and preferences is key and tailoring your actions accordingly.
Commonly asked questions and answers
This section has compiled a list of common questions and answers about how to cheer up your girlfriend when she is not turning up. Read and find the answers to your questions below.
How can I change my girlfriend's mood?
To change your girlfriend's mood, try to understand what is causing her sadness or stress. Then, you can do simple things like spending quality time with her, listening to her, surprising her with small gifts, giving her compliments, and making her laugh.
Additionally, you can plan a surprising fun date, cook her favorite meal, take her to a relaxing spa and offer words of encouragement and appreciation. All these would go a long way in cheering her up. Remember to be patient, understanding, and supportive of her feelings.
What text will make her smile?
A text message showing your girlfriend that you care about her will likely make her smile. This could be a cute and funny meme or romantic gif about something you both enjoy. The key is personalizing your message and making it more sincere and authentic.
Try to compliment her on something you admire about her and remind her of a special memory you both share. Your girlfriend will appreciate the effort you put into making her smile. Remember to be attentive, supportive, and loving towards her in person and through text.
Final takeaway
In conclusion, cheering up your girlfriend is easier than you may think. Following the tricks and tips explained in this article can make a significant difference in her mood and overall well-being. Remember to show her affection and remind her of the positive qualities she possesses.
Take her out on a fun date or surprise her with her favorite treat. Keep in mind that a healthy relationship involves being there for each other. By trying to cheer her up, you can strengthen your relationship and make her feel loved and appreciated.
Share this article on
Want to have a happier, healthier marriage?
If you feel disconnected or frustrated about the state of your marriage but want to avoid separation and/or divorce, the marriage.com course meant for married couples is an excellent resource to help you overcome the most challenging aspects of being married.
More On This Topic
You May Also Like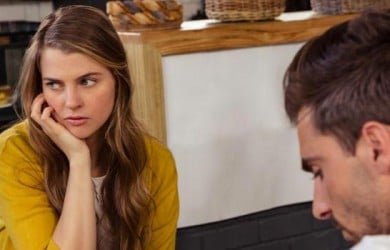 Popular Topics On Married Life