What Does It Mean When a Guy Says He Thinks About You?
When a guy says he is thinking about you, you might feel flattered, awkward, and possibly a little confused. After all, what does this even mean?
You may wonder, what does he think about me? Why does he feel about me? Does he think about me? You may also find that throughout the day, you periodically wonder, 'is he thinking about me now?'.
This simple phrase can spark so many questions. However, before you start to plan the wedding and name your future children, here is what you need to know.
What does it mean when a guy says he thinks about you?
Knowing what is meant when a guy says he is thinking of you is impossible. There are so many reasons that a guy may tell you that he is thinking of you, and although you can make an educated guess, this guess could be wrong.
The real reason that a guy says he thinks of you may not be the reason you were expecting at all.
Also Try: 

Is He Thinking About You?
4 Reasons why a guy says he thinks about you
Let's look at a few common reasons a guy will say he is thinking of you. Remember, not all these reasons will be innocent, so be wary.
1. It's a memory
Perhaps it was the cashier, an image, or a song, but something caused you to pop into his thoughts.
Memories are not random. It may feel as if memories appear spontaneously, but realistically, memory is a process within your brain used to acquire, store, retain, and later retrieve information.Memories occur both consciously and unconsciously, and many live deep within our minds until something happens to awaken them.
The brain turns situations into usable information through various senses (sight, touch, taste, sound, smell). Your mind is later alerted to this memory through those same senses.
Thus, a guy telling you he thinks of you may happen because something sparked a memory.
2. Look at the source
Relationships play a role. If a guy is your best friend and you have not seen each other in a long time, then he may have been thinking of you because of that.
It is important to remember that this phrase can be completely innocent or riddled with ulterior motives. It is up to you to decide.
For example, an ex telling you that he is thinking about you might not be innocent, and you will want to be on guard.
3. He misses spending time with you
Men are not good at expressing their emotions. He may be saying that he misses having fun with you. Never assume that a phrase is any more profound than it is.
So if you want to know what does it mean when a guy says he thinks about you, you must wait to understand if what he says is genuine or just a moment of infatuation.
Unless a guy declares his love for you, it is best to believe he is simply a friend. Once again, think about the source, not just the words.
4. He is trying to flatter you – and not in a good way
Unfortunately, you must be critical of everyone you meet. While it would be nice if people did not have bad intentions, that is not the case.
A guy may be trying to cheer you up after a bad day, but he may also have darker motives.
As we age, intentions become more sexual, and some men will tell you things to get on your good side. Take everything with a grain of salt and avoid making assumptions.
A guy who says, "I have been thinking about you all day," could be trying to make you feel good to make himself look better. While this is not always the case, it is something to consider.
Ask yourself, why would this guy be thinking of me? Have we shared a special moment? If you answered no, then keep your guard up and be cautious of what does it means.
There are many men out there that will tell you that they are thinking of you to get closer to you. These guys may not want a relationship, but they want something else from you.
So how can you tell if a guy is thinking of you? You look for the signs.
Related Reading: I

s He Thinking of You? Here Are 4 Things to Make Him Crazy About You
10 Signs that show he thinks about you a lot
We all long to be desired, and it feels good to know that you are on someone's mind. If a guy says he thinks about you, you may be excited.
However, look for signs it is true. Here are some signs he thinks about you a lot or not.
1. His friends and family know about you
When a guy likes you, he will talk about you with his friends. His friends will know who you are.
If his friends do not seem to know that you exist, you should pay close attention.
While guys are different from girls, they still talk to one another when they have a crush.
Everyone wants to share the good news. If your guy is not opening up about you, he may not see the situation as serious.
2. He is always happy to see you
You can see love. When a person is in love, they have a presence that can not be mimicked. They are lighter, more easy-going, and happier than they were before. You can sense it.
If what he is saying is true, you should feel it when you are together. Ask yourself why would a guy say he misses you if he doesn't mean it.
3. He remembers specific things about you
Remembering how you take your coffee or knowing your favorite movie is nice, but a man who is in love (or on his way to it) will remember specific details.
If he knows that your favorite piece of art is The Gleaners, that you do not like clothes made of wool, or that you have a neurotic habit of touching the door handle twice before leaving the house, then it may be the real thing.
A guy who likes you wants to know as much about you as possible. He will learn about and love all the little quirks that make you unique.
4. He goes out of his way to make you happy
When a guy likes you, he will work to make you smile. If a man goes out of his way to make you happy, this is one of the signs he thinks about you a lot.
5. He wants to get to know you
If a guy is into you, then he will make an effort to get to know you. He will listen to the things that you tell him and ask questions about your personal life.
A guy who likes you will take a genuine interest in who you are as a person.
Here is video that will help you decide if you should keep trying with him:

6. He wants you to know him as well
A guy who likes you will also want you to know him. He will share personal details with you and show you things that others don't see.
If he lets you see intimate aspects of his life, he trusts you and probably thinks about you often. He will never leave you hanging on the question – What does he think of me?
7. He asks for your opinion and considers your response
A guy who asks your opinion about things and considers your thoughts thinks about you. He values your opinion and cares what you think.
This is how a guy says he thinks about you all the time.
8. He can focus on you
Look at your time together. Are you the focus of the guy's attention?
A guy who truly thinks about you often will want to make every moment with you count. If he pays attention to you and truly listens, he is probably thinking about you a lot.
9. He takes an interest in things you like
One way to know that a guy thinks about you is his involvement in your hobbies and interests.
While he may not take up ballroom dancing or ballet just because you enjoy it, he will take an interest. Guys who like you will show interest in the things you love.
10. He shines a spotlight on you
When a guy is genuinely into you, you will feel like you are the only one in a crowded room. Ask yourself, "he said he has been thinking about me but does he show it when we are out with friends?"
If the answer is yes, then you know he is telling the truth. If there is doubt, then keep your guard up a little longer.
Related Reading: 

Ways to Tell if a Men Is Confused About His Feelings for You
What should you say when a guy says he thinks about you?
Guys and girls communicate differently. Women are more direct, saying what they mean less subtly than men and using more expressive words. Thus, it can be hard to know what to say when a guy says he is thinking about you.
You may be wondering, "he says he misses me. What do I say?" Or maybe you are curious, "if he says he is thinking of me, how do I respond?" or perhaps confused about "what does it mean when a guy says he thinks about you."
The answer to this depends on how you feel about him and how close the two of you are.
When a guy tells you that he thinks about you a lot, he may be trying to gauge your response. How you reply can outline his next move, so do so carefully.
No one likes to jump in feet first without testing the waters. By saying he thinks about you, the guy may be asking, 'do you think about me too?'
This simple statement could be a lot deeper than it seems. On the other hand, it may not be. To truly understand his intent, you need to view the entire situation.
The Right and Wrong Things To Say If a Guy Tells You He Is Thinking About You:
Responding to this statement will depend on your feelings. If you like this guy, then tell him. If you are not interested in being more than friends, make that clear.
The key here is to be kind and appreciative. Laughing is not the correct response, but neither is diving in feet first.
Often, a simple thanks will suffice. Try not to overthink things. Don't exhaust yourself wondering how to know if he thinks about you.
If you want him to know that you like him too, then keep your response positive and encouraging. Please share what you think of him as well, and tell him that you are flattered.
Remember, emotions are not as easy for men, so be gentle in your responses.
If a guy tests the waters and they seem cold, he may never jump in.
Also Try: 

Is He into Me Quiz
Conclusion
You may find yourself questioning what a guy says or does, or find yourself asking, 'does he think about me?'.
Even when you get the answer, and the guy outright says he thinks about you all the time, you may still feel confused. If you find yourself asking, "what does it mean when a guy says he thinks about you," you are not alone. This question plagues women everywhere.
These words can mean many things and are situationally dependent. Try not to jump to conclusions.
Just remember, not all guys are good guys. Always consider the source and think critically about everything. Trust your instincts and follow your heart, and do not be afraid to share your thoughts. Love cannot blossom if he never knows what you are feeling.
Share this article on
Want to have a happier, healthier marriage?
If you feel disconnected or frustrated about the state of your marriage but want to avoid separation and/or divorce, the marriage.com course meant for married couples is an excellent resource to help you overcome the most challenging aspects of being married.
More On This Topic
You May Also Like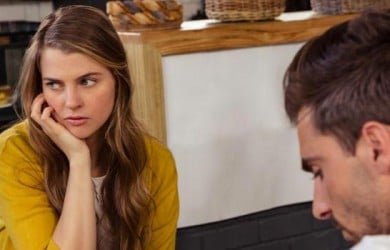 Popular Topics On Married Life