6 Steps Couples Should Take Toward Settling Disagreements
While many couples don't like to always admit it, conflict and disagreements are common in most marriages.
But how each couple focuses on settling disagreements can cause a marriage to thrive or dive. Assuming that most married couples want their marriages to thrive, we would like to bring to your attention Dr Gottman 'six skills of conflict management' which are perfect for settling disagreements.
According to Dr Gottman, if we can all develop these skills, during times of conflict or potential conflict we will be settling disagreements in no time at all.
We might even find ourselves eliminating conflict entirely and just settling disagreements that arise naturally from two individuals who might have differing opinions without raising our voices.
Now that would be great, wouldn't it?
6 steps to eliminating marital conflict and settling disagreements-
1. Soften startup
Who would have thought that a small strategy like this would have such strong benefits!
Thinking about how you start the conversation with your spouse about whatever it is that you disagree with, according to Gottman a discussion is a crucial factor for settling disagreements.
Gottman claims that his studies have proven that conversations always end in the same tone that they have begun in. So if you start a conversation abruptly, you can expect to finish it off abruptly too.
The tone of our voice, our body language and the way that we start to raise the issues we need to raise, when done softly makes all the difference.
This skill is crucial for settling disagreements, and you have three minutes at the start of the conversation to do it.
Part of this 'soft start-up' requires you to explain why you feel like you do, but don't blame.
So don't say
"you make me mad because you always do XYZ."
Instead, say something like;
"I need to talk to you about something that I think we need to find a compromise on. It's important to me that I can resolve this with you. I'm really upset that we still need to do XYZ and I feel as though I have to do it alone, the dog needs walking, and although we agreed that you would do it I'm concerned that I will have to do it again, how can we resolve this".
The key thing in this step for settling disagreements is to focus on how you feel and avoid blaming your spouse.
A good rule of thumb is to always use 'I' instead of 'you' and if you do that, you'll get a better response from your spouse.
2. Accept influence
According to Gottman, when both spouses can accept that their spouse will influence them, then good things happen! However, when it comes to settling disagreements (or failing to settle them), this key skill is missing in most relationships.
In a sense, accepting influence is all about letting go of selfishness. It's about focusing on 'we' instead of 'me.'
In a disagreement, if you can avoid looking at how something is influencing you as a person, and think of it as a team, it helps to promote empathy, compassion, and support in any situation.
When you are accepting influence and working as a team, you listen to the needs of each other, discuss them and support them. You are in it together, and this is considered highly important in the steps to successfully settling disagreements.
3. Make effective repairs during a conflict
We all receive love differently, and so there are times of conflict that require a little effort to diffuse the problem and to repair the problem, another key skill in settling disagreements.
If you are in a stalemate situation with your spouse over a topic that keeps on rearing its ugly head, think about why your spouse might be so stubborn or reluctant to compromise and think about how else it could be resolved.
For example, your spouse might hate taking the dog out for a walk, but wouldn't mind picking up a different responsibility instead, and you would be happy to take the dog for a walk. Or perhaps you both hate that responsibility of dog walking, so you split something else and then both go on a dog walk together.
These are acts of repairing conflict and finding an alternative solution that works for you.
We don't always have to lock horns on everything, the art of settling disagreements lies in compromise and in finding a way around a situation for the benefit of everybody involved.
4. De-escalate
We could say that all of the skills and steps listed above are de-escalation strategies.
Wherever possible it's important to remain focused on de-escalating a problem instead of fuelling the fire.
Do this, and you'll be successfully settling disagreements in no time at all.
Here are some examples of sentences you could use to de-escalate which were taken from Dr Gottman's Blog;
I Feel
I am getting scared

Please say that more gently

That felt like an insult

I don't feel like you are understanding me right now
I Need to Calm Down
I just need this to be calmer right now

Can I take that back?

I need your support right now

Can we take a break?
Sorry
Let me try again

I'm sorry

I really messed up, I can see my part in this

I want to say this more gently but I don't know how
I Appreciate
I know that this isn't your fault

Thank you for

I understand

I love you
5. Psychological soothing of self and partner
Self-soothing strategies are always useful when it comes to settling disagreements successfully.
There are times when you might feel as though you are not getting anywhere and are becoming emotionally overwhelmed in a conflicting situation.
It's at these times that you probably need to take a break (a good self-soothing strategy) and take some time out to calm yourself down and find your equilibrium again.
Whether you go for a run, meditate, pull out some weeds in the garden or scrub the kitchen table a little heavily – finding the right kind of self-soothing strategies to help you balance yourself out will help you successfully settle disagreements even if you don't get it done as quickly as you might have liked.
When you are both in a better place, encouraging your spouse to use this principle too and respecting their needs when they need to self-soothe will create a harmonious environment even when negotiations are still taking place.
6. Compromise
This last skill for conflict resolution according to Gottman needs no explanation.
It's probably safe to assume that we all need to compromise occasionally, so if you can make compromise a staple in your marriage, you'll be one step closer to setting disagreements almost as well as we imagine Dr Gottman does!
Share this article on
Want to have a happier, healthier marriage?
If you feel disconnected or frustrated about the state of your marriage but want to avoid separation and/or divorce, the marriage.com course meant for married couples is an excellent resource to help you overcome the most challenging aspects of being married.
More On This Topic
You May Also Like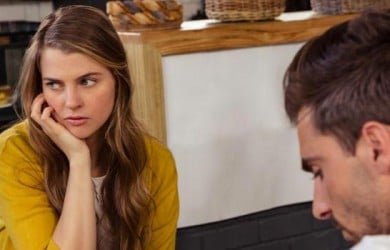 Popular Topics On Married Life