5 Key Reasons Why Some People Enjoy Relationship Conflict
It's an easy but broad statement to say that nobody enjoys conflict in their relationships. And in many relationships that is true. The majority would much prefer to maintain equilibrium, often hating times of turbulence. Of course, they know that relationship conflict is a normal and healthy (in moderation) occurrence. But there are some people who thrive on conflict in their relationships – they cannot live without it.
Even though the individuals, or couples who thrive on relationship conflict, will be very likely to confirm that they don't want this experience, and they too, would love a calmer relationship. It seems that no matter how hard they try, they can't make it happen. Causing them to live a life of chaos, and in some situations question themselves, or their relationship.
Here are some of the causes – some might be more common than others, but nonetheless, if you get a buzz, secret, or guilty pleasure, or some sort of confirmation of being loved and appreciated as a result of your relationship conflict, then you'll probably relate to one of these reasons why you enjoy conflict in your relationships.
1. Not feeling good enough
Some individuals may have such a strong sense of not being good enough that they have developed an unconscious strategy to push somebody away. They achieve this by testing their with antagonizing behaviour, pushing their partners' buttons, or by sabotaging a good experience. And in doing so, they confirm that they are not good enough.
Often arising from childhood experiences, such unhelpful strategies can project into some sort of relationship conflict triggered by jealousy, criticism, or causing arguments over nothing.
2. Incompatible partners
Of course, some relationship conflicts occur due to meeting a partner who is incompatible, and who brings out the worst in us.
These types of relationships are tough because whilst there might be much love between the two parties, they are too incompatible to build a life together. And would be better off avoiding further conflict in their relationship by moving on. A perfect example of the saying 'if you love somebody, let them go'.
3. Unresolved anger, or excessive emotions such as sadness or fear
Many couples who experience grief may find it difficult to remain close as they seek to resolve their sadness. Which undoubtedly causes relationship conflict, and a distance between both partners in a relationship, that in some cases can be difficult to come back from. Other situations may show in tempestuous relationships, where anger is very much a driving force. Or in conflict driven by distance, and an aloofness, which can be caused by depression.
Seeking to resolve the excessive and repressed emotion will solve the problem quickly.
Also watch: What Is a Relationship Conflict?
4. Lack of coping strategies
Sometimes, we just don't know how to handle even the simplest situations. Such as 'why did he talk to a random girl on the train?'. How to negotiate who is dealing with what tasks in a relationship. How to handle a new child and any other similar types of relationship problem.
Usually, the problem occurs because we didn't learn how to handle situations such as this in our childhood, and our cognitive, logical, or emotional skills might be underdeveloped for the situation.
This is easily resolved, but it starts with an awareness of what causes your relationship conflict. Then it requires conscious effort into learning how to handle this specific situation. And of course, sites such as this one, are a good way to start to learn and develop stronger coping skills in relationships.
5. Attachment disorders
Attachment disorders arise as a result of how we were nurtured as an infant. If we were provided with a secure platform to reach out and explore the world, and all of our needs were addressed perfectly and naturally then we won't have such a disorder. In this situation, your attachment style will be 'secure'.
But if some aspect of your nurturing was misaligned, due to numerous reasons such as; simple nurturing errors on your parents' behalf, other people teaching your parents a discipline that was unhelpful, from postnatal depression, an unsettled household full of conflict, and of course, neglect and abuse.
Depending on what you have experienced, you may develop an anxious attachment style, dismissive style, or a fearful style.
Usually, the dismissive and fearful style will invoke avoidant and aloof behaviour in relationships. An anxious style will often project into a relationship through jealousy and a preoccupation of how anybody relates to the individual with the anxious style. And as you can imagine, this can be the cause of much relationship conflict. Which can easily be compounded when we unwittingly attract the same or opposite attachment style.
The best chance a relationship would have in this situation, to naturally resolve itself is if one individual is secure in their attachment style and ability to handle any relationship conflict that arises from this situation.
Share this article on
Want to have a happier, healthier marriage?
If you feel disconnected or frustrated about the state of your marriage but want to avoid separation and/or divorce, the marriage.com course meant for married couples is an excellent resource to help you overcome the most challenging aspects of being married.
More On This Topic
You May Also Like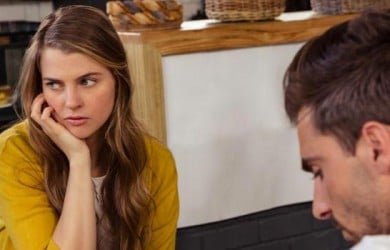 Popular Topics On Married Life