What Is Deflection in a Relationship: 15 Signs
Are you beginning to feel that even though you are in love with your partner, it looks like they are constantly manipulating you? If you feel this way, they may deliberately do something that always makes them the victim and you the oppressor.
In this article, you will learn what deflection in a relationship means and how you can navigate it if you are experiencing this.
What is deflection in a relationship?
Deflection in a relationship occurs when a partner deliberately avoids taking responsibility for their feelings, thoughts, and actions. They try to turn the tide by blaming their partner, someone else, or any occurrence around them.
The moment you notice that they are trying to shift the blame game from themselves, deflection is in motion. Usually, it is a ploy to avoid confrontation or criticism.
How to respond when someone is deflecting?
Knowing how to argue with someone who deflects will reduce their chances of doing so. Therefore, you need to be strategic about how you converse with them. One of the ways to respond when they are deflecting is to focus on the facts.
Remember that your partner will employ their emotions, so they might not want to reason with you. Another way to respond is to take responsibility deliberately.
When you do this, they might be unable to project their feelings on you. Also, keep calm when your partner seems to be frustrating you. This will help you keep a clear head and adequately present your facts.
15 signs someone is deflecting in a relationship and what to do
Are you confused if you are experiencing deflection in a relationship or not? You might feel that your partner likes to play the pity game because they want to avoid getting the blame.
With the signs mentioned shortly, you can tell if deflection manipulation is in play and how you can help yourself.
1. They project their feelings on you
One of the ways some people display deflecting in relationships is when they try to project their feelings and thoughts on you. The truth is, they cannot deal with their feelings, so they hide them. Eventually, they project it on you when it becomes too overwhelming for them.
This is when they might start to accuse you of some things that were not your fault. You may observe that your partner's dislikes have been imposed on you.
Related Reading: 

Why Projecting Feelings Can Be Harmful to Your Relationship
2. They play the victim
Another sign of deflection in a relationship is when they begin to play the victim even when they are at fault. They will employ manipulation tactics to ensure that you are on the wrong side while they are the affected ones.
Someone who loves to deflect in a relationship will leverage any of their partner's little mistakes to make themselves the victim.
Related Reading: 

How to Recognize and Deal With Victim Mentality
3. They shift the blame to circumstances
Deflecting blame in relationships can be demoralizing and unhealthy for the relationship.
They will blame external circumstances for their actions if they don't blame you. When it comes to deflection in a relationship, the perpetrator deliberately gives excuses for everything because they cannot take responsibility.
You will hardly find them owning up to their mistakes because there is always someone they can blame. Deflection in arguments is a common practice for such partners to avoid responsibility.
Related Reading: 

10 Ways Blame-shifting in Relationship Harms It
4. They lack empathy
People deflect responsibility in a relationship by not letting others know how they feel. Anytime you share your feelings with them, they might end up blaming you instead of trying to support you.
Also, they might want to interrupt you because they want to be heard, and they can get annoyed if you don't give them a chance.
Watch this video to know the signs that someone lacks empathy:
5. They find it hard to apologize
Another way to know when a partner practices deflection in a relationship is when they struggle to apologize. In a relationship, saying sorry is the right thing to do when you are wrong. However, a partner who deflects does not feel they are wrong.
This is why they will hardly say sorry because they cannot acknowledge their mistakes.
Related Reading: 

The 5 Languages of Apology & Ways to Figure Out Yours
6. They deliberately repeat their mistakes
If you are looking for one of the signs of deflection in a relationship is when your partner knowingly repeats their mistake without feeling sorry.
Most times, these mistakes cause conflicts that both of you resolve. However, you will notice that over time, they keep committing these mistakes because they know you have no choice but to accept them for who they are.
7. They like revenge
To learn more about deflection psychology, one of the things you note is their vengeful character. They will always find a way to repay you when you offend them.
Additionally, if you point out something wrong that they've done, they will retaliate in kind. This happens because they don't want to be on the losing end, so they don't mind reminding you of every wrong thing you've done.
8. They are in denial
When it comes to deflecting responsibility in a relationship, one of the traits you will notice is they love being in denial. Since they don't like being accountable, they will be blind to the truth because they will likely be held in check with facts.
Related Reading: 

5 Types of Conflict in Relationships and How to Deal With Them
9. They say what makes your ear tick
Another deflection defense mechanism that some people employ is to say things that will make you stop talking. You might think that they agree with what you say. However, the reverse is the case.
They know that you will impress them when they agree with you. Hence, they will say something that you like. Instead of being remorseful, they will pretend to agree with you.
10. They hardly cry or show emotions
If you are in a relationship with someone who loves to deflect, one of the signs you will notice is they rarely cry or reveal emotions. They like to bottle things up because they want you to see them as strong.
For instance, if they are angry, they might not show it because they don't want you to misinterpret their feelings.
11. They have increased stress levels
Everyone experiences stress at different points in their lives. However, a healthy lifestyle can balance our physical and mental health and stress properly. Those who often undergo deflection in a relationship are likely to have elevated stress levels.
This is because they always manipulate their emotions to suit their temporary needs. Over time, this hampers their physical health, causing mental health problems like depression and anxiety.
12. They are sometimes afraid of intimacy
Someone who loves projecting deflection in a relationship does not have stable emotions. Hence, it would be challenging for them to be genuinely intimate with their partners.
One of the reasons why they are afraid of being intimate is because they don't want to share their vulnerability with anyone.
They are afraid that others might use their weaknesses or deepest thoughts against them in the future. Therefore, people who deflect their feelings try to avoid loving fully.
Related Reading: Fear of Intimacy: Signs, Causes, and How to Overcome it
13. They have a distorted sleep cycle
It is important to mention that when it comes to psychological deflection, one of the signs to note is their unbalanced sleep cycle. When emotions are deflected regularly, it affects sleeping patterns. The individual might experience insomnia or drowsiness.
14. They try to gaslight you
In a relationship, a partner who deflects regularly will find it difficult to cope with their other half, which does not. Some of them expect you to accept them for who they are.
And if you struggle to understand them, they might gaslight you as a means to deflect their feelings. They try to downplay your emotions so that you will not pay attention to theirs.
Using Patricia Carlisle's book titled Abusive Relationship, you can learn the various gaslighting signs that you are in an abusive union.
15. They don't understand your point of view
When it comes to deflection in a relationship, you will notice that partners who do this often find it hard to understand where you are coming from. Anytime you share your concerns or feelings, they will find it hard to see your point of view.
Sometimes, they might get mad at you because they feel that you are trying to force them to understand you. During such moments, they will interrupt you regularly and ensure that all attention is shifted to them.
Takeaway
If any of these signs resonate with you, you are most likely experiencing deflection in a relationship. You must help your partner get help so you can be on the same page.
Managing a partner who regularly deflects can be a chore because their emotions will be all over the place. This can make the relationship boring. Therefore, consider reaching out to a relationship counselor for help.
Share this article on
Want to have a happier, healthier marriage?
If you feel disconnected or frustrated about the state of your marriage but want to avoid separation and/or divorce, the marriage.com course meant for married couples is an excellent resource to help you overcome the most challenging aspects of being married.
More On This Topic
You May Also Like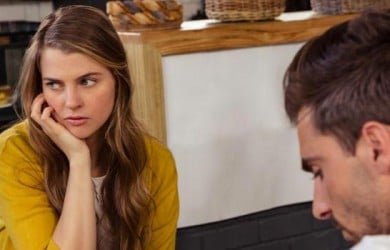 Popular Topics On Married Life