10 Ways How to Deal With Body Shaming in a Relationship
Figuring out how to deal with body shaming is not a skill anyone ever thinks they're going to have to learn – especially not with their spouse.
Having someone you love insulting your size, shape, or overall appearance is devastating and can lead to some serious mental health issues if your partner doesn't stop body shaming.
Open communication and a firm conversation about boundaries and respect can help you and your spouse learn how to overcome body shaming in your relationship, but there is so much more to it than that.
This article answers the questions like:
What is body shaming? And how to deal with body shamers – especially when the person making you feel terrible about yourself is the one who is supposed to protect your emotions – not break it.
What is body shaming?
Body shaming is the act of commenting negatively about a person's body and overall appearance.
What is the meaning of body shaming?
Some people go out of their way to say humiliating or inappropriate comments just to make the other person feel bad. Others claim they are trying to "help" someone by pointing out how they could change their body "for the better."
This is, of course, illogical. Statistically, body shaming can have adverse opposite effects on a person.
The American Journal of Public Health found that different types of body shaming made it more difficult for the shamed individual to lose weight. Being body shamed has been shown to threaten health, interfere with obesity intervention, and create more health issues.
The feeling of facing body shaming in a relationship
Research suggests that the psychological effects of body shaming include:
Anxiety

Exercise avoidance

Disordered eating
One of the most common examples of body shaming effects is depression. The MDPI Journal found that body shaming directly and repeatedly predicts symptoms of depression, especially during adolescence.
Another type of body shaming is being bullied about your appearance by someone else, but it is also possible to body shame yourself. This could happen because of personal insecurities or maybe a direct result of your spouse putting you down.
10 tips to deal with a partner who body shames you
Every relationship has its own set of problems for the partners to deal with. Body shaming a spouse should never be a part of a healthy relationship. The disrespect rooted in body shaming can loosen the base of any relationship, new or old.
1. Tell them how you feel
Our first suggestion on how to deal with body shaming is to talk with your partner about how their comments make you feel.
Couples who know how to communicate are often found to be more satisfied and speak to each other more positively.
Let them know that their comments are not only hurtful for your mental health, but being criticized, or even just teased, is drawing you away from them.
Related Reading

: 

15 Ways to Help Your Partner Understand How You are Feeling
2. Explain why it is harmful
What is body shaming to your partner? It could be that they don't even realize the things they are saying are harmful.
Explain to your spouse why the comments they are making are ruining your relationship. Tell them that you want to feel good about yourself, but they are making you feel otherwise.
3. Create healthy boundaries
One way you can learn how to deal with body shaming in your relationship is by setting healthy boundaries with your partner.
You will not tolerate name-calling or rude comments about your body

They must not force you to change anything about you

Zero-tolerance for emotional abuse
They must respect your autonomy over your body and the decisions you make regarding your health
When learning how to deal with body shamers, you need to be clear that there will be consequences when your boundaries are overstepped.
You must follow through. If your spouse thinks you will continue to take their emotionally abusive comments, they will never stop body shaming.
To learn more on developing healthy boundaries in relationships, watch this video presentation by Dr. Dawn-Elise Snipes:

4. Concern or criticism?
To learn how to overcome body shaming from your spouse, it's important to look at where they are coming from. Are they legitimately concerned about you, or do they frequently criticize you and others' appearances?
Are they dealing with bodily insecurities that they are projecting onto you?

How do they talk about people around them?

How do they speak about people on television?
If your spouse is constantly making remarks about other people's bodies, they may be dealing with vulnerabilities that they need to work on.
5. Promote positive support
Your relationship is where you should go to feel safe and loved, not to feel vulnerable and insecure. If you are having difficulty learning how to overcome body shaming from your spouse, it's important to surround yourself with positive support.
Talk to trusted friends or family about how you're feeling. Sometimes they can see relationship warning signs before we can, and they may be able to steer you in the right direction.
Related Reading

: 

20 Steps to Becoming a Supportive Partner
6. Seek professional help
One of the best tips on how to deal with body shaming is to go to couple's therapy.
It is not easy learning how to deal with body shamers. If you feel like you can no longer deal with the body shaming effects from your spouse, take some time away from your partner.
If you are determined to stay with your body-shaming spouse despite the consequences, relationship counseling is highly recommended.
7. Put your spouse in your shoes
One tip for how to overcome body shaming is by carefully putting your partner in your situation. Ask them how they would feel if you made comments about their size, shape, or habits.
Give some gentle examples of things you might say to them to hurt them, and then ask how they would feel if you constantly brought it up?
This tactic may help them understand how harmful their words are to your relationship and your mental health.
8. Request changes
Ask your spouse: what is the meaning of body shaming? What are they hoping to get out of making you feel terrible about the way you look?
If you have communicated your feelings and explained why your spouse's behavior is toxic and they continue to comment on your body, you need to request changes ASAP.
Tell your spouse that you will consider severe actions if they do not stop body shaming you.
9. Reconsider your relationship
If the poisonous behavior from your partner does not end even after multiple efforts, it is in your best interest to reconsider your relationship.
People are complicated creatures. From the outside, breaking up with someone who makes abusive comments about you is an easy decision.
The reality is that people are not all good or all bad. While your partner hurts your feelings, there are probably still many things you love about them.
But you deserve to be validated and loved for who you are, not who you could be or what you could look like.
Toxic body-shaming comments are harmful to your physical, emotional, and mental well-being. You need time apart to heal and to heal in body liberation.
10. Practice self-love
Our final tip for how to deal with body shaming is to practice self-love. Surround yourself with body positivity or people who practice body acceptance.
Your body is strong. It allows you to walk, to be with friends, to take you to new and exciting places, to create a child – its wonders are endless.
There is so much more to life than what your body looks like.
Related Reading

: 

5 Reasons Why Importance of Self-Love Is Crucial in a Relationship
Some more questions
Body shaming is a serious problem faced by our society. It is not easy to express or discuss this openly with others. There can be so many questions arising in the minds of those who have faced body shaming in the past or recently.
What are examples of body shaming?
There are different types of body shaming a spouse might throw your way. The first and most obvious one is your weight.
Examples of body shaming about weight include:
"Have another helping of dinner – you're way too skinny!"

"You're too muscular, it isn't very feminine."

"I was thinking of getting you a membership for the gym. You've gained some weight during the pandemic, and it isn't very flattering on you."
There could be instances of body shaming about your general features or overall appearance. This could be a spouse shaming you for the way your nose looks, your bushy eyebrows, or measuring your appearance against an ex-partner.
Examples of body shaming about attractiveness might be:
"Have you ever thought about wearing makeup? I think it would make you look a lot prettier."

"I'm not crazy about curly hair. Why don't you start straightening it?"

"If you wanted (breast augmentation/nose job/tummy tuck), I would be happy to help pay for it."
Examples of other random types of spouse shaming would be picking on things like whether or not you shave, your natural smell, the way you dress, or even your age.
What do you call a person who body shames?
In all seriousness, someone who body shame is called a "body shamer."
This person may try different types of body shaming, such as acting lovingly concerned to being irritated and condescending. They can feel free to pass judgemental comments without a trace of guilt or hesitation.
Who is the target of body shaming?
Anyone can be body shamed. You do not have to be overweight or short heightened to be the recipient of unwanted comments.
Having a thick, thin, muscular, or average body can lead to body shaming. Even pregnant women, who should be gaining weight for the health of their baby, have been body shamed for their appearance.
Be mindful of body shaming
What is body shaming? It is when someone comments on the way your body looks. It could be your shape, size, or a particular feature of your body.
Whether your spouse is oblivious or is making cruel comments on purpose, you should never have to learn how to deal with body shaming comments from your spouse.
Your partner should love and encourage you, regardless of what you look like or what your background is. No matter what types of body shaming comments your partner makes, if they hurt you, they are inappropriate and unnecessary.
Body shaming can lead to feelings of anxiety, depression, and low self-esteem. Learn how to overcome body shaming as a couple by talking about why your partner's comments are hurtful, seeking professional help, and setting healthy boundaries.
Learning how to deal with body shamers can lead to feelings of empowerment, but it is never something you should have to do with the person you love.
If your spouse refuses to stop body shaming and the couples therapy isn't working, it would be in the best interest of your mental and physical health to reconsider the relationship.
Share this article on
Want to have a happier, healthier marriage?
If you feel disconnected or frustrated about the state of your marriage but want to avoid separation and/or divorce, the marriage.com course meant for married couples is an excellent resource to help you overcome the most challenging aspects of being married.
More On This Topic
You May Also Like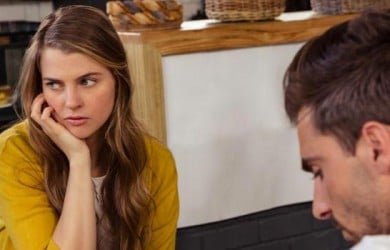 Popular Topics On Married Life