10 Best Habits of Happy Relationships
Healthy relationship habits aren't easy to establish, but they strengthen the bond between partners in the long haul. What, then, are these relationship habits? Learn more in this guide.
What comes to your mind when happy couples display affection for each other in public or on television? Do you think they already figured it out? Do you feel they are perfect and don't have conflict? While it's not certain what people feel about a "supposed" happy relationship, one fact remains – people think these relationships are perfect. But the real question is, are they?
Most perceived healthy Couples aren't perfect. Instead, they have discovered a way to practice healthy relationship habits. And it isn't a walk in the park. Developing any habits isn't child's play.
Maintaining important relationship habits takes time, conscious and intentional effort, discipline, and perseverance. However, they can have a significant impact, produce a happy and stable relationship, and improve your overall habits eventually.
This article will explore healthy relationship habits and how you can practice them until they become part of you.
What is the definition of a healthy relationship?
One question people don't get tired of asking is, what is the definition of a healthy relationship? People admonish others to have a healthy relationship, but what does it entail? How do you create one?
A healthy relationship is fulfilling – full of happiness, friendship, empathy, positive habits, and love. It involves individuals who are committed and intentional about themselves and the relationship. Healthy couples in healthy relationships know it is challenging to maintain a stable relationship for a long time.
Therefore, they put their heart into it, becoming conscious of their habits. A healthy relationship's features are effective communication, trust, honesty, responsibility, friendship, forgiveness, and support.
5 ways to keep your relationship healthy
Again, a healthy relationship isn't easy to have, but it's possible. All you need is determination and intentional effort to have one. Check out the following tips to help you maintain a healthy relationship.
1. Effective communication
Perhaps, you have heard effective communication repeatedly concerning relationship matters. The truth is you will keep hearing it because of its crucial role. Communication helps to resolve many issues. In any relationship, it's important to make this a routine.
Effective communication means expressing your feelings freely to another person and having someone ready to listen to you. You must make communication a routine in your relationship.
Regardless of the topic or concern, no one should be scared to discuss it with their partners. It helps you resolve issues as soon as possible. Most quarrels in some relationships are due to misunderstandings and lack of communication. Speaking your mind releases you from pent-up anger and unhealthy assumptions.
Related Reading

: 

10 Reasons Why Communication in Marriage Is Important
2. Date
Some couples assume that the dating phase ends once they get into a relationship, but it isn't so. Dating should be a regular part of your relationship. It reminds you of why you wanted to date your partner in the first place. It shows you are each other's priority.
Notably, it helps to strengthen your relationship and increase your bond and sustainability in the long haul. Every happy couple goes on a regular date to unwind and have fun.
3. Create time for each other
One of the habits of making relationships stronger is the ability to set aside time for your partner. That means you value your partner and enjoy spending time together. Creating space for each other also helps you connect and understand each other better. When you know someone more, it's easy to relate to them. In turn, your relationship becomes stable.
4. Be friends with your partner
Indeed, the position of a friend differs from a romantic partner. But you know what is better – having a friend and spouse in one person. Being friends with your partner is the ultimate fulfillment you need to have a healthy relationship, habits, and life. You can tell each other things freely and come up with solutions together.
Learn about the people you need to stop being friends with in this video:
5. Settle your disputes
Another way to maintain a healthy relationship is to settle disputes and fights as soon as possible. There are many benefits of fighting in a relationship. Disagreements are normal in any relationship. When couples don't fight, they pretend or don't love each other enough. Healthy couples don't have the same personality, so they fight. However, what makes them stand strong is the ability to resolve it through understanding and communication.
10 best habits for happy relationships
Now that you know how to keep a healthy relationship, what can you do going forward? What are the happy habits for every couple out there? Knowing these habits can help you reinvent your relationship. Learn more in the subsequent paragraphs:
1. Find ways to connect
One of the healthy relationship habits you need is creating ways to connect emotionally with your partner. Many might think, "but we have a connection; we are dating." Oh! The connection goes beyond communicating with your partner or going on dates. It is more about checking in on your partner.
How do they feel about themselves these days? What are their thoughts these days? You can connect with your partner over any activity, including house chores, sports, driving, or before you go to bed. The goal is to know how they feel.
Related Reading: 

8 Ways to Build an Emotional Connection with a Woman
2. Appreciation
Relationship habits include appreciating your partner. Appreciate them for being in your life, doing the chores, paying the bills, and caring for you. While these duties are seen as regular, hearing that they make your partner feel good gives you joy. It shows your effort isn't unnoticed, and you become more motivated to do more.
3. Forgive
One of the healthy relationship habits you will find worthy is forgiveness. Although the magnitude of issues sometimes determines how partners forget and move on, forgiveness is still important for strengthening relationships. Humans are prone to mistakes, and no one is perfect.
The benefits of forgiveness are numerous. First, forgiving your partner improves your relationship. Research has shown that couples who forgive easily enjoy more stable and more satisfying romantic relationships. Also, they are likely to enjoy longer lives.
4. Patience
If you plan on having healthy relationship habits or ordinary relationship habits, imbibe in having patience. Patience isn't a habit you establish in weeks or months. It takes years of practice and failure over practice and failure.
In situations threatening your personality, it takes determination and discipline to maintain your composure. In a relationship, you will constantly face situations that might make you overreact. Being calm and relaxed and making efforts to find solutions are the best.
5. Take responsibility
"Pride goes before fall."
A healthy, happy relationship is full of conflicts. Since you are from different backgrounds, it's inevitable to avoid stepping on each other's toes. Knowing when you are at fault and taking responsibility shows emotional maturity. It means you value your romantic relationship more than your pride or ego. Also, it tells your partner you recognize your role in their pain.
It's not enough to say sorry and move on; it is a shallow way of asking for forgiveness, which means you don't respect your partner enough. Instead, aim for a more impactful way of asking for forgiveness. For instance, you can say, "I'm sorry for the way I spoke to you earlier. I was just angry and didn't mean to hurt you."
6. They think of each other
Another part of the habits of healthy relationships is that they constantly think of each other. Indeed, your relationship won't maintain the spark you started with. However, there are ways to maintain your feelings for each other.
One way is to show you think of each other by buying gifts, discussing your past dates, wearing a color or shirt your partner likes, and tagging them to social media posts that relate with them.
Related Reading: 

25 Signs of Unspoken Mutual Attraction Between Two People
7. Accepting each other's imperfections
One of the habits of healthy relationships is accepting everything about your partner. It's one thing to know that your partner isn't perfect; it's another to accept them.
Indeed, some habits are difficult to cope with, but understanding your love for this person is greater than their flaws. Meanwhile, when we talk about imperfections, we don't mean unhealthy ones that threaten your mental health or cause physical damage.
8. Support for each other
In a world full of judgment and criticism, healthy couples should have each other's back. Even if the whole world is against you, knowing someone will go all out for you is the best feeling. It encourages you to put more effort into creating a better life and good relationship habits.
9. They respect each other
Respecting your partner is to see them as independent humans capable of making their own decisions. It doesn't matter if these decisions are right or wrong. Forcing your opinion down their throats, judging them, or criticizing them at every chance you get would mean you don't value them enough.
10. Healthy couples understand each other
One of the important healthy relationship habits is that the partners try to understand each other's perspective. Couples who resolve their fights quickly don't always agree with each other.
However, they understand their partner's point of view. If their partner doesn't like a particular activity, they know it's because of their background and not because they necessarily detest it.
FAQ
Here is the most asked question about happy relationships.
What are the 3Cs of a good relationship?
The three C's of a good relationship are communication, commitment, and compromise. Communication helps you resolve your issues and understand each other more. Commitment means putting your partner and the relationship first. Finally, compromise allows some things to happen or sacrifices for your partner's happiness.
Takeaway
Healthy relationship habits help to sustain your relationship and see it through life hurdles. Although these relationship habits take time to build, they are usually worth the effort.
This relationship guide has explored valuable tips to help you maintain good relationship habits. If you need more habits or a way to practice them, you may consult a relationship therapist.
Share this article on
Want to have a happier, healthier marriage?
If you feel disconnected or frustrated about the state of your marriage but want to avoid separation and/or divorce, the marriage.com course meant for married couples is an excellent resource to help you overcome the most challenging aspects of being married.
More On This Topic
Recent Articles
You May Also Like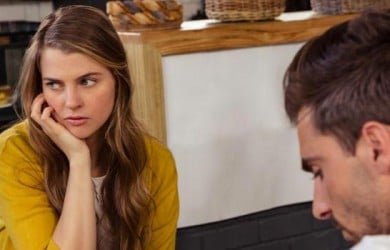 Popular Topics On Married Life