3 Things Happy Couples Do Every Day
What's the secret behind the happiness of many couples? Are they just plain lucky or do happy couples practice something special to maintain their feelings of togetherness?
I would say every relationship has its ups and downs. No matter how effortlessly happy many couples seem, every partnership needs work. You simply can't leave it to chance that your relationship will be the way you want it to be.
This article talks about the simple and important practices of happy couples that anyone can learn from to bring back a remarkable change in their relationship.
1. Happy couples practice reconciliation – forgiveness – every single day
While reconciliation can be a trying and tedious practice, it is the key to the long-term stability of the relationship for successful couples.
Assuming we all hurt one another from time to time – and we do – it's important to put forgiveness practices in place that help us move forward in a productive way and keep it on the top in the list of what couples do together.
Take a timeout when you are angry
If a situation with you and your beloved contributes to an explosive bout of anger, step away from the caustic situation for a bit and let your anger subside.
According to most of the happy couples, putting some space between you and your partner will help you release anger in a way that doesn't tear at the fabric of the relationship.
This step sounds obvious but maybe it is not so obvious.
After you've given yourself time to process your anger, it is vital to re-engage your loved one. Let your partner know that you are serious about connection, resolution, and moving forward with the relationship in a healthy manner, while consciously adopting good relationship habits.
One of the best practices of reconciliation and healthy relationship habits is engaging in an appropriate "I feel" language.
This paradigm for communication with your partner places your opinions and vision for the relationship solely on you. When you say, "I feel…" you are indicating to your partner that you take ownership of everything you are about to say and will not be projecting it onto him/her.
Often instead of "I feel," we say "You…." Basically, our "you statements" place all of the guilt/blame/responsibility on our partners. This is a relationship killer.
Once the wheels of reconciliation are moving, it is important to cast a new vision that addresses the issue that led to the original conflict.
If partners feel comfortable with the relationship's stability once again, the door is open for work on the "essential things" that contributed to the original conflict.
One of the things couples can do together is problem-solving with your beloved one.
How can we move forward from this uncomfortable time? What can we do to mitigate future conflicts that erupt from this particular issue or set of issues? What tools do we have at our disposal that will help us in the future?
If reconciliation has been successful or has morphed into a commonplace practice for you and your beloved, it is time to celebrate. Do something spontaneous and wonderful with your partner.
Looking for cute things couples do? Go out on a date, watch a movie together, take a trip, enjoy a walk at sunset. It is so important to let frivolity inundate your relationship.
Don't make reconciliation a one-time novelty instead of a well-seated practice. Again, this practice is essential to the health and stability of relationships.
Reconciliation must be a daily practice and one of the key habits of happy couples, if it is to be of lasting worth to the relationship. While there may be some "backsliding" at times, it is vital to stick with the practices listed above as best as you are able.
2. Happy couples are always trying something new
Any relationship is thrilling at the beginning stage, however, as the couple sways past the honeymoon stage, monotony and boredom creep in eating away at the novelty of a relationship.
Explore exciting hobby ideas for couples to strengthen your relationship.
Happy couples explore new ways to keep the relationship exciting and grow both as individuals and as a couple. Allow your relationship to flourish by creating a life together that is exciting and growing.
If you are both adventurous and love the outdoors, get an adrenaline rush together by engaging in activities like scuba diving, camping, snorkeling, road trip or hiking.
If it seems difficult to wriggle in time for fulfilling your "vacay goals", you can also do something as simple as working out together.
Benefits of exercising together as a couple include increasing the happiness quotient of your relationship, enhancing the love bond with your spouse and improving your overall work out efficiency.
There is a great list of hobbies for couples who like to stay indoors, too.
Cook together on weekends, search on Youtube for some interesting courses and learn together, engage in yoga or meditate together or just make a list of movies that you can watch together and snuggle to your spouse for a laidback but close bonding time together.
3. Happy couples practice forgiveness
It's as simple as that. You can have a hot sex life, lots of money, and beautiful kids but still, have a terrible relationship if you are not skilled in the mechanics of reconciliation.
Let's be honest, it's not easy to instill reconciliation into your routine if it has been absent in the past.
That's why it's important to practice. That's why it's important to observe and listen to couples who are already well-versed in the art of reconciliation.
Do not be afraid to ask questions.
Do not be intimidated by the hills you will need to climb to reach your relationship goals. It's all so very doable. That's why it figures prominently in the list of happy habits for every couple.
Add reconciliation to your resolutions, friends. With so many good models and advice on habits of successful couples around us, let us strive to enrich life and love by mending broken fences and educating ourselves on what couples can do together.
Share this article on
Want to have a happier, healthier marriage?
If you feel disconnected or frustrated about the state of your marriage but want to avoid separation and/or divorce, the marriage.com course meant for married couples is an excellent resource to help you overcome the most challenging aspects of being married.
More On This Topic
You May Also Like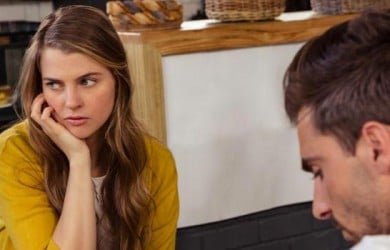 Popular Topics On Married Life