Does Age Matter in a Relationship? 5 Ways to Handle Conflicts
Many people believe that age is nothing. They might believe it doesn't matter how old you are in a relationship. This may be true for some relationships, but with others, there can be a lot of differences between people based on age alone.
So, does age matter in a relationship? Let's find out.
Why does age matter in a relationship?
Age does matter in many relationships. Some people are looking for someone who will be their companion while they're still healthy and able to enjoy each other's company, while others want someone who will stand by them through thick and thin.
It's easy to think that the older person will automatically be more financially stable than the younger one. But this isn't always the case. Some people make money quickly at an early phase of their life.
But generally, older people tend to have more resources available to them when it comes down to planning for the future.
Personal development might be affected by age
Age is not necessarily a factor in determining whether or not you'll get along with someone. However, some things you can learn from your partner's age can help you mature as a person.
For example, if your partner is older than you and has more experience, they might have more wisdom to share about certain situations in which you could benefit from their insight.
Age can affect our choices and values
It's natural for people to want someone who shares their interests and passion. But as we get older, these things change. It can be hard for us to adjust our priorities as we grow older, especially if they don't match up with that of our partners.
The age gap in relationships becomes problematic if you're with someone with different goals than you.
Instead of focusing on where they want to go, you might feel frustrated that your partner wants something different from what you do. Different life goals could lead to conflict over money and other issues when two people have different priorities.
Age difference in relationships might have conflicting life goals
It is rare for a couple to be in the same stage of life, but the older person may have a different lifestyle than the younger partner.
The older partner might not be interested in children or may have other priorities not shared by their partner. This can lead to conflict between the two partners.
It is also possible for there to be conflicts due to differences in values and beliefs between partners of different ages. For example, some people prefer to settle down early, while others do not feel ready until later in life.
How much does age matter in a relationship
While it is true that you don't have to worry about being too old for your partner, there are other times the difference matters so much.
Research shows that age differences in relationships can affect their overall survival.
The following points answer, "Does age difference matter in a relationship?" They describe the circumstances under which it makes a difference.
1. When life goals are different
The biggest problem with an age gap occurs when the two people have very different life goals.
If one person wants children and the other does not, this can cause problems when they aren't compatible anymore. This could mean that there would have been no children if this had happened earlier in their relationship!
Related Reading

: 

35 Relationship Goals for Couples and Tips to Achieve Them
2. Length of the relationship
The length of the relationship can play a big role in how important age is to you. Age may be less important if you are looking at a short-term relationship. Age won't matter as much if they're just looking for a fling.
But if they want something more serious and long-term, then age will play a bigger role in their decision-making about whether you're compatible with them.
3. When cultural practices are brought into context
When cultural practices are considered, we see that most cultures do not allow young people to marry older people or vice versa. In some cultures, it is frowned upon for two people of different generations to date or marry each other.
However, as with any other relationship, age isn't everything when finding your soulmate. Many factors play a part in determining whether someone will be good for you.
4. Family/friends support element
In some cases, if you want to marry and have children, you must live with your partner's family if those are their life circumstances.
If they do not like you, they can make life miserable. They can support you and help raise your children if they are happy with you.
5 ways to handle age gap in relationships
Do relationships with age gaps work? Just because you have an age gap in your relationship doesn't mean things will not work out. Here are ways you can manage it effectively.
1. Practice open communication
The biggest reason why people have trouble with age gaps in relationships is that they're not good at communicating with each other, and that's an issue that can't be fixed overnight. But you can work on it together and take steps to improve.
Research shows that it is a good idea to talk about how you feel about the relationship, your expectations, and what each of you wants out of it.
Being open and honest can help both of you feel more secure and less likely to freak out over any little thing that happens.
Related Reading

: 

10 Reasons Why Communication in Marriage Is Important
2. Don't push each other's boundaries
There's also a fine line between pushing someone's boundaries too much and respecting them too little, which can cause problems.
It can be easy to do this when we get into new relationships with people who have different values or priorities than us, but it's important not to do so with someone who has been our partner for a long time.
Should age matter in relationships? According to research, it doesn't have to be if you respect each other's personal boundaries.
If you feel your partner is too controlling or jealous, speak up. This will help keep the relationship healthy in the long run.
Related Reading

: 

6 Types of Boundaries in Relationships and How to Maintain Them
3. Find common ground for the two of you
The first thing to do is to find common ground for the two of you. What are some things that you have in common? Is there a hobby or pastime that you both enjoy? Are there common goals or dreams?
If not, now is the time to discuss it. You may need to explain why your relationship isn't working, and you can devise a game plan before making any major decisions.
Watch this video to learn more about how to arrive at a common ground in relationships:
4. Accept your differences
The first step to a healthy relationship is accepting your differences rather than trying to change them. If you're looking for someone who matches your life experience, they should also be willing to meet you halfway on some issues.
That means being open-minded and willing to listen when your partner says something important.
5. Seek support from friends and family
If you've been together for a while and things aren't working anymore, don't hesitate to ask for their help. They may not always understand why your relationship isn't working out, but they'll still be able to give you honest feedback on whether or not it's time to move on.
Even if they don't agree with what you're doing, having their support will make it easier for you to do what's right for yourself and stay positive during this difficult time.
You can also go for marriage counseling to better understand how to solve certain problems in a relationship.
FAQs
Does love care about age?
Love doesn't care about age! Love is a feeling of affection, tenderness, and affectionate feelings which are created by the human mind.
If you feel affection towards someone, then you can love them. You don't have to be the same age as your partner to fall in love with them.
What age gap is too big?
The answer depends on the couple, their relationship, and their goals. If you're unsure what to do and want to get married, I'd say it's best to keep things at around three years or less. If you're friends, maybe six months or less.
Does age matter in relationships? If you're just good friends, then it doesn't matter how long the age difference in relationships is.
Final thoughts
The right person will like you for who you are, and age shouldn't be a deciding factor. If anything, it will be one of the smallest concerns on your partner's mind as long as you're happy with each other. So don't stress about your age or your partner's age.
It comes down to what matters most: whether you're truly happy with each other and if you can make each other happy.
However, in case you are unsure if your love age differences will bring any complications, the best thing to do is look for relationship counseling services for guidance.
Share this article on
Want to have a happier, healthier marriage?
If you feel disconnected or frustrated about the state of your marriage but want to avoid separation and/or divorce, the marriage.com course meant for married couples is an excellent resource to help you overcome the most challenging aspects of being married.
More On This Topic
You May Also Like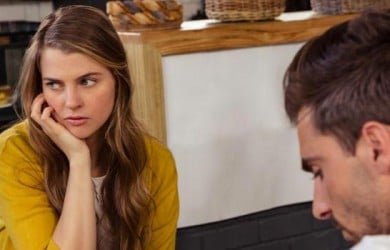 Popular Topics On Married Life