Intelligence Gap in Marriage- Does It Matter? Experts Believe It Matters as Much as Love
If we talk about healthy and successful relationships, we always pay attention to honesty, communication, and the level of trust among the partners. Even though these factors are the basis of any relation, there is one factor which is usually ignored. That factor is intelligence gap in marriage.
Now the question that many couples fail to understand is, how much does intelligence matter in a relationship? It is a fact that usually this factor gets lost in the shuffle.
Intelligence gap in marriages is extremely important because it aids the couples in easily expressing out their emotions and at the same time help each other in managing their uncontrollable emotions.
How to determine if you are an emotionally intelligent couple?
Is intelligence important in a relationship?
Experts believe it all depends upon how partners communicate with each other. It also depends upon how much we are aware of our partner's emotions and how we handle the most difficult of moments.
Some people are very much inclined towards emotional intelligence, but there is always a chance that you can learn about the intelligence gap in marriage.
Reasons why experts believe emotional intelligence gap
It is true that we ignore the fact that both love and intelligence equally matter in successful relationships.
Those couples who fail to understand this fact, face problems and their relationship is more likely to fail or be unsatisfactory.
However, experts firmly believe that intelligence gap in marriage plays a very important role in marriages.
Let's find out how important is equal intelligence in a relationship
1. You will understand each other in a better way
Empathy is clearly one of the most common signs of emotional intelligence. It has a huge impact on your relationship and also improves the quality of your relationship.
The thing about empathy is the ability to understand and identify the challenges and rough patches you and your partner may be going through. It also means that you are capable of understanding those feelings, and manage them well too.
2. You can have any kind of conversation with your partner
The best thing about equal intelligence in a relationship is, you do not have to fear about being judged or criticized. This is because constructive criticism in marriage is extremely important and gives you a chance to improve and grow as well.
If partners are open to constructive criticism, it means they are improving and getting better. Instead of attacking and blaming the other person, they give each other constructive feedback and criticism.
This allows them to work upon themselves and help each other grow while maintaining emotions and sensitivity towards each other.
3. Egos aside, you are vulnerable to one another
Although it is not a good idea to be vulnerable to anyone, in order to connect well with your partner, you must keep your egos aside.
This is all part of emotional intelligence. It is not a bad thing if you are vulnerable and dependent upon your partner, and have extreme feelings for your partner.
4. You can express all kinds of feelings with your partner
One of the best things about equal intelligence in a relationship is that you can just be open about your feelings. It is true that sometimes it takes years to discuss your true feelings to your partner openly. However, due to the equal level of intelligence, you will no longer need to waste so many years in expressing your feelings honestly.
Speaking up or communication means that relationships become stronger.
This is because if you will not speak, then those unexpressed feelings will be bottled up. These unspoken feelings will not even help you develop a good relationship with your partner.
5. Apologizing will be way easier
It can be very hard to let go of your pride and apologize for any mistake you might have made. But if you do so, it is one of the signs of intelligence and maturity. An emotionally intelligent partner does it because they know the importance of the relationship and value it more than their pride.
Intelligence gap in marriage matters a lot because it has the power to break down any kind of barriers between you and your partner. It also helps you to understand each other quite well.
After reading the above-mentioned information regarding intelligence gap in marriage, you might have figured out the importance of it.
Couples fail to understand the major role emotional intelligence plays to keep the relationships stronger and intact.
Partners who are equally intelligent can carry on their relationships for years without facing prolonged problems that may cause them to break up. The only thing which you have to remember is to have proper communication and the ability to express your feelings with your partner.
Studies have revealed that those couples who have low scores of emotional intelligence have poor relationships which do not last for long. This also includes quality as well as the support of their relationship.
Share this article on
Want to have a happier, healthier marriage?
If you feel disconnected or frustrated about the state of your marriage but want to avoid separation and/or divorce, the marriage.com course meant for married couples is an excellent resource to help you overcome the most challenging aspects of being married.
More On This Topic
You May Also Like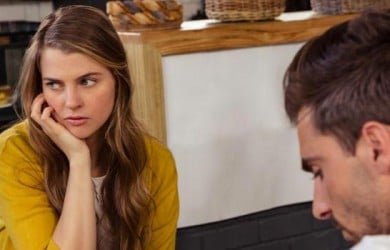 Popular Topics On Married Life