What is a 'Clean' Breakup and 15 Ways to Have One
Is it really possible to have a clean break up with the person you love?
The end of a romantic relationship is never easy. Calling it quits with the person you love may be one of the most hurtful events that we will experience. No matter what the reason behind the break up is, it will still hurt.
In fact, most people who experience break up will experience consequences such as anxiety, sleep loss, chest pains, loss of appetite, crying spells, and even depression.
Realizing that you will never be with this person again gives you that tight feeling in your chest.
Change is hard for all of us. Along with the feeling of hurt is the fact that you need to face a life without this person from now on. That's why it's easy to understand why most people would do their best to hold on or at least try to reconcile; in hopes that they can save the relationship.
However, most of these attempts fail and create unnecessary drama, pain, and even false hopes.
That is the reason why it's advisable to have a clean break up.
What exactly is a 'clean' break up?
A clean break definition when it comes to relationships is called a breakup, where a couple or a person decides to end a relationship and focus on moving on and healing.
The aim here is to remove the excess negative baggage and avoid unnecessary drama so the both of you can move on as soon as possible.
Does a 'clean' breakup work and why should you consider it?
Absolutely! A clean break up is possible and will even help you move on faster.
If you want to know the most realistic ex-relationship advice, then this is it. Fact is, there is no easy break up, but what you can do is to make it as healthy as possible, not just for you but also for your partner.
We don't want to waste more time dwelling on negative emotions and what we could do is to move on as soon as possible by choosing to have a clean break with your ex to avoid more damage being done.
Remember that a clean break in a relationship is better than being stuck in a toxic relationship. Choosing to have a clean break up is doing yourself and your heart a huge favor.
Related Reading: 

How to Get Over a Breakup: 25 Ways to Move On
15 Effective ways to have a clean breakup
A clean break up doesn't just work for the person who breaks up the relationship. It will also work for the other person as well.
Here are 15 things that you should know on how to have a clean break up.
1. Be sure about your decision
Before anything else, make sure that when you decide to break up, you really mean it. Don't make any decisions just because you are upset or angry with your significant other. If you only have misunderstandings, then it's better to talk about it first.
If you are sure that your relationship is not working anymore, then it's time to have a clean break up.
2. Don't break up via text
Now that you are sure about your decision to end the relationship- do it properly. Whatever the reason is, it's very wrong to break up via text, chat, or even on social media.
You have spent a long time loving this person. So, it's just right to do it properly. Talking privately and in-person allows the both of you to find closure and talk about the real reason why you are parting ways.
It also gives both of you a chance to set ground rules about how you will proceed post-break up.
3. Cut all communication
Now that you have officially broken up, it's time to cut off all forms of communication.
Erase your ex's phone number even if you know it by heart. You can even block your ex if you need to.
It will be harder for you if you will still have communication with your ex.
Related Reading: 

Communicating With Ex: 5 Rules to Keep in Mind
4. Don't agree to be "friends" with your ex
This is a common mistake when you are breaking up with someone.
Sorry to break it to you, but being "friends" with your ex immediately after a break up doesn't work. You were in a relationship and you can't just shift to being friends without one of you getting hurt.
While it's possible to be friends with your ex, you will still need time to get over the break up phase first.
5. Politely distance yourself from your mutual friends
Another piece of ex-relationship advice to remember is that you should slowly and politely distance yourself from your mutual friends and your ex's family.
This is a crucial part of allowing yourself to move on. If you don't, you will only end up hurting yourself as you relive memories of you being together.
Also, remember that when your ex starts to date someone new, this person will also belong to this circle of people. You don't want to hurt yourself seeing this.
Also Try: 

Should I Be Friends With My Ex Quiz
6. Don't vent on social media
It may take days or weeks before you realize the hurt of breaking up, and once you do, refrain from posting it on social media.
Remember to keep things private.
Don't post hurtful quotes, name-calling, or even try to gain sympathy from people using social media in any form. You are only hurting yourself and making it hard for you to move on.
7. Avoid friendly dates
Remember when we said it's not okay to be friends with your ex immediately after your break up?
It's because you need to avoid seeing your ex for a "friendly" coffee or midnight drunk calls.
Keep your break up clean. No post-break-up dates or hook-ups.
It's given that you will both miss each other, but doing these things will only prevent the both of you from moving on. It will also cause false hopes.
That's why you need to be sure about yourself when you decide to break up.
Related Reading: 

4 Things to Consider If Your Ex Wants to Be Friends
8. Return what needs to be returned
If you once shared an apartment, make sure to set a date where you would return your ex's keys and all of the things that belong to him or her. Don't do this one at a time.
Give back all the things that you should give back and vice versa. Stalling this will just give you or your ex a "valid" reason to meet up.
9. Don't flirt with your ex
When we say cut-off contact with an ex, we mean it.
Flirting with your ex will not do you any good. Aside from false hopes, it will only hurt you and prevent you from actually moving on with your life.
If your ex is trying to flirt with you, don't think that this person wants you back. Your ex might only be trying to test you or is just bored and wants to know if you haven't moved on yet.
10. Avoid things that will make you remember
Don't torture yourself. Avoid movies, songs, and even places that remind you of your ex.
Don't get us wrong. It's okay to cry and deal with the pain, but after that, you owe it to yourself to start moving on. Deciding to make a clean break up will lessen the impact of these hurtful memories.
Related Reading: 

How to Deal With a Breakup: 15 Ways to Cope Up
11. Accept that you may not get closure
One of the most common reasons why people fail to move on is that they don't have closure.
Sometimes, what hurts is that you aren't really sure what caused the break up or if your significant other suddenly ghosts you. You have to tell yourself that the relationship is over, and chasing for closure may never happen.
It's time to move on.
Check out the video below to understand Stephanie Lyn's idea of closure and tips on how you can achieve closure:

12. Distract yourself
You will remember your ex and the memories that you've shared. That's normal, but you don't have to act on those thoughts.
Keep your composure and distract yourself. Think of hobbies that will keep you occupied or go out with your friends.
13. Treat yourself well
Start moving on by reminding yourself that you are enough. Your happiness doesn't depend on another person.
Treat yourself. Go out, travel alone, and pamper yourself.
You deserve all of these and more. It's time to focus on yourself and the things that will make you whole again.
Related Reading: 

10 Steps to Practice Self-love
14. Learn your lesson
Breakups are always hard. Sometimes, it will hurt more than it should, especially when you feel that it was unfair on your end, but choosing to have a clean break up will pay off.
Remember that the pain you are currently feeling will pass, and at the end of the day, what is left is the lesson that you have learned in your failed relationship. Use this to be a better person and a better partner in your next relationship.
15. Love yourself
Lastly, a clean break up will help you heal faster and teach you to love yourself more. If you love yourself, you will refuse to dwell on the hurt of your failed relationship and will do your best to heal.
Conclusion
Have you heard of the saying that a break up is also a wake-up call?
Use this statement to remind yourself that a clean break up is better than a messy one.
Treasure the memories, but calmly accept the reality that you have to part ways. Start by cutting your ex from your life, and start taking one step at a time towards your future.
Share this article on
Want to have a happier, healthier marriage?
If you feel disconnected or frustrated about the state of your marriage but want to avoid separation and/or divorce, the marriage.com course meant for married couples is an excellent resource to help you overcome the most challenging aspects of being married.
Learn More On This Topic
You May Also Like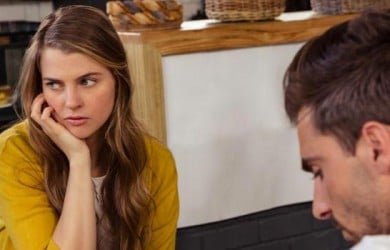 Popular Topics On Married Life