What to Do When You're Sexually Frustrated in a Relationship
You have probably heard of the phrase sexual frustration, but you may not know what is sexual frustration. Perhaps you have even felt the sensation of being sexually frustrated, but you didn't know what the cause was or how to cope with it.
Here, learn all about what sexual frustration means, as well as ways for coping with being sexually frustrated in a relationship.
What is Sexual Frustration?
Sexual frustration can generally be described as a situation when there is a disconnect between what you need or want sexually and what you are actually getting. Being sexually frustrated can cause you to feel angry, irritated, anxious, or just downright depressed.
You might experience sexual frustration in marriage. For example, when you want to have sex, and your partner does not. Or, perhaps you want to experience intense, satisfying sex all the time, but your sex life is just mediocre.
Either of these situations can cause sexual frustration in a relationship, but you may feel better knowing that this feeling is actually rather normal.
Another explanation for what does sexual frustration mean is that it occurs when you simply aren't satisfied with your sex life.
Maybe it seems like you and your partner just aren't on the same page, or you aren't enjoying sex anymore. Whatever the case, being sexually frustrated can dampen your mood and negatively affect your relationship.
Related Reading: 

When Is the Right Time to Start Having Sex
How to Recognize Sexual Frustration?
The first step toward dealing with sexual frustration is recognizing that it exists.
Sometimes, we label stress or tension in another area of life as sexual frustration when it really isn't. To start with, assess how your mood has been recently. If it has been mostly negative, you may be sexually frustrated.
Next, evaluate what could be causing the negative mood. Is it problems at work, or perhaps stress over finances? If there is a nonsexual reason for tension, you probably aren't sexually frustrated.
On the other hand, if there isn't another reason for your frustration, the chances are that sexual frustration effects are to blame. Here are some sexual frustration symptoms that can help you to recognize this problem in your life:
Your partner has rejected you the last few times you have tried to initiate sex.

You notice you and your significant other are

having sex less often

.

There are things you want from your sex life that you just aren't able to get.

You notice that changes to your body or medications you are taking have made you

less interested in or less confident about sex

.

Maybe you have been taking risks, such as having unprotected sex or hooking up with multiple partners, in order to fulfill your sexual desires.

You find that you are too tired or stressed to have sex, even though you have a desire for it.
10 Ways to Deal With Sexual Frustration in Your Relationship
Sexual frustration isn't a fun place to be, and it can even lead to damaging thoughts and behaviors, such as low self-esteem or going outside of your relationship for sex.
When you are feeling sexually frustrated to the point that it is interfering with your daily happiness or negatively affecting your relationship, it is time to take action.
If you're feeling sexually frustrated within your relationship, the good news is that there are ways to handle sexual frustration. Consider the following ten tips to get rid of sexual frustration and start feeling like yourself again:
1. Have a conversation with your partner
Communication is an important part of dealing with sexual frustration in your relationship. If you don't communicate with your partner, he or she may not even be aware you are sexually frustrated.
You can have a conversation with your partner to determine how you can better meet each other's needs sexually.
Have an honest but respectful conversation. Begin with a statement like, "I have noticed we haven't been having sex as often lately, and I miss feeling close to you. Would you be open to talking about how we can better connect sexually?"
2. Go ahead and initiate sex
Over time, people in committed relationships can stop putting effort into sex, which can lead to one or both of you becoming sexually frustrated. Maybe your partner is also having sexual frustration but is hesitant to initiate sex.
Instead of waiting for your significant other to engage you in sex, go ahead and take that first step.
Check out this video for some great ideas on how to initiate sex:

3. Change up your sex routine
Sometimes, all you need to relieve sexual frustration is a change of pace.
If you always use the same sex positions or fall into the same routine, challenge yourselves to try something new. Talk to each other about sexual fantasies, or experiment with a new position or style of sex.
4. Try mutual masturbation
If your partner's sex drive isn't as high as yours is, or perhaps they aren't in the mood for full penetrative sex, you might be able to release sexual frustration through mutual masturbation.
This allows you to have your sexual needs met while still connecting with your partner.
5. Don't be afraid of solo masturbation
Even if your partner doesn't want to join, you can engage in masturbation on your own to relieve sexual frustration.
6. Learn more about your partner
Over the course of a relationship, two people may grow apart sexually, leading to one or both partners becoming sexually frustrated. Learning more about your partner's needs can help to resolve the issue.
Find out what turns your partner on or what they need sexually. This can help the two of you to get on the same page and become sexually compatible again.
Go ahead and have a conversation to see what your partner may need differently from you in order to be excited about sex again.
7. Use music to cope
If your partner's low sex drive leads to ongoing sexual frustration, there are strategies you can use to cope with sexual frustration until the situation improves.
One such strategy is listening to music.
A recent study found that listening to the music of your choice can increase feelings of joy, whereas classical music can have a relaxing effect. If you are feeling depressed over being sexually frustrated, your favorite music may help, whereas some soothing classical tunes may ease anxiety to help you deal with sexual tension.
8. Get some exercise
Another way to boost your mood if you have a need to get rid of sexual frustration is to get out and get some physical activity. Exercise provides a great way to release sexual frustration.
Studies show that it can boost mood and improve depression. This makes exercise an ideal way of how to deal with sexual frustration. It may not be a replacement for sex, but it can provide an outlet to help you cope.
9. Practice self-care
Taking care of yourself with proper nutrition, adequate sleep, and healthy stress management can improve your life and help you to learn how to stop being sexually frustrated.
If you are always feeling stressed or tired, it can affect your ability to become turned on and enjoy sex, which can lead you to sexual frustration. Once you make self-care a priority, you are likely to find that you feel better, and sex feels better, too.
10. Consider outside help
If other methods are not successful at helping you relieve sexual frustration, it may be time to seek outside help in the form of relationship therapy.
A therapist can help you and your partner to address underlying relationship problems, such as conflict or lack of sexual compatibility, that may be negatively affecting your sex life and giving you sexual frustration.
Conclusion
Sexual frustration occurs when there is a disconnect between your sexual needs or wants and what you are actually experiencing sexually.
For example, you may feel sexual frustration if you want to enjoy satisfying sex with your partner, but they frequently reject your sexual advances. This can leave you feeling depressed, irritated, or on edge.
If these strategies are not effective, you may benefit from going to a relationship therapist with your partner to help you to achieve a sexual connection that is satisfying for both of you.
Share this article on
Want to have a happier, healthier marriage?
If you feel disconnected or frustrated about the state of your marriage but want to avoid separation and/or divorce, the marriage.com course meant for married couples is an excellent resource to help you overcome the most challenging aspects of being married.
More On This Topic
You May Also Like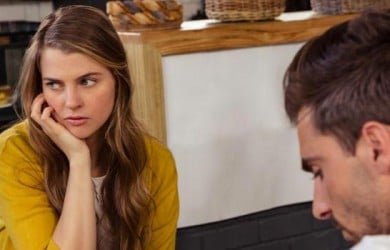 Popular Topics On Married Life