How Should Men Deal With Loss of Sex Drive- Expert Advice
I have no sex drive and it's ruining my relationship. I have often heard men complaining about reduced libido or loss of sex drive.
Why do men lose interest in sex? What is the cause of decreased sexual desire?
You've seen the ads on TV, you've seen the billboards, you've seen the ads in magazines telling us that loss of sex drive in men is probably due to low testosterone. It is commonly known as "low T."
But is that the only major reason that men struggle with sexual drive, sexual desire?
For the past 30 years, number one bestselling author, counselor and Minister David Essel has been helping millions of men to help them overcome the loss of sex drive back, to reclaim their mojo, but the challenges aren't always physical.
Below, David talks about his own struggle with the loss of sex drive, the cause, and what he did about it.
My struggle with the loss of sex drive
"Several years ago, I suffered a major loss in my life. Someone who I thought would be with me until I left this planet, was taken away from me way too early.
I was stunned. Absolutely stunned! If someone would've told me a year before this would've happened, I never would've believed them.
Because the loss was so deep, so intense, my body reacted in the most bizarre way I could ever imagine.
And even though this person I lost had nothing to do with my sexuality or my sexual drive, my mind and body completely shut down. We were best friends, and that's all!
Now because I've worked in the health field for 40 years, I knew that even though I was 61 years old, my sex drive should not disappear overnight for god sake!
I couldn't figure it out. I had no clue what was going on. And it wasn't just about getting on Viagra or something like that. I had no interest in sex at all!
So not only did my desire die, my sexual drive died. I couldn't even get an erection if someone paid me $1 million. And that's the truth!
How I got my sexual drive back
"In doing some self-introspection, I found the answer!"
"I needed to grieve the loss of my friend, I needed to grieve the loss of this friendship, I needed to forgive this person, forgive the family, and forgive myself for anything I may have done that created this upheaval.
I spent the next eight months journaling, writing, forgiving, letting go, and then loving myself and others once again.
The end result?
My sexual drive is back and over the top! My sexual ability to function is the highest it's been in years!
And this is how I try to help men with no sex drive or loss of interest in sex. A loss of sex drive may not always be physically related.
Mine was 100% emotional!
If you're struggling with your own sexual drive or sexual desire, definitely check out with your doctor what might be going on.
They will probably recommend a change in diet, exercise, getting rid of alcohol and nicotine, which can absolutely destroy our sexual function, and they may recommend something like Viagra which is fine as long as we take away the potential emotional components that could be eliminating your sexual drive and desire."
Also Watch:

My endeavor after reclaiming my sexual desire
"And then the next thing I did might surprise you: I started to write a book on erotic sexual relationships!
It's funny, and this makes total common sense, of course, but when I lost all of my sexual drive and desire, I had no interest in writing a book on sexuality!
Instead of putting any effort into writing about sex, relationships, or sexuality, I would've written a book on "the benefits of chewing nails every day."
After I reclaimed my sexual identity, I wrote my just-released book, "50 flavors of erotic love… Leaving the vanilla world for ecstasy!" And the timing couldn't be better.
Since reclaiming my sexual desire, drive, and sexual identity, there have been so many men that I've talked to who are sharing their stories with me.
And once they clear up the emotional damage, then they can follow the principles in my new book to have the most incredibly deep, loving, communicative, and erotic relationship you could ever imagine."
David Essel's work is highly endorsed by individuals like the late Wayne Dyer, and celebrity Jenny Mccarthy says, "David Essel is the new leader of the positive thinking movement."
His work as a counselor and minister has been verified by organizations like Psychology Today, and marriage.com has verified David as one of the top counselors and relationship experts in the world.
To work with David one on one or grab his brand new book on erotic, sexual relationships, please visit www.DavidEssel.com.
Share this article on
Want to have a happier, healthier marriage?
If you feel disconnected or frustrated about the state of your marriage but want to avoid separation and/or divorce, the marriage.com course meant for married couples is an excellent resource to help you overcome the most challenging aspects of being married.
More On This Topic
Recent Articles
You May Also Like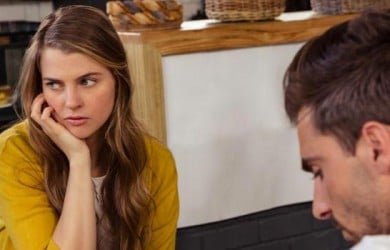 Popular Topics On Married Life