Wedding Venue Tips to Help You Decide Between Single Venue or Multiple Venues
When it comes to planning your special day, there is no end to the options available, from the venue to the food, the dress, the list goes on.
Planning a wedding can be a very stressful experience, with a lot of pressure on to get it just right. In your mind you have a very clear picture about what the dream wedding consists of, but making dream become reality is a very difficult prospect.
One of the most important elements of your wedding say to consider is the venue.
When considering venues, how many is too many? Multiple venues bring plenty of positives and negatives, from cost saving to complex travel arrangements for guests. Maghull Coaches are here to explain the pros and cons of different wedding venues.
Why would you need multiple venues?
There are several reasons why you may feel the best solution for your perfect day is to book at least two venues.
What you should know before choosing your wedding venue is that ultimately, this usually boils down to the wedding ceremony and the wedding reception.
Your big day will traditionally begin with the wedding ceremony, the first milestone of any wedding day where the bride and groom will lock eyes for the first time in front of their guests.
The ceremony is where traditional rituals will take place, such as the procession, readings and exchanging of vows. It will conclude with an iconic kiss between the bride and groom, formally representing their new status as a married couple.
It's common for a traditional religious wedding ceremony to take place in a church setting in front of family and friends.
Following the wedding ceremony will be a big celebration at a party venue, commonly referred to as the wedding reception.
This may take place immediately afterwards or later in the evening. The reception is usually an informal engagement when compared to the more traditional proceedings of the ceremony. It is the opportunity to celebrate the start of the couple's new life together.
A reception will usually involve speeches, entertainment, music, food and drinks. Not to mention it's the place of the husband and wife's first dance together!
In some cases, a third venue may even be added to the mix.
This may be the case if the couple decides to hold a private reception or dinner engagement with close friends and family before the larger party celebrations begin.
Reasons for multiple venues
So, if that means two or three venues, is it really worth it?
A clear benefit of this is that you get to experience multiple styles of venue and your wedding day can be one big exciting adventure!
One of the things to consider when choosing a wedding venue is your taste and temperament.
If you are the adventurous type it might be boring remaining at the one venue for the duration of your day.
A lot of couples prefer having their wedding ceremony take place at a beautiful venue where they can exit the doors to their applauding guests, step into a wedding-themed vehicle, and spend some time together before joining the party celebrations.
Remember, too, that if you choose a church ceremony, it is unlikely they will have the facilities to accommodate a large party afterwards.
Churches are of a more formal setting and may not be the most suitable place for your reception. In this situation, it's likely you will be required to book a second venue to host your reception.
If you choose just one venue for the entire day, you may also need to consider whether the staff have the space and time to set up the reception area while the ceremony is taking place.
It may also remove the magic and illusion of your special day if you can see all the behind-the-scenes work taking place.
Recommended – Pre Marriage Course Online

Reasons against multiple venues
A big positive of choosing the same venue for both your ceremony and your celebration is the cost saving you will make.
You won't be required to book multiple venues, arrange separate decorations or hire planners to prepare multiple rooms. There will also be no forking out for travel between venues. Traveling can also add significant time to your schedule, particularly if your venues aren't close to each other. This time can be better spent for relaxing and spending time with your loved ones.
Then there's your guests to consider. Some may be local, but often relatives and loved ones will travel far and wide to attend a wedding, and it is important to consider how they will be affected – do they know the area, or are they likely to get lost?
If it is unknown to them, multiple venues can add stress and confusion to their planning. In cases like this they may even decide to attend one of the ceremony or reception rather than both.
How to make transport easy for your guests
If you choose to have more than one venue for your wedding day, as so many do, it's wise to consider tips for choosing your perfect wedding venue. Most importantly, how you can make the transport situation clear and easy for your guests to follow.
You don't have to arrange private transport for your guests – this is costly and unnecessary – but it is helpful to give some direction to your guests – after all, you want them to come!
Other than guests having to make their own way from ceremony to reception, there is an additional service you could look to book to help ease their traveling concerns.
One of the most popular forms of wedding transport for guests is a coach hire. A wedding coach hire is a cost-effective, safe and fun way for your guests to travel between venues together, removing the possibility of anyone getting lost or arriving late.
Share this article on
Want to have a happier, healthier marriage?
If you feel disconnected or frustrated about the state of your marriage but want to avoid separation and/or divorce, the marriage.com course meant for married couples is an excellent resource to help you overcome the most challenging aspects of being married.
More On This Topic
You May Also Like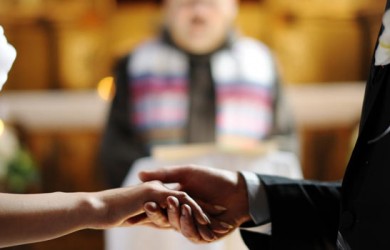 Popular Topics On Getting Married