How to Plan a Destination Wedding with Ease: 11 Helpful Tips
Planning a destination wedding is a dream for many couples but can also be a logistical challenge. In this ultimate guide, we'll provide expert tips for destination weddings and step-by-step instructions to help you easily plan your dream wedding in a far-off locale.
From choosing the perfect destination to handling the finer details, we've got you covered. Let's embark on this exciting journey together on how to plan a destination wedding.
Why plan a destination wedding? 5 reasons
Now, we'll delve into five compelling reasons why planning a destination wedding might be the perfect choice for you.
Research shows that young couples showcase a preference for having destination weddings, but their choice of destination is varied.
From stunning backdrops to cultural experiences, we'll explore how to plan a destination wedding to create unforgettable memories.
1. Stunning scenery and backdrops
The allure of destination weddings often begins with the promise of stunning natural settings and picturesque backdrops.
Imagine exchanging vows with the azure sea as your backdrop, your feet sinking into powdery sand. Or do you prefer the timeless elegance of a historic castle nestled in the rolling hills of Europe? Whatever your dream scenery may be, destination weddings offer many breathtaking options.
2. Intimate and exclusive celebrations
Destination weddings often result in more intimate and exclusive celebrations.
While a traditional hometown wedding might involve a sprawling guest list, a destination wedding typically includes a smaller, carefully curated group of family and close friends. This exclusivity creates a sense of intimacy and connection that is hard to replicate in larger gatherings.
With fewer attendees to cater to, you can spend quality time with your loved ones. So, how to plan a destination wedding?
Beach bonfires, pre-wedding excursions, and post-ceremony brunches become manageable and enjoyable when the guest list is limited. This intimacy allows you to forge deeper connections with your nearest and dearest, making your destination wedding an extraordinary and memorable experience.
3. Built-in honeymoon
How does a destination wedding work? You can bask in the newlywed glow and start your marital journey right where your wedding occurred.
Whether you unwind on a sun-soaked beach or explore the rich culture of your chosen destination, the continuity between the wedding and honeymoon makes for a smooth and stress-free transition.
It also eliminates the need for additional travel, allowing you to relax and revel in the romantic ambiance without the hassles of airport transfers and check-ins.
4. Cultural experiences
Destination weddings offer a unique opportunity to infuse your special day with rich cultural experiences and traditions. Your chosen location can become a vibrant tapestry of diverse influences, making your wedding a celebration of your love and local culture.
Consider embracing the culinary delights of your destination by incorporating traditional dishes into your reception menu.
Dance to the rhythms of local music or hire indigenous performers to provide entertainment. You can even involve local artisans to create unique wedding favors or decorations, adding an authentic touch to your celebration.
5. Stress-free planning services
Planning a destination wedding might sound daunting, but many resorts and venues specializing in these types of weddings offer comprehensive planning services. This can be a significant relief for couples who worry about the logistical challenges of organizing a wedding from afar.
11 helpful destination wedding tips and guidance
Planning your destination wedding is an exciting endeavor that allows you to create a unique and memorable celebration. However, it can also be a complex process involving coordinating details from afar.
This section will provide 11 invaluable tips and guidance on how to plan a destination wedding to ensure your destination wedding planning journey is smooth and stress-free. From choosing the perfect location to handling logistics and guest accommodations, we've got you covered every step of the way.
1. Select the perfect destination
Choosing the right destination is the cornerstone of your destination wedding. For ideas for destination weddings, start by considering your personal preferences and those of your partner. Do you dream of a tropical beach wedding, a historic European castle, or a rustic countryside celebration?
Studies show that destination weddings often contribute to the economy of the preferred destinations. Owing to this, you might find special offers and facilities that cater to your needs.
Consider your budget, accessibility, and the ease of obtaining marriage licenses in your chosen location. Research potential destinations thoroughly, considering climate, seasonality, and local customs, to find the ideal backdrop for your special day.
2. Plan well in advance
Destination weddings typically require more lead time than traditional ones.
Start planning at least a year to ensure you have ample time to secure your venue, vendors, and accommodations. This timeline allows guests to make travel arrangements and obtain required visas or passports, reducing last-minute stress for everyone involved.
3. Work with a local wedding planner
If you are still worried about how to plan a destination wedding, hiring a local wedding planner or coordinator can be a game-changer. They have in-depth knowledge of the destination, can recommend trusted vendors, and can navigate language barriers.
Your planner will handle the logistical details, such as permits, licenses, and local regulations, ensuring your wedding day goes off without a hitch.
4. Establish a budget
Create a detailed budget for all wedding-related expenses, from travel and accommodations to décor and entertainment. Factor in currency exchange rates and additional costs of planning a wedding abroad. Be prepared for unexpected expenses, and consider setting aside a contingency fund to cover any unforeseen circumstances.
5. Guest accommodations
Wondering how to book a destination wedding? Help your guests by providing a range of accommodation options. Reserve room blocks at different price points to accommodate various budgets and preferences.
Include information on how to book these accommodations in your wedding invitations or on your wedding website. Consider hosting a welcome event or farewell brunch to enhance the guest experience and show appreciation for their presence.
6. Send save-the-dates early
Given the additional planning required for destination weddings, send save-the-dates at least 8 to 12 months before your wedding date. This gives your guests ample time to make travel arrangements, request time off from work, and secure any necessary travel documents.
7. Streamline travel arrangements
Make travel as convenient as possible for your guests by providing clear information on transportation options, including flights, airport transfers, and local transportation. Consider arranging group discounts with airlines or transportation providers to help your guests save on travel expenses.
8. Legal requirements and paperwork
Research the legal requirements for getting married in your chosen destination. Some countries may have residency requirements, waiting periods, or specific documens you must provide. Work closely with your local wedding planner to ensure you meet all legal obligations and obtain the necessary permits and licenses.
9. Cultural sensitivity
Respect and embrace the local culture of your destination. Incorporate local customs, cuisine, and traditions into your wedding celebration to create a rich and immersive experience for you and your guests. This adds authenticity to your wedding and fosters a sense of cultural appreciation and connection.
10. Weather contingency plans
Consider the weather patterns of your chosen destination when planning your wedding date and venue. Have a backup plan in inclement weather, especially for outdoor ceremonies. Ensure your guests are comfortable by providing shade, fans, or heaters, depending on the climate.
11. Communication is key
So whether you are looking at how to plan a wedding without a wedding plan or otherwise, effective communication is essential when planning a destination wedding. Keep your guests informed through regular wedding website updates or emails.
Watch this video to learn more about the habits that are necessary for a healthy relationship:
Commonly asked questions
Destination weddings offer a unique and memorable way to tie the knot, but they come with questions. This 'How to plan a destination wedding FAQ' addresses common queries about destination weddings, from costs to planning essentials and etiquette.
How much does a destination wedding cost?
The cost of a destination wedding varies widely based on location, guest count, and personal preferences. They can range from $10,000 to $50,000 or more on average. Creating a detailed budget that factors in travel expenses, accommodations, and wedding-related costs is crucial.
What do I need to plan for a destination wedding?
Planning a destination wedding involves selecting the perfect location, securing accommodations, coordinating travel for guests, understanding legal requirements, and hiring local vendors. Working with a local wedding planner can simplify the process and ensure you take advantage of all crucial details.
Who pays when invited to a destination wedding?
Traditionally, guests cover travel expenses and accommodations for a destination wedding. However, couples may subsidize certain costs, such as hosting a welcome dinner or covering a portion of accommodations to show appreciation for their guests' presence.
What is the bride responsible for in a destination wedding?
In a destination wedding, the bride and the groom are responsible for many of the same tasks as a traditional wedding, including selecting the venue, choosing vendors, and planning the ceremony and reception.
Additionally, the bride may need to coordinate travel logistics and accommodations for the bridal party and guests.
Conclusion
In this comprehensive guide, we've covered the essential steps for how to plan a destination wedding seamlessly.
To ensure your dream wedding becomes a reality, consider seeking guidance from experienced wedding planners, attending destination wedding planning courses, or utilizing the wealth of resources available online.
These resources will help you navigate the intricacies of your unforgettable destination celebration and concerns about how to book destination weddings.
Share this article on
Want to have a happier, healthier marriage?
If you feel disconnected or frustrated about the state of your marriage but want to avoid separation and/or divorce, the marriage.com course meant for married couples is an excellent resource to help you overcome the most challenging aspects of being married.
You May Also Like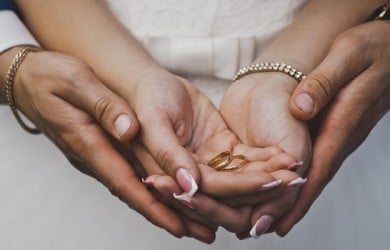 Popular Topics On Getting Married