Wedding Planning Tips Before Walking Down the Aisle
The two of you are on high spirits & you get all nervous thinking about how you two are going to be each other's spouses in some time, but wait, that just means the sound of wedding bells, and now you're all
stressed about THE BIG DAY
.
It's your wedding, you will be walking down the aisle, and you don't know what to do? It's natural and common, people usually get nervous and panicky at such moments, but you don't worry at all because I got your back.
First of all, what you have to do is sit down, take a deep breath, drink some water, and relax.
When you think you're ready and you can do this then get yourself a notebook and something to write with because we have to plan a wedding and we can't do that without a planner. Right?
Now, first of all, write your name with his name in the most appealing way to you, so you feel more comfortable with the situation… then, write all the important things which are needed to be done.
Also watch:
Let me offer you some wedding planning tips for brides, so it will make it easy for you to understand and plan for the things you need for a wedding.
1. Throw a bouquet or bite a loaf
Your family may insist that the wedding is with the ransom, loaf, and abduction of the bride. And friends will ask: "When to catch a bouquet?"
"There are thousands of wedding traditions, and your couple should immediately agree on what is important for you and what is not. Remember that only you decide.
2. Invisible photographer
When walking down the aisle every eye would be on you, but the way a wedding day will be remembered depends largely on the skill of the photographer. It is he/she who catches and forever saves the best moments.
Therefore, the choice is exciting. How to find your specialist, experienced wedding photographer? A couple of life hacks, and a million benefits!
How to study a portfolio?
Watch the entire wedding series. It is not difficult to make a couple of cool pictures from the wedding, so you can determine the professionalism of the photographer only by looking at the series from weddings because you pay not for two photos, but for the whole shooting.
Be sure to meet with the photographer in person before concluding a contract. You must be on the same wavelength to feel comfortable during your wedding day. Get to know & discuss the day.
Are you rarely photographed? Sign up for a love story a month before the wedding. You can get used to the camera, feel more confident, get cool photos! They can be used for invitations or wedding decors.
It is advisable to set aside time for a staged photo shoot before the ceremony, so you will look fresher. Two hours will be enough (excluding moving).
Trust the photographer and be yourself, enjoy each other, and you will receive the sincerest photos, and we will help you with this!
Recommended – Online Pre Marriage Course
Snow-white natural smile
Any photographer will tell you that the main thing in the wedding picture is your happy smiles. It is always important to take care of the beauty and health of teeth, but a wedding is a special occasion to visit a dentist
For such a task, it is excellent to choose a clinic that specializes in aesthetic dentistry like surgery, orthodontics, orthopedics and hygiene, 3D tomography, and a radio Visio graph.
An important celebration is definitely worth a comprehensive examination of the oral cavity, the necessary treatment, and comprehensive professional hygiene.
These are several procedures at once that remove all formations on the teeth, prevent the development of caries and periodontal disease, and can make the smile lighter by 2-4 tones.
Even with the most thorough home cleaning, you can't achieve such an effective result. It is in them that the secret of the beautiful smiles of many celebrities is.
Clinic capabilities allow everyone to realize the dream of a Hollywood smile: sparkling and at the same time healthy and natural. At the wedding, there will be a million reasons to demonstrate it!
Delicious wedding cake
The main cake of the holiday should be not only beautiful and appropriate in style to your celebration, but also tasty and natural in composition. The newlyweds often forget about this but in vain.
In order for the cake to become a real event, it is important to entrust its creation to an experienced pastry chef who will not miss a single detail.
Pastry masters in every town will be happy to help you realize your dream of a perfect wedding cake. Vanilla, chocolate, as well as many other fillings, with fresh berries, fruits, or maybe decorated with flowers?
A true work of confectionery art that you and your guests will definitely enjoy.
Banquet is optional
Mandatory table with the letter "BBFs" and toasts in turn – the last century. If you need space for dancing, for example, arrange a buffet and a bar with drinks. And you can seat guests at around beautifully decorated tables.
Think of a seating plan in advance in order to avoid misunderstandings and panic in place, this is one of the most essential wedding planning tips.
The same dress
Wedding planning tip: Before you start looking for a wedding outfit, you should decide on the theme and venue of the celebration.
It will be useful to study fashion trends. Although "they" say that you should not pay attention to trends, I am for the dress to be stylish and relevant.
I have found a huge variety of dresses for you in Kleinfeld Bridal, Angelo Lambrou Atelier, The Bridal Salon NYC, Lovely Bride New York, Nordstrom, Reformation, and many more.
There are evening and wedding dresses exclusively from the latest fashion collections. Royal satin, flying tulle, silk, luxurious lace.
At Angelo Lambrou Atelier, almost all models are handmade, decorated with beads or crystal as per customer's choice, or should we say Bride's choice.
Thanks to their own production, the designers who can make their dreams come true and sew any dress according to your individual standards. So every bride will definitely find the perfect outfit here.
Stylish and modern image of the bride, groom, and guests
To make your wedding look elegant and relevant at the same time, you definitely can't do without the help of stylists.
Without a rehearsal, too, because on the "The-day," there is definitely not enough time for experiments.
Our wedding planning advice would be to book your date in advance weeks before "The-Day" and in the list of services – everything to create the perfect image:
Professional care.

Form creation.

Styling of any complexity.

Eyebrow modeling.
When you think about holiday images for your couple, do not forget about the guests of the celebration.
Define a general concept & give guests the opportunity to show individual style, then the picture will definitely turn out amazing, and everyone will feel comfortable and appropriate.
If you decide to organize it in The Whiteface Lodge, Dunton Hot Springs, The Pitcher Inn & Planterra Conservatory, etc. consider options with rain, snow, and cold (it happens here in the summer, you know).
Some wedding planning tips for the wedding day checklist:
Do you have a fallback with a roof: a house, an awning, umbrellas? By the way, umbrellas in the color of the celebration can perfectly arrange the ceremony in the rain and even become

gifts to guests

.

Will the round-trip road resembles a military campaign? If you need a map and a helicopter, maybe you should choose a closer place?

Have you found a wedding receptionist who won't ruin the ceremony? We need a polite, competent, without template blanks from the registry office (otherwise, it makes sense to go!)

Mosquitoes and ticks. So theme in the wedding text, but who will remind you, if not me. Repellents will save mood and health.
Wedding tag
In order not to search for a photo in the ribbon the next day, inform everyone in advance of the wedding tag and write it on invitations or cards on tables.
Believe me; this will save a lot of time. And take care of outlets and chargers – a trifle, and the guests will thank you.
Traditional rice toss or fun alternatives
Wedding guests would throw seeds at the newlyweds to ensure fertility and prosperity. But, the world is changing, so why can't we?
Throwing the rice at the newlywed couple has been a tradition for thousands of years. Going back as far as the ancient Egyptians.
I don't know about people about not following these old traditions, but my favorite part of the wedding is when a couple is pronounced married, and they recess down the aisle, and everybody tosses flowers petals at them and creates such a beautiful floral burst kind of picture.
The idea behind this wedding planning tip is to make fractional changes in these old traditions so that no one gets hurt like people who like this tradition, people who don't like tossing seeds and crops at the couple & the Budget (yeah, rose petals can be kind of very expensive).
I have different options in my mind for what we can use:
Bright confetti.

Rose petals.

Bubbles and birdseed.

Paper airplanes.

Dried lavender and herbs.

Mini beach balls.

Pompoms, matching your wedding's theme and color scheme.
Newlyweds exit
A useful tradition is not to sit at a banquet until the last guest. People want to have fun – and let it go, but you can safely go to sunset with loud applause.
Voila! Beat your final exit: dance, fireworks, music number, or jump into a retro car with the sticker "Just married."
Share this article on
Want to have a happier, healthier marriage?
If you feel disconnected or frustrated about the state of your marriage but want to avoid separation and/or divorce, the marriage.com course meant for married couples is an excellent resource to help you overcome the most challenging aspects of being married.
Learn More On This Topic
You May Also Like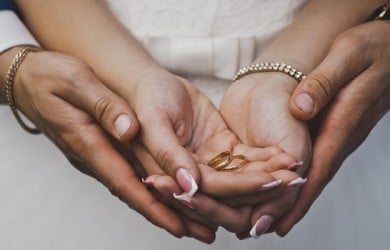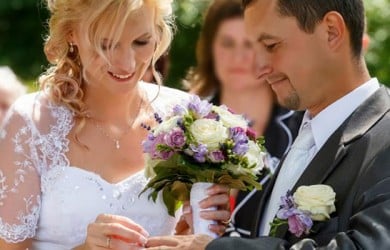 Popular Topics On Getting Married