11 Best Wedding Reception Ideas for an Amazing Event
When it comes to the wedding celebration, the reception is incredibly important. While the ceremony itself is the purpose of the party, it gets over rather quickly.
The reception takes hours, and in some cases, days. You need to use wedding reception ideas to make it a day to remember for the couple of course and even the people who are gracing the occasion with their presence.
1. A donut wall
For those who do not wish to follow tradition, one of the best wedding reception ideas is to skip the wedding cake. Instead, opt for a donut wall!
This is a trendy new idea that involves using a creative and themed display of delectable donuts for the guests. Research the idea and you are sure to see some beautiful and fun creations.
Also, you will need to spend significantly less on this new trending alternative to the wedding cake. Make sure you order ahead of time and do the necessary preps for the mouthwatering display well in advance.
2. An ice cream bar
One of the unique wedding reception ideas to provide snacks for guests is to have an ice cream bar.
Hire a local food truck service capable of handling the size and scope of your event. This is an especially great choice if the weather is hot.
3. A buffet table
If you have catered an event where guests are invited to party well into the wee hours of the morning, make sure to provide some fuel!
When you make arrangements with the catering company, you should have them serving snacks a few hours after the main meal has wound down.
A buffet table is one of the best wedding reception essentials at this point to provide guests with new grazing material.
However, if you do not have a caterer, you can still implement this wedding reception idea.
Recommended – Online Pre Marriage Course

4. Casual takeout
Whoever you assign on food duty can have pizza and chicken wings brought in. If another form of casual takeout is preferred in your city, go for it!
The important thing is to realize that guests need good food and as host, it is your job to provide it.
Likewise, you need to provide beverages for the guests. Consider a smoothie or fresh juice bar if the guests would like that. Otherwise, you could also hire a bartender to serve at a cash bar as one of your unconventional wedding reception ideas.
5. Alcohol
Some folks prefer a BYOB -Bring your own booze reception while others want to maintain control over the type of alcohol being consumed. The bride and groom should make this decision together, particularly being aware of the potential outcome.
If either side of the family has active alcoholics who will be present, the subject should be out there and solved beforehand. If this means no booze or not inviting that person, it should be a mutual decision.
6. Souvenir for wedding reception
You remember a wedding reception, even years later if you got a souvenir from the host.
Even if it is a humble gift, you treasure it as a remembrance of all the fun you had and recreate the party in your mind when you see it.
One of the essential wedding reception ideas is to go for a creative gift for the takeaway. If the favor is useful, even better.
Some brides do not provide wedding reception favors, which may be a lack of planning, or for budgetary concerns, but in any event they are very much appreciated!
7. Adding Wedding Favors
When planning your wedding consider adding wedding favors at the welcoming table, guest book area, or better yet – at the dinner table.
Your guests will appreciate these wedding reception ideas. Also, the souvenirs allow you the opportunity to thank them for the effort they made in joining your celebration.
Wedding reception favors can come in different forms, and can be a functional part of your décor as well as a "Thank You" gift.
Take into consideration your place settings, there are so many unique and wonderful wedding favors that can be used as place settings, even if that is not what they were made for.
Your imagination is the only limit you will have as to what you can come up with. Some wedding favors are whimsical, some are ornate and elegant, and some can be color coordinated to your décor.
In any event, they don't have to be expensive at all!
With good planning you can come up with creative and appropriate wedding favor ideas that won't break your budget, and will show you to be a great hostess as well.
8. Buy wedding favors in bulk
Many wedding reception favor gifts can be purchased in bulk, at wonderfully discounted prices.
For example, candles are one of the top wedding reception ideas that provide to be wonderful table decorations. They can be purchased in bulk, in a variety of styles, sizes and colors, and give an atmosphere of romance and elegance.
Small picture frames also make a wonderful wedding reception idea. Place the name of your guest inside the frame as a place setting and later they can insert a picture of their choice inside.
9. Wine glasses
One of the amazing wedding reception ideas is to get personalized wine glasses for your bridal party so they can toast to your happiness in style, as well as take them home afterward as bridal party gifts.
You can add a bottle of wine for them as well, as a special touch, and that will take care of your wedding party gifts.
10. Candy boxes
Candy boxes or tins make another brilliant option for takeaways. They can be purchased in bulk at extremely low prices and you can fill them with gum, mints or even decadent chocolate for a special treat.
Your guests will love them and they can easily snug into a pocket or purse for the ease of carrying home.
11. Audio CDs
Another creative wedding reception idea would be to hand out audio CDs filled with the songs that were played on your special day.
Getting married is the most beautiful day of your life. There is so much that you need to get done for your D Day.
These pretty perfect wedding reception ideas can get you started for your momentous day. Start planning early and get the help of others as needed to ensure that everything goes smoothly on your big day.
You deserve to have a fabulous ceremony and reception with the person you want to live your life with!
Share this article on
Want to have a happier, healthier marriage?
If you feel disconnected or frustrated about the state of your marriage but want to avoid separation and/or divorce, the marriage.com course meant for married couples is an excellent resource to help you overcome the most challenging aspects of being married.
More On This Topic
Recent Articles
You May Also Like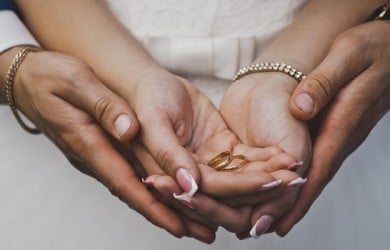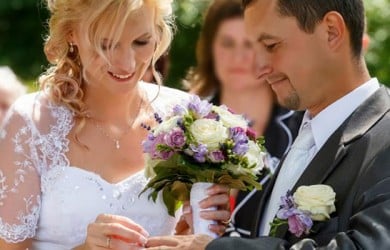 Popular Topics On Getting Married