20 Tips for Planning a Small Courthouse Wedding
When planning a wedding, most people spend their time finding the perfect venue, choosing some fancy decor, and determining how they will foot the bill for their big day. While this may be the norm, there are cheaper, easier alternatives to the stereotypical wedding.
A courthouse wedding may be of interest if you'd like to keep your special day private and simple and if you're on a tight budget. Below, learn how to plan a wedding so everything goes as smoothly as possible.
What is a courthouse wedding?
If you get married at a courthouse, you're having a courthouse wedding. This type of wedding involves a civil, non-religious ceremony. Instead of a pastor or other clergy member presiding over your ceremony, the judge will sign off on your marriage.
A courthouse wedding is completely legitimate and results in a legal marriage. You'll pick a date that works for you and the courthouse, and an officiant will be provided for your ceremony, most often a judge or other court staff member.
What type of ceremony is a courthouse wedding?
A courthouse wedding is a civil, legally binding ceremony. In opposition to a religious wedding, a courthouse wedding uses a legal officiant rather than a religious officiant like a pastor, priest, or rabbi.
Like a religious wedding performed at a church or other place of worship, a courthouse wedding often allows for a processional, followed by opening remarks, vows, exchanging of rings, and a recessional. Once the ceremony is complete, you'll be legally married, and the marriage will be recognized in all 50 states.
5 things to know when contemplating a courthouse marriage
Knowing what this type of marriage will entail is important if you're considering a courthouse marriage. Below are some things to keep in mind when you're planning a courthouse wedding.
1. Religious institutions may not recognize the marriage
While a courthouse wedding will lead to a legally recognized marriage, some religious institutions may not acknowledge a marriage performed through a civil ceremony.
For instance, under the law of the Catholic Church, a marriage is not valid unless performed in a Catholic church, with a Catholic priest/deacon/bishop and two other witnesses present.
2. Remember that you still need a marriage license
Even if your wedding is performed in a courthouse, you'll still need to get a marriage license. Sometimes, couples assume they can attend the courthouse and perform a ceremony, but you may need to get your marriage license in advance.
Check with the procedures at your local courthouse to be sure. You'll also need to gather items like your Social Security card, driver's license, or another form of identification to get your marriage license.
3. You won't be able to have a long guest list
Getting married at the courthouse means you don't have control over your guest list. The court will have policies regarding the maximum number of guests you can bring.
When you're doing courthouse wedding planning, it's important to know how many guests you can bring to determine whether you'll be able to keep your guest list short enough.
4. The ceremony will be quick
Sometimes wedding ceremonies at a church are quite lengthy. After the processional, a pastor or church leader recites Scripture, gives a sermon, and then leads the crowd in the singing of hymns. While a religious ceremony may be longer, courthouse weddings tend to be brief.
5. It's worth planning a small reception afterward
The allure of courthouse weddings is that they are simple and often affordable, but you can still have a reception.
It's probably a good idea to plan a small gathering following the ceremony since it's so short. It could be as simple as taking the guests to a local restaurant.
20 tips for planning a small courthouse wedding
Courthouse wedding planning is usually simpler than making arrangements for a religious ceremony followed by a full reception, but that doesn't mean that it doesn't require time and thought. Below are tips for making your courthouse wedding a success.
1. Schedule a date early
Courthouses often have limited wedding appointments, so you may need to get something on the books well in advance.
Contact your local courthouse as early as possible to schedule your wedding so you can get a date that you're happy with, rather than waiting until the last minute and getting married later than intended.
2. Research the courthouse's policies
Before your ceremony, you'll need to know how to get married at the courthouse, which requires that you learn the policies of the courthouse where you intend to get married.
You'll need a marriage license before the ceremony, so it's critical to know your courthouse's procedures for obtaining this license. Some have a waiting period after obtaining the license, so don't assume you can get one on the wedding day.
Determine when you need to get the marriage license and how long it's good for so you don't run into any surprises on your wedding day.
3. Decide on a guest list
When researching policies at the courthouse where you're holding your wedding, look into how many guests you can have.
Once you have a number in mind, it's time to narrow down the guest list. Since most courthouses only allow 10-15 guests, you'll likely have to limit the guests to immediate family and a few close friends.
Related Reading: 

9 Ways to Delight Your Wedding Guests
4. Send invitations
A simple ceremony means that you can send unique wedding invites. Since you're keeping the guest list small, you can put more time and money into your invites because you won't have to send hundreds of them.
Sending invitations is essential to understanding how to have a courthouse wedding.
Once you decide on a guest list and have a wedding date planned, send your invites around two months before the date.
5. Pick an outfit you feel good about
A courthouse wedding may not be as formal as a religious ceremony, but you can certainly wear traditional wedding attire if you'd like.
Before your big day, choose an outfit you feel comfortable in because you want your day to be special. If this means wearing a formal wedding gown, so be it, but you could also choose a casual dress, especially if you're sticking to a tight budget.
6. Plan for a photographer
You'll want a photographer to capture memories from your wedding day. Since you'll be limited in the number of guests you can have in the courthouse, you might consider having a friend or family member, who will be in attendance anyway, take the photos.
7. Add your personal touches
One of the courthouse wedding ideas may seem a little impersonal, but you can still add your unique flair to the day.
Make the day your own by adding some personal touches. If you want to carry a bouquet, do so. Or, you can wear a unique piece of jewelry or a veil, go ahead and add these pieces to your outfit.
8. Make a budget
A courthouse wedding can be a great way to get married on a tight budget, but that doesn't mean you don't have to budget at all.
Consider what you need for a courthouse wedding and then budget things accordingly.
List all the expenses you'll incur when getting married at the courthouse. This includes the price of the marriage license, the expenses associated with any wedding attire you'll need, and the cost of any reception you choose to have.
The costs can vary, but it's important to plan for them.
9. Plan your reception
The courthouse wedding reception is your opportunity to celebrate your marriage. This reception can look however you'd like it to. You may have a backyard cookout with just the people who joined you at the courthouse for the ceremony, or you might meet at a local restaurant afterward.
Thinking about reception ideas after courthouse wedding can make your marriage more memorable.
Alternatively, you could have a larger celebration at a reception hall and invite people missing from the guest list for the ceremony. If you need help with how to plan, you can research courthouse wedding reception ideas online.
Related Reading: 

Map out the Perfect Wedding Reception
10. Enlist help
Planning a courthouse wedding can be challenging, and it's okay to ask for help. You might ask a close friend or a relative to assist with little details, like booking the reception hall and choosing flowers for the ceremony.
Having someone to help with little details takes some of the stress off you.
You might even consider hiring a wedding planner if it's within the budget. There's nothing that says you can't hire a professional for a courthouse ceremony.
11. Make a marriage announcement
Even if you opt for a small courthouse wedding, you deserve to be recognized!
Don't forget to make a marriage announcement in the local newspaper. This spreads the news to those who weren't on the guest list and helps you to avoid awkward conversations with people who are surprised to learn you got married.
12. Plan a getaway
If you're getting married at the courthouse to save money, you can still book a low-budget honeymoon. Even a night in a local hotel can be refreshing; pick one that offers amenities like a spa and continental breakfast, and enjoy feeling pampered.
You can book a weekend trip or even a week-long vacation after the courthouse ceremony if you have a bigger budget.
13. Visit the courthouse before the ceremony
Just as you would before getting married at a church, it's a good idea to do a little rehearsal and visit the courthouse before the ceremony.
Visiting the courthouse before the wedding allows you to figure out the parking situation, learn where you'll go on the wedding day, and ease some of your nerves. This step may occur naturally when you stop by the courthouse to get your marriage license.
14. Be prepared to arrive early
You don't want to arrive at the last minute on the day of your wedding. Plan to arrive early so you have plenty of time to park and get inside. This allows you to be ready as soon as your name is called.
An essential part of how to plan a courthouse wedding is to be respectful of the decided timeline.
The last thing you want to do is not be present when you're called in for your ceremony, as the magistrate may move to the next couple on the list if you're not there.
15. Realize that you probably won't be the only couple getting married
Many courthouses schedule multiple wedding ceremonies back-to-back on certain days. This means you likely won't be the only couple getting married. It's helpful if you go into your day knowing that there will be other couples present.
Respect others getting married, and don't linger too long after your appointment.
16. Write your vows
You can usually write and exchange your vows during a courthouse ceremony. If you don't want to use traditional marriage vows, consider writing your own to make the day unique.
Even if you plan to use traditional marriage vows, it's important to have them planned before your day. It would help if you also asked courthouse staff about their procedures in advance, as some may not allow you to use your own vows.
Related Reading: 

30 Best Wedding Vows Ever Heard
Watch this video to learn more about what our wedding vows should include:
17. Get some pampering
Remember to schedule some pampering into your day. This might mean getting your hair and makeup done on the morning of your wedding, or you might schedule a haircut and facial the day before. Whatever it is, take some time to do something that makes you feel special.
18. Choose a wedding party
One of the top ways of how to make a courthouse wedding special is to include a wedding party, just like you would if you were getting married in a place of worship.
You may not be able to include a large group, but it can be incredibly meaningful for the bride and the groom to have a few friends with them as the "wedding party." Choose coordinating outfits to make it official.
19. Consider live streaming
If you can't invite as many people as you'd like to your courthouse wedding, consider having someone use a live-streaming app to stream the wedding to people who aren't present. This will allow others to join you virtually in real time.
20. Have a bridal shower
Getting married at a courthouse doesn't mean you can't participate in other wedding traditions, like having a bridal shower.
If people know you're getting married, they will probably expect a bridal shower. Consider getting a few close friends and relatives together if you're uncomfortable having a large gathering.
Some commonly asked questions
If you're trying to figure out how to do a courthouse wedding, the answers to the following commonly asked questions are also helpful.
How many guests can attend a courthouse wedding?
The number of guests permitted at a courthouse wedding will vary, depending upon the specific policies of the courthouse where you're having your wedding. Check with the courthouse to be sure. You can often expect a maximum of 10-15 guests.
Keep in mind that the maximum number of guests allowed will include people like photographers and your bridal party, so you'll need to consider this when developing your guest list.
How long does a courthouse wedding ceremony take?
Courthouse weddings are typically brief. You can expect to be done within 15 minutes. There will probably be other couples on the schedule to get married the same day, so the magistrate or judge will move quickly, sticking to business.
If you need to figure out how long the ceremony will take, it can be helpful to talk with staff at the courthouse to learn about their specific policies and procedures. They should be able to tell you how long the ceremony will last.
Final thoughts
Having a courthouse wedding is a great way to stick to a tight budget and keep things simple. Going to the courthouse eliminates the stress of hiring a pastor or officiant, booking a church or place of worship, and decorating for the ceremony.
If you want, you can keep a courthouse wedding simple and budget-friendly, by having a small ceremony, followed by dinner with a few close friends and family members to celebrate.
By doing some planning, you can make your courthouse wedding go as smoothly as possible. In addition to the considerations discussed here, you might also consider taking a pre-marriage course to start your marriage on the right foot.
Whether you have a fancy wedding or opt for a simple courthouse ceremony, you can benefit from learning skills like healthy communication to prepare you for a successful marriage.
Share this article on
Want to have a happier, healthier marriage?
If you feel disconnected or frustrated about the state of your marriage but want to avoid separation and/or divorce, the marriage.com course meant for married couples is an excellent resource to help you overcome the most challenging aspects of being married.
Learn More On This Topic
You May Also Like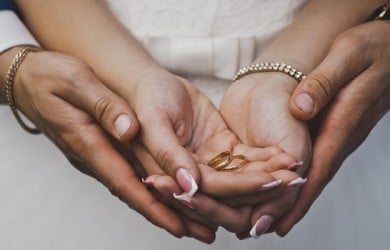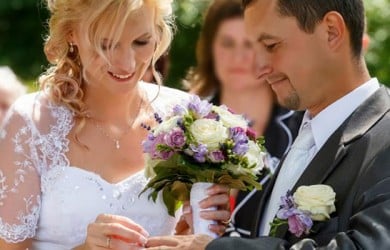 Popular Topics On Getting Married