How Self-Congruence Affects Marriage Quality for Women
Imagine your ideal self — happy, healthy, beautiful, and successful. How does this line up with your reality? Self-congruence means accepting yourself just as you are.
Women with higher self-congruence tend to enjoy better relationships because this trait is closely tied to self-esteem. What is congruence in a marriage, and how can you achieve it? Self-congruence affecting marriage quality is not a new concept but an elaborate one.
Self-congruence in marriage refers to the alignment between a person's beliefs, values, and behaviors with their partner's. When couples share congruent attitudes and behaviors, they experience greater satisfaction and intimacy in their relationship.
For women, self-congruence can be particularly important as it may influence their sense of identity and well-being especially when dealing with marital issues.
There are several changes after marriage for a girl which require greater maturity and understanding. Females who feel their beliefs and values are in sync with their partner's are more likely to report higher levels of marital happiness, communication, and overall relationship satisfaction.
Self-congruence meaning
Carl Rogers was one of the founders of psychotherapy and client-centered psychology. His theory of personality identified three aspects of someone's sense of self: self-image, true self and ideal self. When all three align, he speculated, the person experiences congruence.
Let's understand these aspects in detail.
Self-image
Self-image is how you perceive yourself. In other words, it's your sense of self-esteem. It is not always rooted in reality — for example, you might picture yourself as ugly when other people think you're attractive.
Your interactions with people and your environment can shape your self-image. The difference between your true and ideal self defines how you see yourself.
True self
The true self is who you really are. Although objective and based in fact, you might not know or accept your true self. Other people are likely to see the real you.
For example, if you're anxious, acknowledging that you experience anxiety is a way of accepting your true self. Ignoring the fact that you have frequent panic attacks would be denying your true self.
Ideal self
Your ideal self is who you've always wanted to be. You strive for this because you want to align with the culture's idea of what is perfect, which you internalize throughout your life. "Culture" can be anything from society at large to your parents.
For example, let's say you live in a culture that values green hair. You will likely encounter the idea that green hair is desirable while other colors are not.
You'll picture your ideal self as having green hair and may even take action to achieve this look, such as dyeing your hair or wearing a wig. When there's a mismatch between your ideal and true self, you may experience frustration or poor self-image.
How to achieve congruence
What is congruence in a marriage? Carl Rogers suggested that to align the true self, ideal self, and self-image, you must accept and love yourself for who you truly are. Accepting your true self helps you experience a state of self-congruence in your marriage and as a whole.
For example, even if the culture in which you live values green hair above all other colors, you can achieve congruence by deciding that your own ideal is to have brown hair, which is your natural color. You'll choose not to dye it or cover it with a hat.
This mindset can be difficult to achieve, but it ultimately leads to greater happiness and self-esteem.
How self-congruence affects your marriage: 10 ways
Self-congruence affecting marriage quality is not a new concept. Perhaps you learned that being married means giving up your real personality and dreams of working outside the home. If that's the case, you might try to act like the "ideal" wife and start spending the day cleaning the house.
You'll experience discontent due to incongruence between your true and ideal selves. Ultimately, this may lead you to resent your relationship.
People who feel like their values and behavior align with their ideal selves are more likely to experience higher levels of well-being, satisfaction, and less stress.
A 2020 study found that the higher a professional woman's self-congruence was, the better the quality of her marriage. Here are 10 ways self-congruence can improve your relationship.
1. Higher self-esteem
You have greater self-esteem if you love and accept yourself. There's a well-established link between high self-esteem and satisfaction in your relationship. That's because self-esteem doesn't just affect the way you think about yourself — it also affects how you treat others.
For example, if you have low self-esteem, you may see your husband's success at work as a threat. Without realizing it, you might subtly undermine his achievements to try and feel better about yourself.
Higher self-congruence means you feel secure and confident that other people's victories don't diminish your own. That will help make you a more supportive partner.
2. Better communication
People with high self-esteem are not afraid to speak up for themselves because they're not worried about judgment. You'll have a better ability to communicate your wants, needs, and opinions with your partner without fear of being abandoned.
For example, you might tell your husband that the way he jokes about you is hurtful, not funny. Had you stayed silent, he may not have realized he was hurting your feelings and would have continued this uncomfortable behavior. Clear communication improves your overall relationship.
Related Reading: 

10 Effective Communication Skills in Relationships
3. Reduced stress
You can realize high self-congruence affecting marriage quality and creating a cascade of positive effects in your marital problems, including lower stress levels.
Being able to communicate your feelings and stand up for yourself means you won't feel a sense of underlying dread about having hard conversations.
Plus, practicing self-care by exercising, getting enough sleep, and finding hobbies you enjoy will reduce your stress even further. You'll be able to relax more around your partner and feel happy about who you are.
Related Reading: 

The 5 Pillars of Self-Care
4. Greater emotional stability
Being calm, cool, and collected is a natural benefit of self-congruence. You won't feel the need to defend yourself or get your feelings hurt as easily. As a result, you'll be a more emotionally stable spouse.
Your esteem will come from within you rather than from external comments and situations that determine your sense of worth.
5. More authentic expression
Are you wearing high heels because you like how you look, or are you just trying to fit in? Having high self-congruence means expressing yourself authentically — eating what you want even if it isn't popular, finding your own style, and expressing bold opinions.
It can bring a much-needed sense of variety into your marriage.
For example, maybe you've always wanted to take a couples' dance class because you love expressing yourself through music and movement. Better self-congruence will give you the confidence and personality to ask your husband to go dancing with you, even if he's never brought up the idea.
6. An improved sense of purpose
Another way how self-congruence affects marriage quality is that you might feel a greater sense of purpose in your life.
You'll be more likely to stay engaged and present in your relationship because you know what you want and aren't afraid to ask for it. That's because you'll quickly notice inconsistencies between your true and ideal selves.
Have your dates all turned into movie-on-the-couch nights? That may be fine if you're normally a homebody. However, if you started the relationship by being active and adventurous, you'll notice and correct your course of action when you start staying home all the time. You know you'd rather be skydiving.
7. Faster conflict resolution
Conflicts have been among common marriage problems but things have never looked better for marriage in the United States. The divorce rate among U.S. couples is roughly 50% of what it was in 1992 when 4.8 out of 1,000 total people annulled their unions.
Being able to communicate effectively translates to faster, easier conflict resolution. Rather than letting a problem simmer until it boils over and you yell at your husband, you can calmly bring the topic up right away.
You'll be able to articulate exactly what's bothering you, what you want, and how your husband can help. Additionally, you'll be a better listener because you won't be thinking about how to defend yourself against what you perceive as a personal attack.
Here is a communication formula that helps with faster conflict resolution. Watch the video:

8. Better personal growth
How self-congruence affects marriage quality is also a surefire way to facilitate personal growth. When you feel like your values align with your true self, you're more likely to pursue your own interests and hobbies. Personal development can lead to a more fulfilling life within and outside your marriage.
9. Increased intimacy
Higher self-congruence means you'll likely be more vulnerable and open with your partner. In turn, this behavior can help create a deeper, more meaningful connection, leading to greater overall relationship satisfaction and better management of marriage problems.
You won't be afraid to say what you want or ask how you could improve within your marriage.
Related Reading: 

How to Increase Physical Intimacy in a Relationship: 15 Tips
10. More flexibility
The more self-confident you are, the more likely you can adapt to changing situations and be flexible in your relationship. When faced with a problem at home or in the workplace, you can adjust your actions or expectations to improve the situation and achieve a feeling of contentment.
You'll be able to put negative situations into perspective and use coping skills to handle any adversity that comes your way and tries to ruin your wife and husband relations.
What is congruence in a marriage?
The meaning of self-congruence is to become your ideal self by creating your own ideals, thus accepting your true self and improving your self-image.
Doing so provides many benefits on how self-congruence affects marriage quality, including better communication, reduced stress, and higher overall satisfaction. Improving your self-congruence is a great place to start if you want to strengthen your relationship.
Aim for a positive sense of self!
Achieving a positive sense of self is a lifelong journey that requires commitment and dedication. It involves cultivating a strong sense of self-awareness, exploring personal values and beliefs, and developing self-compassion.
By embracing our strengths and weaknesses and accepting ourselves as we are, we can build a healthy and positive self-image. Additionally, seeking support from loved ones or a mental health professional can provide guidance and encouragement on this journey.
Remember that everyone has the capacity to achieve self-congruence and understand how self-congruence affects marriage quality for the better, and it is never too late to start.
Share this article on
Want to have a happier, healthier marriage?
If you feel disconnected or frustrated about the state of your marriage but want to avoid separation and/or divorce, the marriage.com course meant for married couples is an excellent resource to help you overcome the most challenging aspects of being married.
Learn More On This Topic
You May Also Like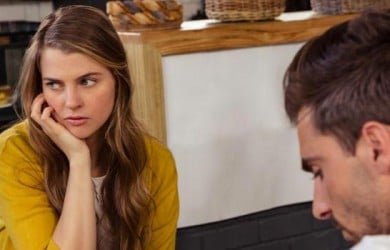 Popular Topics On Married Life