20 Secrets for Staying Happily Married With Kids
You love your kids, and when you look at your life, you think, "I'd have it no other way." That said, if you're reading this, you may have noticed that your marriage takes the back seat more often than you'd like.
Despite the pleasure of having kids in your life, being married with kids is indeed challenging. So, how to make a relationship work with kids? How to have a happy marriage after kids?
For many of you, your marital relationship after having a baby might have gone for a toss. But there are solutions for keeping your marriage strong and staying happily married. So, keep reading to unravel secrets to happy marriages!
How does having a child affect your marriage?
Before we bring to light the secrets for a successful family, let us understand the challenges involved in being married with kids.
First, going from being childless to having a child is a major life change. It comes with a ton of new responsibilities. Additionally, new parents have less time for self-care and often lack sleep.
This can impact your mood, and in turn, your relationship. As wonderful as it is, parenting comes with many stressors, and studies show that becoming a parent can indeed strain your relationship.
Nurturing your marriage
Being a parent is a full-time job, and the above is indicative of that fact. Of course, while being married with kids, you must put your kids first, but are you making time for your marriage?
If the answer is no, it's not too late to start. It's important to nurture your marriage, but with the aforementioned busy nature of life as a parent, you might wonder how.
Balancing a relationship and child
It is possible to balance marriage and kids. Being married with kids doesn't imply that you need to allow your relationship with your spouse to go downhill while prioritizing parenting in your life.
I know, you might be thinking, "people in marriages raise kids together all the time," and while that's true, the balance is sometimes lacking. Here are twenty secrets to keeping your marriage happy after kids.
20 secrets to keeping your marriage happy after kids
1. Keep the romance alive.
Whether it's through flowers, sweet sayings, post-it notes, or something else, make sure that you're letting your partner know you love them. Being married with kids doesn't imply that romance has to take a back seat!
2. Make sure that you have child-free time sometimes.
Make sure that you seek help and have child-free moments too.
But, if you have to reschedule due to a babysitter who cancels, it's okay! It happens. The most important thing is that you're able to spend time together.
3. Have conversations that aren't related to the kids.
Being married with kids doesn't mean that you have to talk just about kids, their schedule, their likes and dislikes, or their other issues. You got a life too!
Talk about your day at work; try to comfort your spouse if they have had a tough day. Talk about your desires and things that you like. You need to make efforts to keep your marriage fresh.
4. Set boundaries.
A common example of this is not letting your kids in your bedroom, whether that's all of the time, most of the time, or on a permission-only basis.
5. Plan dates
Yes, you can be married with kids and have dates too!
It isn't at all cliched. Instead, you must plan dates to rekindle the lost romance and revive your relationship.
6. Ask each other questions.
No matter how long you're together, never stop asking your partner questions. It'll help you start conversations, increase closeness, and learn new things about one another for the rest of your lives.
No matter how long you've been together, there's always something new to learn!
Plus, opinions, desires, needs, thoughts, interests, hobbies, and wants change over time – you want to stay caught up on what's going on in the mind of your spouse.
7. Take time for self-care individually.
When you are married with kids, you tend to neglect one person the most, and that is yourself!
Make sure to dedicate some time for yourself, pursue a hobby or pamper yourself by going to a spa or getting a massage at home. Also, practice self-care exercises or meditation to maintain your physical as well as emotional well-being.
8. Trade- off with your partner
If your partner wants to do something (take an art class, plan a hike, etc.), watch the kids, and make sure that they do the same for you. Trade-off!
Remember that you're autonomous beings and that you both need to have time for yourselves.
9. Laugh together.
Whether it's over an inside joke, a comedy special, a movie, or a moment so ridiculous that you can't help but crack up, make sure that you and your partner are laughing together.
A sense of humor is attractive, and laughing is an excellent stress-reliever that's proven to be good for your health!
10. Seek professional help if you have a parenting disparity
If you have a parenting disparity, work it out or see a counselor who can help you work it out.
11. Distribute parenting responsibilities fairly.
When you are married with kids, it is not just the duty of one partner to handle the parenting responsibilities. For a healthy marital life, it is essential that there is a balanced load distribution.
12. Be supportive of your partner's goals, hobbies, and dreams.
When you are supportive of your partner's dreams and goals, they too will reciprocate your loving gestures. This way, together, you can nurture and pursue your ambitions.
13. Treat them not just as a parent but as a lover.
When you become a parent, you inadvertently tend to look at your spouse as a parent only. But that's not the case.
Although you are married with kids, remember that your marriage happened first. So, do not let it go adrift.
14. Give each other compliments.
Appreciate your spouse smallest gestures. Compliment them heartily when they look good or do good!
15. Maintain emotional intimacy.
Talk about what's on your mind. Maintaining emotional intimacy is a must for a happy and fulfilling relationship with your partner.
16. Make time for family too.
Make time for family time and take inventory of your life to ensure that a balance is there. Is there family time, one-on-one time for you and your spouse as a couple, and time for yourself? All three should be present!
17. Support your kids.
Should your child have a mental, behavioral, or physical health concern, work together to support them.
18. Do not neglect the issues in your relationship.
If you have a concern about the relationship, bring it up. It's important that you communicate, even when it's hard.
19. Talk about issues only when your partner is in a receptive mood.
On a similar note, be mindful of when you bring up concerns. Do it during a lower stress time if possible when you both have adequate time. If there is a serious topic to talk about and it's not immediate, wait until you're both well-rested and calm.
20. Don't be afraid to seek counseling or therapy if you need to.
We all need support from time to time, and seeking individual counseling, couples counseling, or both can help you strike a balance and nurture your marriage.
Conclusion
Awareness is almost always the first step to addressing a problem or concern.
If you realize that your marriage has taken a backseat, use these twenty secrets mentioned above to help yourself and your spouse nurture your marriage as well as your duties as a parent.
As always, don't be afraid to reach out for help if you need it, and know that if you and your partner work together, you can reach the point of balance needed for a happy, healthy, prosperous marriage with children.
Also Watch:

Share this article on
Want to have a happier, healthier marriage?
If you feel disconnected or frustrated about the state of your marriage but want to avoid separation and/or divorce, the marriage.com course meant for married couples is an excellent resource to help you overcome the most challenging aspects of being married.
Learn More On This Topic
You May Also Like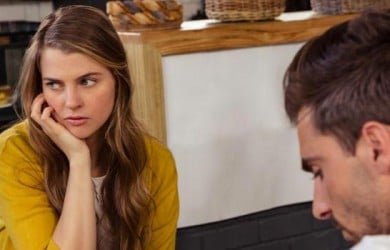 Popular Topics On Married Life