What Does a Healthy Relationship Look Like? Secrets Revealed
Who doesn't want a perfect relationship? Did you grow up dreaming of fairytale relationships or are you someone who thinks that this is just fairly impossible? Love is beautiful, it gives meaning to our lives and everyone wants to be in a long term relationship with that person who they know would complete them. If you have already found "the one" then this is for you.
We often ask ourselves, what does a healthy relationship look like? What are the key ingredients that you need to possess before you can say that you have already unlocked the secret to a long-lasting relationship?
Two different people – Adjustments
A healthy relationship is when two very different people accept each other for who they are. This is the first thing to remember if you want to have a long lasting relationship. One must also understand the difference between love and attraction.
There will be adjustments — lots of it. Don't get discouraged about this because it's a part of life.
A healthy relationship doesn't mean that you don't fight, that's impossible. It means that you are willing to settle your differences with respect.
We definitely don't want to set unrealistic goals here because, in reality, we still want to be ourselves even if we are in a relationship, this way we would be able to give out our best.
A healthy relationship is not just all about luck. In fact, it takes two very different people who are in love to work out each other's imperfections with respect and in time progress to a partnership where respect, commitment, and loyalty are present.
Today, we often see happy couples in social media — in fact, it has now become a trend to post how beautiful your relationship is. What does a healthy relationship look like today? Is it those photos that seem to show off how perfect a couple is or is it those who choose to be more private?
No matter what you choose, as long as you are being true to yourself and your relationship – then it's all good. It's not what your relationship would look like on social media – it's how you deal with a partner with respect and love.
What does a healthy relationship look like – The ideal couple
Anyone would agree that a healthy relationship is the one that brings out the best in you. Definitely, there is no perfect relationship but there is a healthy one and it does exist. Here are the top characteristics of a healthy relationship. Read it with your partner.
1. Communication
Communication is a major factor in every relationship, be open with each other. If you have something in mind, say it and talk about it. Misunderstandings will occur if you're not open with each other.
Another thing to remember is that with healthy communication, it's not all about talking. It's all about listening too.
Be there to listen and be open to talking things out.
2. Loyalty
Loyalty is a big word and with today's social media influence, there will be issues and if your foundation for respect and trust is not solid — doubt will fill the relationship. A healthy relationship is secure and trusting.
3. Respect
Respect each other. Love and respect go hand in hand. If you have respect in your relationship, you and your partner will know the significance of your opinions, decisions, and beliefs, Remember that you are 2 different people together and you need to know how to respect each other.
4. Setting realistic expectations
Setting realistic expectations is another secret to a healthy relationship. It's true that falling in love is easy but what about staying in love? Well, that's the challenge of life. Don't expect that your partner will do everything that you want them to do or expect that the other person won't think about anyone else but you — these are unrealistic. There will be trials and tests along the way. How you overcome them together is the true test of love.
5. Practice equality
Practice equality in your relationship. You're a couple but you and your partner are still two different people and to achieve a healthy relationship, both of you should have the equal right to have a voice in your relationship.
When you feel that your partner always has the last say or has more authority to make decisions, then it's time to talk.
Make decisions together; ask each other's opinion about things that matter in your relationship. If there's a disagreement — learn to talk and compromise.
6. Emotional intimacy
Emotional intimacy is another goal to achieve. Intimacy isn't just physical, it's also emotional. Be your partner's best friend, lover, and be there to understand each other. Grow emotionally intimate as you stay in the relationship instead of drifting apart.
7. Physical intimacy
Physical Intimacy is never to be underestimated. What does a healthy relationship look like without this? Be sexually compatible and always keep the fire burning. Though, the fact is, there will come a time where it seems that your intimacy is challenged. Don't worry about this because as long as your communication is great. There are amazing ways on how you can bring back the fire in your relationship. Don't be afraid to try different things, be young at heart and be open to fun ways to spice up your sex life.
8. Honesty
Honesty to the person you love — it's not that hard! As long as you love and respect the person then you will be honest.
Stronger together
What does a healthy relationship look like? It's a relationship where problems are being overcome with respect and communication. It's a relationship where the two of you grow mature together and be better. It's the relationship where honesty and loyalty are valued over pride and it's the relationship where you want to bring out the best in your partner.
It's true that there's no perfect relationship and keeping a long term relationship is hard but don't forget that as long as there are people who love and respect, a healthy relationship is always possible.
Share this article on
Want to have a happier, healthier marriage?
If you feel disconnected or frustrated about the state of your marriage but want to avoid separation and/or divorce, the marriage.com course meant for married couples is an excellent resource to help you overcome the most challenging aspects of being married.
More On This Topic
You May Also Like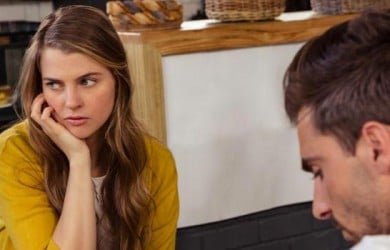 Popular Topics On Married Life