23 Best Wedding Readings for Every Kind of Couple
Developing a speech that perfectly portrays your feelings when a loved one is getting married can be difficult. However, worrying about letting your loved one down because you can't come up with a great speech is normal.
Literature gives you an out in the form of wedding readings. You can easily go through romantic excerpts from popular movies or books to find the most suitable one for the ceremony.
Keep reading to find out the best wedding readings.
What is a real wedding reading?
Wedding ceremony readings allow your loved ones to play a special role on your wedding day. A real wedding reading allows your loved ones to share their feelings in a special way.
Reading for the wedding ceremony is emotional, heartfelt, and sincere. However, they are usually short and should uplift the listeners.
How many readings should you have at a wedding?
A wedding reading should be short and grab the attention of the listeners. The goal is to keep them interested and not bored. Therefore, wedding readings should not be more than 7 minutes, and each individual should have at most 3 minutes each.
A couple can have up to four wedding readings at the ceremony. This video is perfect if you want to know how to choose the best wedding readings.
Best wedding readings
These wedding readings are tagged the best because they are romantic, unique, and heartwarming. They are perfect for any kind of wedding ceremony.
Here are the best wedding readings:
1. My First Love Story – Rumi
The minute I heard my first love story, I started looking for you, not knowing how blind that was.
Lovers don't finally meet somewhere. They're in each other all along.
2. Les Misérables – Victor Hugo
You can give without loving, but you can never love without giving. The great acts of love are done by those who are habitually performing small acts of kindness.
We pardon to the extent that we love. Love is knowing that even when you are alone, you will never be lonely again. And great happiness of life is the conviction that we are loved. Loved for ourselves. And even loved in spite of ourselves.
3. The Wedding Singer
I want to make you smile whenever you're sad, to carry you around when your arthritis is bad. All I want to do is grow old with you. I'll get your medicine when your tummy aches; build you a fire if the furnace breaks.
Oh, it could be so nice, growing old with you I'll miss you Kiss you Give you my coat when you are cold Need you Feed you Even let you hold the remote control
So let me do the dishes in our kitchen sink Put you to bed if you've had too much to drink I could be the man who grows old with you I want to grow old with you."
Related Reading: 

10 Tips to Stay Sane and Happy on Your Wedding Day
4. The Notebook
"So it's not gonna be easy.
It's going to be really hard;
We're gonna have to work at this every day,
But I want to do that because I want you.
I want all of you, forever, every day.
You and me… every day."
Unique wedding readings
A wedding day is special, and your wedding reading should also be as special. So impress your loved one with these unique wedding readings below.
5. Sonnet XVII' by Pablo Neruda
I don't love you as if you were a rose of salt, topaz,
Or arrow of carnations that propagate fire:
I love you as one loves certain obscure things,
Secretly, between the shadow and the soul.
I love you as the plant that doesn't bloom but carries
the light of those flowers, hidden, within itself,
And thanks to your love the tight aroma that arose
From the earth lives dimly in my body.
I love you without knowing how, or when, or from where,
I love you directly without problems or pride:
I love you like this because I don't know any other way to love,
Except in this form in which I am not nor are you,
so close that your hand upon my chest is mine,
So close that your eyes close with my dreams
6. Les Misérables by Victor Hugo
The future belongs to hearts even more than it does to minds. Love, that is the only thing that can occupy and fill eternity. In the infinite, the inexhaustible is requisite.
Love participates of the soul itself. It is of the same nature. Like it, it is the divine spark; like it, it is incorruptible, indivisible, imperishable. It is a point of fire that exists within us, which is immortal and infinite, which nothing can confine, and which nothing can extinguish.
We feel it burning even to the very marrow of our bones, and we see it beaming in the very depths of heaven.
7. These I Can Promise by Mark Twain
I cannot promise you a life of sunshine;
I cannot promise riches, wealth, or gold;
I cannot promise you an easy pathway
That leads away from change or growing old.
But I can promise all my heart's devotion;
A smile to chase away your tears of sorrow;
A love that's ever true and ever growing;
A hand to hold in yours through each tomorrow.
Modern wedding readings
Love is constant, but the way of expressing such love has changed over the ages. So here are some modern wedding readings to recite on that special day.
8. The Fault in Our Stars by John Green
"I am, he said. He was staring at me, and I could see the corners of his eyes crinkling. 'I'm in love with you, and I'm not in the business of denying myself the simple pleasure of saying true things. I'm in love with you, and I know that love is just a shout into the void, and that oblivion is inevitable, and that we're all doomed and that there will come a day when all our labor has been returned to dust, and I know the sun will swallow the only earth we'll ever have, and I am in love with you."
9. Monica from Friends
For so long, I wondered if I would ever find my prince, my soulmate. Then three years ago, at another wedding, I turned to a friend for comfort. And instead, I found everything that I'd ever been looking for my whole life.
And now here we are with our future before us, and I only want to spend it with you, my prince, my soulmate, my friend.
10. Game of Thrones
"As you are the Moon of his life, he shall be your Sun and Stars. Your love shall be as ever present as those two celestial bodies…even though they are sometimes hidden from one another's sight.
Your love will be the guiding force that charts the course of your tomorrow, holds your world together in difficult times, and will make life itself shine bolder and brighter than we human beings have a right to dream of."
Romantic wedding readings
Do you want to put a smile on the face of your spouse? Or ensure there are no dry eyes in the audience? Then the following romantic readings are perfect for you.
11. Still Life With Woodpecker – Tom Robbins
Love is the ultimate outlaw. It just won't adhere to any rules. The most any of us can do is to sign on as its accomplice. Instead of vowing to honor and obey, maybe we should swear to aid and abet. That would mean that security is out of the question. The words "make" and "stay" become inappropriate. My love for you has no strings attached. I love you for free.
12. The Notebook by Nicholas Sparks
I am nothing special; just a common man with common thoughts, and I've led a common life. There are no monuments dedicated to me, and my name will soon be forgotten. But in one respect, I have succeeded as gloriously as anyone who's ever lived: I've loved another with all my heart and soul, and to me, this has always been enough."
13. Atonement by Ian McEwan
"I've never had a moment's doubt. I love you. I believe in you completely. You are my dearest one. My reason for life."
14. That's Relativity by Albert Einstein
"Gravitation cannot be held responsible for people falling in love.
How on earth can you explain in terms of chemistry and physics so important a biological phenomenon as first love?
Put your hand on a stove for a minute, and it seems like an hour. Sit with that special girl for an hour, and it seems like a minute. That's relativity."
Religious wedding readings
With these religious wedding readings below, you can show your love and commitment to your loved one and your faith.
15. 1 Corinthians 13:1-13
If I speak in the tongues of men and of angels, but have not love, I am a noisy gong or a clanging cymbal. And if I have prophetic powers, and understand all mysteries and all knowledge, and if I have all faith, so as to remove mountains, but have not love, I am nothing. If I give away all I have, and if I deliver up my body to be burned, but have not love, I gain nothing.
Love is patient and kind; love does not envy or boast; it is not arrogant or rude. It does not insist on its own way; it is not irritable or resentful; it does not rejoice at wrongdoing, but rejoices with the truth. Love bears all things, believes all things, hopes all things, endures all things.
Love never ends. As for prophecies, they will pass away; as for tongues, they will cease; as for knowledge, it will pass away. For we know in part, and we prophesy in part, but when the perfect comes, the partial will pass away. When I was a child, I spoke like a child, I thought like a child, I reasoned like a child. When I became a man, I gave up childish ways. For now, we see in a mirror dimly but then face to face. Now I know in part; then I shall know fully, even as I have been fully known. So now faith, hope, and love abide, these three; but the greatest of these is love.
16. Mark 10:6-9
Jesus said, 'From the beginning of creation, "God made them male and female." "For this reason, a man shall leave his father and mother and be joined to his wife, and the two shall become one flesh." So they are no longer two, but one flesh. Therefore what God has joined together, let no one separate.'
17. Buddhist Blessing
"Do not deceive, do not despise each other anywhere. Do not be angry nor bear secret resentments; for as a mother will risk her life and watches over her child, so boundless be your love to all, so tender, kind, and mild.
Cherish goodwill right and left, early and late, and without hindrance, without stint, be free of hate and envy, while standing and walking and sitting down, whatever you have in mind, the rule of life that is always best is to be loving-kind."
Non-traditional wedding readings
Weddings are a joyous occasion and shouldn't be strictly limited to certain traditions. You can step out of the box with these nontraditional wedding readings.
18. Cinderella
"So this is love
So this is what makes life divine
I'm all aglow
And now I know
The key to all heaven is mine
My heart has wings
And I can fly
I'll touch every star in the sky
So this is the miracle
That I've been dreaming of
So this is love."
Related Reading: 

Is Love the Most Important Thing For a Happy Marriage?
19. Dangerous Liaisons by Choderlos de Laclos
"Now, I'm not going to deny that I was aware of your beauty. But the point is, this has nothing to do with your beauty. As I got to know you, I began to realize that beauty was the least of your qualities. I became fascinated by your goodness. I was drawn in by it. I didn't understand what was happening to me. And it was only when I began to feel actual, physical pain every time you left the room that it finally dawned on me: I was in love, for the first time in my life. I knew it was hopeless, but that didn't matter to me. And it's not that I want to have you. All I want is to deserve you. Tell me what to do. Show me how to behave. I'll do anything you say."
20. The Portrait Of A Lady by Henry James
"It has made me better loving you … it has made me wiser, and easier, and brighter. I used to want a great many things before, and to be angry that I did not have them. Theoretically, I was satisfied. I flattered myself that I had limited my wants. But I was subject to irritation; I used to have morbid sterile hateful fits of hunger, of desire. Now I really am satisfied, because I can't think of anything better."
Popular wedding readings
The following are the most popular wedding readings suitable for any wedding ceremony.
21. Every Day by David Levithan
"This is what love does: It makes you want to rewrite the world. It makes you want to choose the characters, build the scenery, and guide the plot. The person you love sits across from you, and you want to do everything in your power to make it possible, endlessly possible. And when it's just the two of you, alone in a room, you can pretend that this is how it is, this is how it will be."
Related Reading: 

3 Things Happy Couples Do Every Day
22. Pride And Prejudice by Jane Austen
In vain I have struggled
It will not do
My feelings will not be repressed
You must allow me to tell you how ardently I admire and love you
Related Reading: 

15 Ways to Overcome Pride in a Relationship
23. Jane Eyre by Charlotte Brontë
I have, for the first time, found what I can truly love – I have found you. You are my sympathy – my better self – my good angel; I am bound to you with a strong attachment.
I think you good, gifted, lovely: a fervent, a solemn passion is conceived in my heart; it leans to you, draws you to my center and spring of life, wraps my existence about you – and. Kindling in pure, powerful flame, fuses you and me I one.
Takeaway
With the help of wedding readings, you don't have to spend days struggling to come up with a speech. Instead, you can easily choose any readings for weddings mentioned above and put a smile on the face of your loved one.
Share this article on
Want to have a happier, healthier marriage?
If you feel disconnected or frustrated about the state of your marriage but want to avoid separation and/or divorce, the marriage.com course meant for married couples is an excellent resource to help you overcome the most challenging aspects of being married.
More On This Topic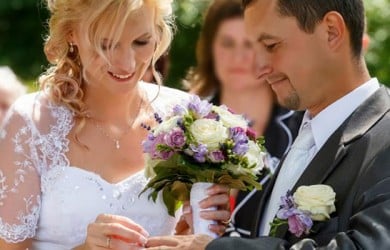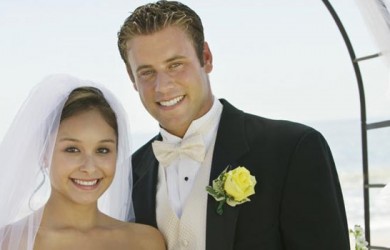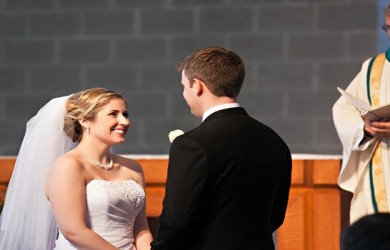 You May Also Like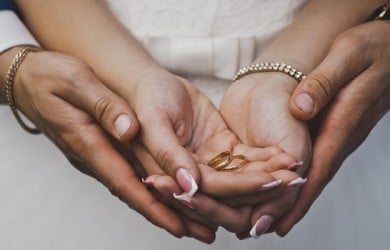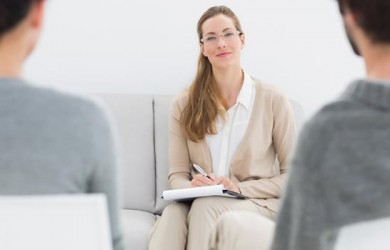 Popular Topics On Getting Married