10 Tips to Stay Sane and Happy on Your Wedding Day
To stay sane and happy on your wedding day shouldn't have to be a concern—after all, this should be one of the happiest days in your life!
But emotions are bound to be running high and maintaining your sanity becomes a challenge.
Excitement, glee, and giddy ecstasy all come hand-in-hand with the special occasion. And not only is it natural, but it's also exceedingly common to feel overwhelmed and exhausted with the whole affair, and the last thing anyone wants on their wedding day is a looming sense of anxiety or dread.
So what steps can you take to help ease the stress and ensure a happy Big Day? Tucker in because we've compiled a list of tips to stay sane and happy on your wedding day.
Also watch:

1. Use your helpers
Maybe you think your to-do-list is so overwhelming that friends and family will resent you once the wedding is over? Are you trying to do everything yourself and still struggling to stay sane and happy?
Actually, it's more than likely that the exact opposite is true! Studies suggest that people like us more when we ask for help. Here's another advice for the bride on her wedding day.
Start parceling out that to-do-list if you want to stay sane and happy.
If you're planning a traditional ceremony, then you've probably already appointed your maid (or man) of honor.
It's customarily expected that this special friend will handle some of those overwhelming details, pick up those persistent calls, or even answer questions from your guests.But in today's modern wedding, this sort of task-appointing is becoming less and less common.
The attendant of honor is often asked to write a "killer toast" and little more. And yes, the reception toast is exceedingly important. And it's true that writing it all can cause a wild amount of stress and take up a good chunk of time but you're the one getting married- your mental health takes priority.
One of the tips for a smooth wedding day, it's okay to ask for a little or a lot of help!
Consider using a Kanban-inspired app to keep those tasks organized, and don't limit your helpers to just your maid or man of honor. Gather everyone who seems interested (including your mother-in-law!), and then watch as your crew annihilates that to-do-list!
Or maybe you're planning a destination elopement and don't have attendees? Well, that's what wedding coordinators are there for, so you can relax and indulge in your vacation. And if you have any questions or concerns, a good wedding planning won't hesitate to put you at ease.
2. "Me time" is good for everyone
If you really want to stay sane and happy, don't be afraid to say "Wait."
Schedule in time for yourself just as you do for important wedding business.
One of the tips to save your sanity is to block out 20 minutes or even several hours during a day when you know you'll be the most overwhelmed. And make sure to keep that appointment with yourself!
Sometimes "Me Time" simply means a spontaneous second or two to collect your thoughts. Or a twenty-minute Starbucks break. Or even a day-long Netflix binge. Every second of self-care counts!
When you're happy, everyone is happier! You (and your partner) will appreciate how your "Me Time" rejuvenates your spirits.
Recommended – Pre Marriage Course Online
3. Create a code word or phrase
Who says codewords are just for spies?
Codewords are a great way to avoid uncomfortable whispers or sidelong glances while still keeping something on the down-low. Maybe you're prone to social anxiety? Or maybe you have a hard time being around your in-laws after they've had a few drinks?
Creating a codeword gives you the ability to discreetly draw attention to the situation while signaling to your designated helpers that their assistance is needed ASAP.
When your partner is clear that "I need a coffee break" means you're on the verge of an anxiety attack, they will be able to leap into action and do whatever needs to be done in order to give you some space.
Likewise, if your person-of-honor understands that "My feet are killing me" translates to "Save me from my in-law," they'll know exactly when to turn to your new mother and ask to see pics of her Corgi–allowing you plenty of time to slip away as she happily digs out her phone.
4. Keep your wedding planner informed
Onsite coordinators keep a detailed list of your priorities and concerns and are experts in dealing with all the snares that seem to crop up on wedding days.Be sure to keep your wedding planner up-to-date on all the issues that might crop up. An informed wedding planner helps to ensure that your Big Day goes according to plan.
Are there complicated family dynamics? Does your friend not want to be near the best-man because of a relationship that went sour years ago? Is your sister insisting that a song not be played because it's "her wedding song"? A professional planner will make a note of it while you continue to stay sane and happy.
5. Find a sounding board (Other than your partner)
It's perfectly normal to feel put-out with loved ones as your Big Day approaches, and while it's practically a requirement to discuss genuine problems with your partner, it's not a bad idea to save the minor venting for the ears of a close friend.
Find someone you trust unconditionally (ideally someone who doesn't have a strong allegiance with either side of your wedding party) and ask them directly if you can reach out when you need to get something off your chest.
To stay sane and happy, keep it simple and honest: "I'm stressed about the wedding. Can I text you or call you from time to time to vent?"
Asking directly will signal to this person that this is "their job." They'll recognize that you're trusting them with this secretive matter, and you're also depending on them to listen.
Having the ability to excuse yourself and text a complaint that's followed by 10 exclamation marks can be immensely cathartic. It's called "venting" for a reason! Once you've released that hot air, you can return to whatever it is you were doing with a cool head and a fresh outlook.
6. Write about your gratitude
To make the most of this tip to stay sane and happy, try penning "thank you" letters to those around you–you'll be handing out keepsakes that will be treasured for a lifetime. And whether or not you decide to share these gems of gratitude, simply the act of giving thanks helps to ease depression and stir feelings of joy.Often it's the negative thoughts or feelings that we focus on.
Things go wrong or people behave in ways we wish they hadn't. And while it's great to vent with your sounding board, taking a moment to reflect on the people and things you're grateful for can have a lasting impact on your mental health. Life is beautiful, start writing about it!
Feeling in a grateful mood? Here are some letter prompts to get you started:
I think of you when…
I will always remember how you…
You give me strength when…
One thing I'll never forget about you is…
Thank you for being there when…
If you'd rather wait on the personal letters, consider keeping a gratitude journal. These trendy mementos are sure to become an irreplaceable wedding heirloom!
7. Start with a kind word
But there's a high chance that the people you're dealing with really do have good intentions, they're simply expressing them in an unproductive way. While that doesn'tSometimes the seemingly thoughtless or rude actions of those around us can be so disheartening that all we want to do is turn to them and ask, "What were you thinking?!"
mean that true negative behavior should be excused, leading with a kind word can help prevent any misunderstandings or future resentment.
So before you respond, take a breath and ask yourself "What do they believe they're trying to help me with?" Then try out this technique: Say thank you, explain your side, and before they can respond ask them for a favor that draws on their unique skills.
Here's an example of this strategy in action:
Situation: During your dress fitting your sister subtly insults your veil and tells you to get rid of it.
Response: "Thank you for wanting the best for me, but I really love this veil."
Next, assign a task to let her know you value her talents: "I could really use your eye for fashion with my shoes, though. Can I get your opinion on these two?"
Saying "Thank you" is a two-pronged approach. If the person you're speaking with sincerely does have good intentions, then you can avoid hurt feelings and move on without a hiccup.
And on the off-chance that they truly do want to make you angry, leading with a "Thank you for wanting the best for me," allows you to take the high-road while reminding them that their priority should be on helping to make your special day the best it can be.
8. Rest up, sleep, not caffeine
This tip to stay sane and happy is short and to the point: Get enough sleep!
Everyone's sleep requirements are different, and you know what works best for your body and mind. So put your phone on "Do not disturb," turn off those blue screens, and cuddle up with your partner while it's still early.
It's not just beauty rest, it's also sanity rest!
9. Don't forget the romance
You're in this with your best friend! The best thing about getting married is forming a bond that will last a lifetime.
So while you're dreaming about slicing that cake, be sure to also slice out a few hours for your significant other. This could mean anything from a trip to the oceanside, a love note left on the driver's seat or even simply a wedding day compromise.
Does he want wine instead of champagne? Does she prefer you in navy blue instead of midnight black? Why not give in to the change? Compromising is an easy and simple way to say "I love you."
If your wedding is on a beach, plan to visit the shoreline a day or two before the big day. Walk along the sand with your partner, snorkel in the pristine ocean, or bring along an iced coffee and people-watch as you daydream of the special occasion.
Or pack a PB&J and head off for a hike in the woods. No matter how you go about it, kindling the pre-wedding romance is a sure-fire way to get your marriage off to the right start!
10. Remember, it's really just a day
Easier said than put into practice, we know.But in the grand scheme of things, your wedding day truly is just another day. Post-wedding blues are a real thing, and feelings of disappointment or emptiness can follow the Big Day if the occasion is treated as an endpoint rather than a beginning.
As the date nears, remind yourself that your wedding marks the start of your journey as a married couple and (as the saying goes) it's the journey that counts! Celebrate it together!
When you have a spare moment, take some time away from wedding planning and detail out your very first day as a married couple!
A jet setting honeymoon? Great! Netflix and a tub of ice cream? Even better! How will you celebrate your one-week-anniversary? Your month?
Invest some of your "I do" euphoria into planning the days ahead, try to keep it simple and intimate. After the wedding whirlwind, you and your partner will appreciate having something quiet to look forward to!
Whatever happens, just try to go with the flow! And if you ever feel that it's too much to handle, don't hesitate to reach out to a bonafide counselor. Your wedding day is important… but do you know what's more important? You! So stay sane and happy.
Share this article on
Want to have a happier, healthier marriage?
If you feel disconnected or frustrated about the state of your marriage but want to avoid separation and/or divorce, the marriage.com course meant for married couples is an excellent resource to help you overcome the most challenging aspects of being married.
Learn More On This Topic
You May Also Like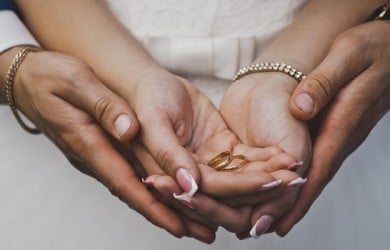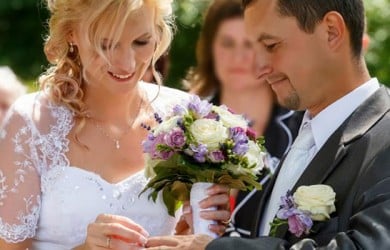 Popular Topics On Getting Married