15 Reasons Why She Never Texts You First
If you have ever met and fallen in love with a lady, you'd agree that it can be painful if she doesn't text you first. When the girl never initiates the text, you may be left asking yourself if she is that into you after all. This can leave you with a lot of disturbing thoughts.
"She never initiates texts but always responds when I do."
"Why do I always text her first?"
"Why doesn't she text me first? Am I unimportant to her?"
"Should I always text her first?"
If you have found yourself asking these questions, you are about to be exposed to how the mind of women works. In this article, you'd understand exactly what is going on and learn why she never texts first.
With the new knowledge, you can commit to improving the relationship and even letting go of stress.
What does it mean if she never texts first

?
Have you found yourself in this scenario?
You meet and fall for a girl. You fall much harder than you expected and within a short time.
She is everything you expect in a lady, and you can't get your mind off her. Your waking thoughts are fixed on her, and no matter how hard you try, you believe she is the one for you.
However, there's one challenge. Although you can swear that you are getting those "I am interested in making this work" vibes from her, she won't start up a conversation by herself. Every time you texted back and forth, you started the chain.
At first, you want to overlook this, but it starts getting exhausting as time proceeds. She seems interested but doesn't text – and that is becoming a real problem for you.
Please take a chill pill if you are in this place because you are not weird. A recent survey revealed that about 85% of young people in a relationship expect to hear from their partners at least once a day, while others would prefer to hear from them more than once a day.
This could be achieved through text, calls, or social media messages.
So, if you desire to hear from her every day, you aren't alone. However, when she never texts first, it could be a sign of these;
Maybe she enjoys having you do the chase.

She may be legitimately busy and unable to reach out first.

It could be a hint that she may not be all that interested in you and would
instead do more important stuff with her time.
We would take a closer look at 15 reasons she never texts first in later sections of this article.
Do girls text first?
Although there's a general belief that ladies love to be chased, a quick look at honest feedback from the public reveals that this may not always be the case with girls. According to a thread on Quora, a girl can text first when she likes someone.
However, before a girl does this, she must be sure that the person she is texting is also interested in pursuing a relationship.
This is because she wouldn't want to be the one who did all the chasing while the other person laid back and just enjoyed the thrill.
Then again, although girls may not mind texting first, a quick look at this feedback suggests that they may pull back almost immediately if it feels like they are trying to reach a person who isn't giving back the same energy as they are giving.
Do girls ever text first? The simple answer is "yes."
15 reasons why she never texts you first
Here are 15 reasons why she never texts first
1. She enjoys being chased
Some ladies do not text first because they want you to initiate the contact yourself. They enjoy the thrill of being chased and at the center of their significant other's attention.
As a result, they would lay back and allow the other person to always reach out to them first. Even if they want to reach out first, they may stand back and allow things to unfold carefully.
2. She has other suitors
Another reason why she may not text you first is that there may be other people in the picture.
If she has many other men vying for her attention, chances that she may be able to keep up with all of you may be slim. This could be why she never texts you first but always responds.
Also Try: 

Quiz: Is She Seeing Someone Else?
3. She may have a terrible history with relationships
It is not uncommon to hesitate in the face of any trigger that tries to put you back into a dark spot where you have recently gotten out from. If she has had a history of bad relationships, she may be wary of putting herself out there again.
Not texting you first may be her way of showing that she has been through something she doesn't want to relive. Under these conditions, all you can do is give her time and show her you are real.
4. She may be an introvert
Introverts are known for enjoying their own company more than anything else. This, sometimes, seeps into their social lives and even how often they text people.
If you are trying to get over an introvert, bombarding her with many text messages may not be the way to go.
If she is an introvert, start by opening up to her first and making her know that she can trust you. Then, open up the communication lines and allow her to reach out to you at her pace. As time proceeds, the narrative that she never texts first will begin to change.
Suggested video: 10 signs you are a true introvert
5. She isn't a stellar example of an excellent communicator
If you have met someone who has issues with passing a message across via written words, you would know that they dread anything that requires writing down their thoughts on paper (or even typing and sending them via text).
If she never texts you first (and even finds it difficult to respond when you text), take a while to ensure that this isn't the case with her.
If you confirm that she experiences challenges communicating via written words, you may want to consider trying another route like calling her instead.
Related Reading: 

20 Ways to Improve Communication in a Relationship
6. She isn't the biggest fan of texting
You know how some people are uninterested in using social media, right? That's the same way some people detest the idea of texting.
A survey documented in 2011 suggested that about 27% of adult phone users hardly ever use the text messaging feature on their phones.
Although text messaging has proven to be one of the fastest ways of communicating with loved ones, some people are just opposed to the idea of texting.
If she is in this category of people, you may have a hard time getting her to text you first.
If you worry that she never texts first, ensure that you are dealing with someone who relishes the idea of picking up her phone, typing, and shooting off text messages whenever she wants to.
7. She is honestly busy
This may not be what you want to hear, but you need to consider the possibility that the reason she hardly texts you first is that she has a lot going on in her life at the same time.
If she has to deal with a lot of pressure from work, a competitive work environment, and even the burden of being a goal-getter, you may have to come to terms with the fact that she may not always be available to text you.
This may not mean that she isn't into you.
8. She is not yet sure of what she feels for you
Texting you first may be a chore for her if she cannot put her fingers on what she feels concerning you. Usually, ladies text you first when they feel something strong and positive about you. If she hasn't yet gotten to this point, it may be the reason why she never texts first.
Related Reading: 

Is She Into Me Quiz
9. She has come to terms with the routine
Humans love routines, and if she has come to associate your relationship as one where you always text first, you may have a hard time getting her to try leading the text conversation at some point.
If this is the case, she may worry that she's breaking the pattern if she texts you first. To navigate this situation, you may want to try having an open and honest conversation about your feelings and let her know that it is okay to start the conversations sometimes.
10. She worries that she would become annoying to you
Another reason why she never texts first could be that she may worry that she may unpleasantly interrupt your day. These thoughts can intensify if she knows that you are busy and you have your stuff going.
So, to stay out of your way and not impede your productivity, she may be doing something that you interpret as her not being interested in the relationship as much as you are.
Again, communication helps navigate these times.
11. She believes she cannot
As much as we would want to say that everyone has adapted to the changing world, the truth is that not everyone has. One of the reasons why she never texts first may be because a part of her still believes that the guy always has to make the first move.
This could also play out in this scenario where she believes that if you want to talk to her, it should be whenever you are ready to make the 1st move yourself.
12. She wants to know if you are genuinely into her
Some women choose to tow this line. To confirm how serious you are about the relationship, they choose to allow you to make all the first moves – including always initiating the text messages.
If this is the case with her, she may relax and start initiating these texts by herself – only after she has confirmed that you are into her.
Related Reading: 

How to Prove You Love Someone: 20 Honest Things Every Lover Must Do
13. A part of her thinks you're not worth that effort
If you always have to text first, it could be because she isn't yet convinced that you are worth the effort. She would have to commit to making that relationship work if she decides to give it a trial.
14. She isn't skilled at starting conversations
It takes a lot of mental strength to start conversations. And starting conversations is what you are asking for when you want a girl to text you first.
She may shy away from texting first if she is convinced that she doesn't like starting conversations.
To navigate this situation, start with having honest conversations around it and let her know that there isn't any pressure for her to say anything' right' or 'wrong.'
A simple way to help would be to encourage her to see you as a friend who wouldn't get annoyed when she decides to be herself in a conversation. Over time, Ehe would start getting more comfortable around you.
15. She isn't interested in a relationship
If she never texts first and finds it difficult to return your texts even when you do, it could be a clear sign that she isn't interested in pursuing a relationship with you.
The smartest thing to do under these conditions is to take a hint.
Related Reading: 

5 Signs She Doesn't Want a Relationship With You
Should you stop texting a girl when she doesn't text first

?
Honestly, there is no yes or no answer to this one. However, before concluding the matter, you must understand why she never texts first.
Is she doing so because she dreads the idea of starting conversations? Is she introverted? Does she enjoy being chased? Does she have many options?
If you love her and are willing to continue the way things are (with you always starting the conversations), you may want to continue working on the relationship. However, if you feel like nothing can be done (and you believe your feelings for her aren't being reciprocated), you may want to quit texting her first.
3 critical signs that you should stop texting a girl
If she never texts first, and you are at the brink of withdrawing from initiating these conversations, here are 3 signs that you should stop immediately.
1. There is no valid excuse
If she never texts first and finds it difficult to reply to your messages even after initiating the conversation. This is worse if there aren't any valid excuses for her silence.
2. She treats you like an option
If she has ever communicated to you that she has other people lined up for her and is willing to give her the time of her life.
Related Reading: 

6 Signs Your Partner Sees You as an Option & How to Handle It
3. She isn't interested
If she has made it clear that she isn't interested in a relationship with you. The thing is, no amount of calling and texting will change her mind under these conditions.
Conclusion
Knowing what to do if she never texts first is an important step you must take if you plan to build a lasting relationship with a lady who falls into that category.
Before deciding to continue texting her first or allowing the relationship to suffer, as a result, think about the 15 reasons we covered and how they affect her life.
If she is willing, you may also want to consider going for therapy to help her overcome any past trauma she may be experiencing.
Share this article on
Want to have a happier, healthier marriage?
If you feel disconnected or frustrated about the state of your marriage but want to avoid separation and/or divorce, the marriage.com course meant for married couples is an excellent resource to help you overcome the most challenging aspects of being married.
More On This Topic
You May Also Like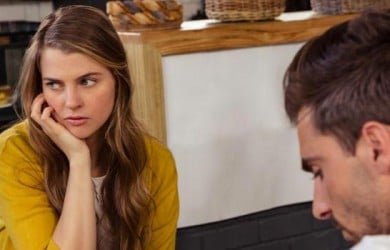 Popular Topics On Married Life