10 Types of Creative Texts to Make Him Chase You
If you are interested in dating or are in the process of trying to get to know someone new, it may be beneficial to use texting to your advantage. One way to do this is by utilizing texts to make him chase you.
Here's a look at how to do this, with examples to consider.
How to make a guy fall in love with you over text messages: 5 ways
While you are in the talking phase of a relationship and want to learn more about a prospective beau, there are multiple ways to keep him interested over text. Keep reading for a few that may be feasible in your situation.
1. Think about what you want to say
One of the best tips for texting a guy you may want to keep in mind is to think about what you want to say ahead of time.
Preparing can keep you from saying something that you may regret later, and it can ensure you can get out the words you want to say.
You can make notes about your ideas when communicating that you might want to use when you don't know what else to say. These can be random facts, funny things about yourself, or even asking the other person questions.
2. Flirt all you want to
You should also try to flirt as much as you are comfortable with.
When you are flirting with a guy through text, this may be easier than doing it in person, since you won't have to look at their face when they read your words.
This may give you more confidence to communicate like you want to instead of censoring yourself, which you may be prone to do in person.
There's nothing wrong with some playful flirting, especially if the guy can keep up with your words. Flirty texts can be some of the best types of texts that will make him chase you.
Related Reading: 

How to Flirt With a Guy
3. Be yourself
Something you must keep in mind is that you should always be yourself.
If you are trying to keep a guy interested through text, there's a good chance that you like him and want to have a relationship with him. This means when you can spend time in person, you need to be the same person he was communicating with through text.
Make sure that you don't lead him on or tell him things that aren't true. When you concentrate on being yourself, he will probably like what you have to say and enjoy getting to know you.
Remember that you don't have to apologize for being yourself since much of your personality is genetic and something you can't change. Also, if he is taking the time to communicate with you, he probably already has a good idea that he likes you.
Related Reading: 

10 Ways on How to Put Yourself First in a Relationship and Why
4. Be patient
Not everyone is on the same schedule, so unless you plan to text each other at a certain time, don't be upset if he doesn't answer right away. He may reach out when he sees your text or when he has time to do so.
Moreover, he may not have something to say whenever he reads your text and might have to think about his reply. You don't have to overthink the situation when you don't get a reply back quickly.
5. Be honest
Again, it is very important to be honest about what you say to the other person when trying to garner a relationship through text, especially when concentrating on texts to make him chase you.
Be truthful at all times and ensure you are on the same page. You don't want to find out later that you have nothing in common because you were stretching the truth or weren't being straightforward with your opinions, likes, and dislikes.
Related Reading:

 How to Be Honest in a Relationship: 10 Practical Ways
10 types of texts to make him chase you
When you are pondering texts to make him chase you, a few types may do the trick.
1. Funny texts
One type of text message that you may want to send to someone are funny texts. Perhaps you heard a funny joke that day and want to share it with him. Go ahead and send it to him and he may get a kick out of it.
One example is: Did you hear about the dog that had to go to a psychiatrist? He has a ruff life!
2. Sexy texts
Another way that is related to how to make him want you over text is to send sexy messages when you are feeling like it. This can be something relatively minor, or if you have been talking to each other for quite some time, you may be able to be a little bit racy.
One example is: I had a really interesting dream about what we did last night. I hope we can act it out again.
Related Reading: 

100 Naughty Text Messages for Him to Drive Him Wild
3. Leave him guessing
Another variety of texts to make him chase you that you may want to use is texts that leave him guessing what you will say or mean. If you send him a text that he must respond to or meet with you to find out what you mean, this may intrigue him.
It can be something he wants to know or a bit flirty. There's a good chance he will want to know what you have to say or have a need to hear more.
One example is: You will never believe what I am wearing today.
4. Bedtime texts
Sending bedtime texts may be another way related to how to make a guy like you over texting. Giving him something to think about before he goes to sleep may cause him to wake up thinking about you as well.
You can say something nice or let him know what you are thinking about before you go to bed.
One example is: I wish you were here to warm me up!
5. Inquisitive texts
It is also okay to consider inquisitive texts when you are thinking about what type of texts to make him chase you that you want to use. Ask him questions about his life and what he is doing.
Not only will this help you effectively communicate with each other, which is a major component of a healthy relationship, but you will be able to find out more about him.
One example is: What was your favorite toy as a kid?
6. Meme texts
When you don't know what else to send, it is okay to send a meme. This may make him laugh and he could also send one back to you, so you can keep this line of communication open. You may even laugh all day at the pictures and content you see.
One example is: Have you seen this one? This meme describes my day!
7. Flirty texts
Flirty texts are always okay when it comes to texts to make him chase you. After all, who doesn't want to flirt with someone they are interested in? You can say something cute or tell him how you feel about him. These are things he is probably interested in.
One example is: Want to know what I was thinking about you today?
8. Compliment texts
Complimenting him is something that will work to your benefit much of the time. You don't have to think twice about it. When you are being genuine and want to tell him something nice about yourself, you should text him. It could brighten his day.
Research shows that compliments can boost your relationship by providing validation and acknowledgment to partners.
One example is: I love your sense of humor!
9. Make him think about you
You may want to send texts to make him chase you that cause him to keep thinking about you. This is something that isn't hard to do, especially once you have shared texts and experiences together.
You can send a quick line letting him know something personal or causing him to think about you a bit more than usual.
One example is: My friends asked me to go out, but I would rather hang out with you!
10. Tell him you're thinking about him
Guys like to be thought of just like girls do. If you want to know how to make a guy interested in you over text, you may want to let him know how you are feeling about him.
It doesn't hurt to take a couple of minutes to send a message that he may need to hear that day. This is something that is encouraged by experts in relationship counseling as well.
One example is: I hope you are wearing that brown sweater today. You look smart and handsome in it!
For more about falling in love through text, check out this video:
Some commonly asked questions
Here are the answers to some questions that can help you understand more about how to make a guy want you using texts:
What texts do guys like to receive?
In some cases, guys like to receive texts that let them know you are interested in them or thinking about them. Consider the types of texts you like to get; your guy friend may want to hear the same things. If you aren't sure, you can ask him!
What to text to keep him interested?
There are multiple types of texts you can try to keep him interested. Read the list above and utilize one technique that you are comfortable with. Remember to be yourself and be honest.
Can I get him chasing me over text?
There are texts to make him chase you that you can send. You must consider the text examples above for helpful advice or ask friends for more guidance.
Final takeaways
The article above shows many text examples to keep him interested. These should also provide handy texts to make him chase you.
Consider using the suggestions above or use them to help you develop something original on your own. You can also do further research if you run out of ideas!
Share this article on
Want to have a happier, healthier marriage?
If you feel disconnected or frustrated about the state of your marriage but want to avoid separation and/or divorce, the marriage.com course meant for married couples is an excellent resource to help you overcome the most challenging aspects of being married.
More On This Topic
You May Also Like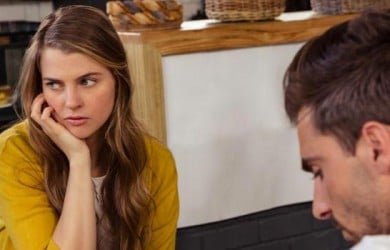 Popular Topics On Married Life