How to Prove You Love Someone: 20 Honest Things Every Lover Must Do
It is a blessing to be surrounded by people who consider you a valuable part of their lives. These people can include your spouse, children, parents, relatives, friends, and others.
But here's a pivotal question: Do you let them know how important they are to you? Do you express your appreciation for them?
This is an urgent inquiry. The thing is, most human beings may cherish their partner but fail to take out that time to do something or say something valuable to express that gratitude.
So, you may be wondering: how to prove you love someone? An extremely important question.
The good news is that there are many different things you can do or say to your partner periodically that answer how to prove you love someone.
To learn these practical tips for how to prove you love someone and understand why expressing how you feel is so important, keep reading on.
Before you navigate your way through expressing your love and gratitude to the important people in your life, let's take a moment to decode the meaning of love.
What is the meaning of love?
The basic definition of love is to have a strong affectionate feeling for someone or something.
Undoubtedly, love as a concept is abstract and complex to grasp. Why? It's because there are so many types or kinds of love. For instance, the type of love that you feel for your parents is different from your feelings for your friends.
The kind of love you have for your beloved is different from that for your kids or friends or parents or relatives.
Every type of love has varying intimacy, commitment, and passion. This is why decoding the meaning of love is a complex challenge.
Why is it imperative to show your love?
When it comes to the value of proving you love someone, it can be made more straightforward to understand and implement if it can be broken down into different reasons.
Before you embark on a lifelong journey of showing your love for someone, it's important to take a look at why proving yourself in a relationship matters.
When you understand the reasons as to why you should take out some time regularly to be appreciative of your beloved, these reasons will help you stay motivated to continue expressing your love and gratitude.
Some of the most important reasons to prove your love are as follows:
Related Reading: Importance of Saying I Love You and How to Express It
● It shows your vulnerability
A part of why people shy away from saying things they love about someone or doing things to give love is that they're scared to be vulnerable.
A lot of individuals perceive vulnerability to be a weakness. However, it isn't. Vulnerability is a strength. When you give love and show your appreciation to the important people in your life, you're being vulnerable.
By being vulnerable, you show these people that vulnerability is a strength. You empower them, in turn, to be vulnerable and open with you. Therefore, you end up strengthening these valuable relationships through vulnerability.
Related Reading:  10 Tips to Become More Vulnerable in Your Relationship
● It shows your commitment
A continuous or consistent effort from your end to prove you love someone shows your beloved and the other special people in your life that you're committed to that bond.
It shows consistency. Your partner understands that you take that relationship seriously. They get the feeling that you're committed to that bond and are willing to grow and mature in that relationship.
Related Reading: Significance of Commitment in Relationships
● It expresses that you don't take that individual for granted
Regularly implementing things you do when you love someone or verbally expressing your love or gratitude is a direct indication that you do not take those unique relationships or bonds for granted.
Therefore, your partner doesn't feel neglected. They feel special.
Related Reading: Don't Take Your Spouse for Granted! 4 Things to Say
● It will help your parter feel good
Think about how amazing or euphoric it feels to be on the receiving end of appreciation or love. How well do you feel when your partner gives you love and shows you how valuable you are to them? Great, right?
So, when you learn how to show someone you love them with actions and words, they'll feel wonderful.
● It widens your capacity for unconditional love
Regularly practicing the expression of love and gratitude for those important people in your life means that you've embarked on a wonderful journey of self-growth too.
Therefore, your capacity to surround yourself with unconditional love and experience positive emotions increases.
● It reinforces your partner to be expressive too
Another remarkable aspect of being vulnerable and appreciative of your partner regularly is that they feel motivated or reinforced to do the same with you.
Therefore, proving yourself and your love in unique relationships creates this beautiful give and take of love and gratitude. This, in turn, makes life full of love and value.
This is why you should consider learning about and implementing how to prove you love someone.
Related Reading: 16 Powerful Benefits of Vulnerability in Relationships
20 effective things you can do to prove your love
Now that you're very well-acquainted with why it's important to learn how to prove you love someone, let's get into the ways to prove your love.
1. Say "I support you"
Let's begin with this list of things to do for someone you love by focusing on what you can say to them. Being mindful about the kind of language you use to say to them is pivotal.
Saying "I support you" reminds all the valuable people in your life that you're there for them and support them, no matter what. It can empower them to prosper in life.
Related Reading: 20 Steps to Becoming a Supportive Partner
2. Value their company
This is probably one of the most important things to say to the person you love. Unfortunately, letting them know verbally that you value and enjoy their company is something that is quickly forgotten.
But if you're mindful about letting your close friends or even your spouse know that you're grateful for their company and thoroughly enjoy the time that you spend with them, they'll feel appreciated and special.
Related Reading: 11 Ways to Have Quality Time With Your Partner
3. Appreciate them
It is very important to have conversations about the qualities you appreciate about your partner with them, and not just in their absence. You can tell them the different qualities you love about them or what they do that you value.
4. Incorporate please and thank you in your language
Thanking your spouse for something that they've done for you (like cooking a meal or helping you with taxes or paying for dinner, and so on) shows them that you understand and appreciate the effort and time they dedicated to doing something for you.
Saying please before you ask your partner to do something for you shows that you respect their time and understand and value that they have to do something for you.
Related Reading: Why You Should Harness the Power of Appreciation in Relationships
5. Practice forgiveness
Patience and forgiveness are fundamental aspects of maintaining and sustaining any relationship. When you genuinely practice forgiveness, you show that you understand and accept your partner's flaws or imperfections.
Here's how you can pave your way towards forgiveness:
6. Keep your promises
One of the most essential parts of learning about proving you love someone is to understand the weight of the promises you make to your partner.
For instance, if you've told your partner that you will give them a call every day, then try to keep your word and call them every day.
Related Reading: 15 Tips on How to Stay Committed in a Relationship
7. Offer to share your things without expectations
Sharing your things or your knowledge to help out your beloved and other valuable people in your life can help you feel fantastic about your altruistic endeavor. Any relationship has a strong element of give and take.
8. Practice tolerance
Another essential part of implementing how to prove you love someone is by practicing the art of tolerance. The very step in becoming more tolerant is to have greater tolerance with yourself. This happens when you become less self-conscious.
When you're less self-conscious, your tolerance for the valuable people in your life also increases.
Related Reading: Tolerance vs. Acceptance in Relationships: 10 Differences
9. Be a good listener
One of the best ways to prove you love someone more is to brush your ability to listen effectively. Try not to interrupt or speak when your partner is saying something. Allow them to speak.
Once they're done, you can then say what you think.
Related Reading: 4 Tips to Be a Better Listener in a Relationship- Why It Matters
10. Compliment your partner
Among the nice things to say to someone you love, giving genuine compliments to your spouse, friends, relatives, and other precious people in your life come on top. Giving compliments to people makes them feel appreciated and seen.
Related Reading: Appreciating And Valuing Your Spouse
11. Care for them if and when they're unwell
How to show someone you love them? Care for them if and when they're unwell. Looking after your partner in such times doesn't only mean becoming a caregiver. This might not be feasible, especially if you live in different geographical locations.
However, sending food, calling them up, asking them about their medications, sending care packages, etc., are some great ways to care for them. However, if you live in the same household or are close by, you can consider taking up the role of a caregiver.
Related Reading:  20 Ways to Show Someone You Care About Them
12. Make their birthday special
This is not to say that you have to develop an elaborate party plan every time it's one of your loved one's birthdays.
An occasional surprise party or sending them a meaningful present, or doing something for them on their special day to make them feel special are all wonderful ways to make their day special.
Related Reading: Gift Ideas for Couples
13. Celebrate their accomplishments
One of the most direct ways to express your feelings of appreciation and love for your partner is to enthusiastically celebrate their accomplishments, both big and small.
You can verbally express it to them by saying how proud you feel, giving them something meaningful, or taking them out for a lovely meal.
14. Go on holidays together
Another effective tip for how to prove you love someone is to travel together with them! A trip is a fantastic way to create beautiful memories and spend precious time with all those important people in your life.
Related Reading: How About Spending Time Together on Holidays Instead of Spending Money?
15. Appreciate and value their advice
When you resort to your partner for their opinion or guidance or advice on something relevant to you, whether you implement that advice or not, make sure to let them know that you genuinely appreciated their input.
16. Pursue their interests or hobbies
This is especially relevant for regular implementation for your significant other. Try out the things that they're passionate about.
Related Reading: 7 Ways To Support Your Spouse's Passions
17. Remember to apologize
Humility on your end is essential to sustain long-term relationships. So, if you've said something or done something that hurt your partner, apologize for it.
18. Give them spontaneous gifts
Surprising your partner with meaningful or thoughtful presents is a beautiful way to make them feel appreciated and special.
Related Reading: 70 Best Birthday Gifts for Husband After Marriage
19. Identify their love language
Identify the love language of your partner and try to express your love and appreciation for them in that language.
Also Try: What is My Love Language? Quiz
20. Let them know that you're there to help
The importance of verbally letting your partner know is possibly one of the most undermined ways of proving your love for them. But there is unparalleled value in showing the special people in your life that you're there in case they need you.
Conclusion
When it comes to learning and implementing how to prove you love someone, it is a mixture of meaningful, mindful, small, and big actions and words. Consistency is important.
Share this article on
Want to have a happier, healthier marriage?
If you feel disconnected or frustrated about the state of your marriage but want to avoid separation and/or divorce, the marriage.com course meant for married couples is an excellent resource to help you overcome the most challenging aspects of being married.
More On This Topic
You May Also Like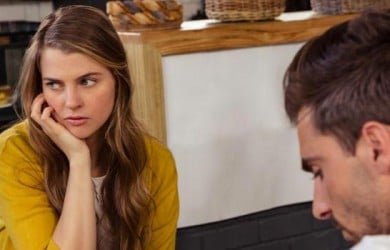 Popular Topics On Married Life