20 Tips to Know When Your Spouse Says Hurtful Things
Marriages, like other relationships, may have rocky moments. For some, these could occur when your spouse says hurtful things. If this happens within your marriage, it may be necessary to find out what is going on and what can be done to improve communication.
Keep reading for helpful tips to consider.
What should you do when your spouse says hurtful things?
You may be at a loss for what to do when your husband says hurtful things. When you are affected by the things your spouse says to you, it may be helpful to take time to process your feelings.
While it is okay for you to be upset or hurt by the things that they say to you, it is necessary to do what you can to make sure you don't lash out in anger or make the situation worse.
For more information on conflict resolution in a marriage, check out this video:
How to get over hurtful words
It can be challenging to move on when your husband says hurtful things during an argument. However, a few things you may want to do are think about what your partner said to you and if any of it is truthful.
If it is, it may be necessary to work on these aspects of the relationship.
Furthermore, it could be helpful for you to seek counseling if you are on the receiving end of hurtful words from your husband frequently. It may be one of the best ways pertaining to how to get over hurtful words from your husband.
When your spouse says hurtful things: 20 things to consider before you react
Anytime your wife or husband says hurtful things, this may be a situation you'd like to react to right away. However, think about these things before you reply with hurtful words as well.
These may help you with your relationship and give you a better understanding of the situation.
1. Take a minute
When your spouse says hurtful things, it is likely a good idea to take a minute to process not only what is being said, but also your thoughts on them.
When you take a moment to consider what is happening, this can prevent you from acting rashly. It can also allow you to think about your next step.
2. Don't immediately react
While you are thinking about what is happening, you should also do what you can to keep from reacting right away. In other words, even if you feel like you are being attacked, you should try to keep from yelling or saying hurtful things back, in the heat of the moment.
Doing so may not help you change things, if this is your goal.
Related Reading: 

How to Stop Overreacting in a Relationship: 10 Steps
3. You can be upset
Keep in mind that it is okay to be upset if you feel like my husband said hurtful things I can't get over. You can be upset but you must also keep an open mind so there can be a chance to reconcile after a fight, when possible.
Sometimes, when your spouse says hurtful things, it isn't because they are trying to hurt you; it is because they are under a lot of stress and may not be handling it effectively.
4. Address the issue promptly
Whenever you have just heard hurtful things from your husband and you know that some of them may be coming from a place of love, it may be necessary to handle any issues as soon as you can.
For instance, if they were telling you about a flaw you need to work on, try your best to take steps to change your behavior.
Keep in mind this doesn't mean something is wrong with you, but you should understand that when your spouse says hurtful things, they may be trying to help you, but going about it in an improper way.
Related Reading: 

How to Discuss Relationship Problems Without Fighting: 15 Tips
5. Keep the past behind you
If you feel like my husband says hurtful things when we fight, think about if you are bringing up fights or concerns from your past that are making them behave a certain way.
They may have become frustrated because you haven't forgiven them for something they did years ago. Again, this isn't a valid reason for a person to say hurtful things, but it may be how they feel.
6. Write it down
You might be frustrated when your spouse says hurtful things, but you can counteract some of this by writing down your thoughts in a journal or on paper.
This can help you process your feelings and allow you to know what you want to say when you talk to them about what happened.
7. Try a bit harder
While it is likely not your fault when my husband insults me when we fight, you should still consider your behavior when this happens.
Maybe you could do more to lighten your spouse's load or provide them with a bit of time to unwind after a long day at work. You can make little changes to note if there is a change in their overall behavior.
8. Speak with your partner
When a husband says mean things, it may be the right course of action to talk to them at a different time about how they feel.
Communication may not thrive in a marriage when you are having arguments all the time or have differing opinions of many things. It may be more advantageous to be able to work out your problems and issues when you can, for the sake of your bond.
9. Think about their POV
Put yourself in your spouse's shoes, and you may be able to understand how they are feeling. This can also allow you to understand their outbursts, when they occur. You may also have outbursts from time to time.
10. Determine what's going on
Once you are trying to think like your spouse and are considering the things that are going on in their life, you may be able to figure out why they are experiencing anger or feel like they need to say hurtful things to you.
Chances are, it is tension or another issue that they are struggling with.
11. Mind your actions
No matter if you are experiencing hurtful words from your spouse infrequently or often, do what you can to make sure that you aren't contributing to these episodes lasting longer than they need to.
Essentially, don't turns these fights into screaming matches. If one partner needs to blow off steam, let them and try to talk to them after the fight is over.
Related Reading: 

How to Understand Your Partner Better: 15 Ways
12. Tell them their words hurt
When you are able to talk to your mate after things cool down, you must let them know that their words hurt you. They might not be aware of this and be more mindful of their actions.
On the other hand, they may not care, but at least, you asserted how you feel, so they won't be able to act like they don't know they are hurting you when they talk unkindly to you.
13. Consider your bond
If you are concerned because your husband says mean things when angry, this may also cause you to think about your relationship and bond with each other.
You must be sure that you are still on the same page, even if you argue from time to time. Trust is essential in terms of maintaining a healthy relationship.
14. Find something to do
If you don't know what to do to deal with the anxiety you have when you are experiencing hurtful comments from your spouse, find something to do.
Put a little more time into your work or a hobby, to keep your mind off of things until you are ready to process them.
15. Don't internalize it
You should never internalize how you are feeling. You are not solely to blame for the way your spouse talks to you, no matter what behavior you are exhibiting.
It is better if you are able to work through your emotions and feelings, so you will have a good chance of being able to communicate them when the time is right.
16. Forgive them
It can be helpful to forgive your spouse when they talk to you with hurtful words, especially if you don't think they mean what they say. This can help you move forward and will be beneficial for the relationship overall.
Related Reading: 

How to Forgive Your Partner Who Has Hurt You
17. Give them space
Remember that your spouse has things that affect them each day just like you do, even if you don't always know what those things are. Give them the space they need after a hurtful argument, and they may come to apologize.
18. Talk to a friend
You may wish to talk to a trusted friend about what is going on in your life. They may have been through a similar situation and be able to tell you what they did.
Just be sure that your friend or loved one won't judge your spouse harshly because of the things you are saying. This may not be fair to your partner.
19. Talk to a professional
When your spouse says hurtful things, this might cause you to seek therapy for yourself, or for your relationship.
Research shows that therapy can be beneficial when it comes to both parties having the proper communication with each other, which may also result in better satisfaction in a marriage.
20. Determine what's next
Depending on the frequency and severity of the hurtful words exchanged in a relationship, you should determine what you want to do regarding your bond with your spouse.
In some cases, after counseling, you may be able to communicate better, but in other cases, it may be necessary to part ways. You can decide together what the best course of action is.
Takeaway
There are many things to consider when your spouse says hurtful things. The main thing is that you should take all the time you need to process your feelings and decide what you want to do about this type of situation.
One of the ways that may provide benefit is working with a therapist. They may be able to help you understand if these arguments constitute abuse or you simply need to learn how to talk to each other more effectively.
Be sure to give each other space when you need to, and be respectful when you communicate, both of which can go a long way.
Share this article on
Want to have a happier, healthier marriage?
If you feel disconnected or frustrated about the state of your marriage but want to avoid separation and/or divorce, the marriage.com course meant for married couples is an excellent resource to help you overcome the most challenging aspects of being married.
More On This Topic
You May Also Like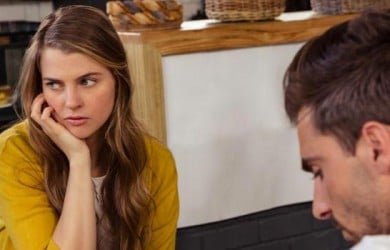 Popular Topics On Married Life