How to Know When to Leave a Lying Spouse: 10 Things to Consider
If you are considering when to leave a lying spouse, you should wait a bit. You must consider some things before this life-changing decision. Learn more about them in this article.
Some people think adultery and cheating are the biggest offense in a relationship or marriage. Sadly, other issues can cause a crack in the wall for couples. One of these is how to deal with a lying spouse.
A lying spouse poses a threat to the foundation of your relationship. To build a healthy relationship, any couple must be honest and trustworthy.
With a lying spouse, however, it becomes challenging. You can't even trust a tiny bit of information that they give you. Dealing with this person is frustrating and exhausting.
It's only normal that most partners who have seen the signs of a lying spouse seek solutions when a spouse lies. For example, you may see questions like:
Why do spouses lie?
What's the process of setting boundaries with a lying spouse?
You deserve answers to all these questions, but it's beneficial to consider some things when dealing with a lying spouse before you do. What are they? Read this article to the end to find out.
What to do when your spouse keeps lying to you
First, spotting the signs of a lying spouse can be challenging. You love your partner to some extent, if not wholeheartedly. Therefore, when you suspect they aren't straightforward, your affection for them shields you from believing they could be lying.
Whether it's lying about their activity or hiding things from you, it can hurt you to know you won't be able to trust your partner. And best believe that no relationship can survive long with a lying spouse.
Many people ask what to do when your husband lies to you all the time or when your wife keeps things from you.
Even though it is embarrassing for you and your partner, the best thing to do is confront them immediately. Don't wait for hours or days later. Otherwise, they might twist the event, lie about it again and make you look like a fool. Instead, talk to them about the lie.
Tell your partner that you just realized they lie, and calmly tell them how it impacts and hurts the relationship.
Most often, if caught red-handed, they might apologize and be willing to change. On the other hand, if they show no remorse, refuse to change, and continue to lie, those are clear signs you need more help in dealing with a lying spouse.
In addition, you can also set limits when you see lying spouse signs. Setting boundaries with a lying spouse can help you learn when to leave a lying spouse. If you are successful, your partner may change, or you can have peace of mind in the long haul.
When setting boundaries with a lying spouse, you need to protect yourself by being assertive and communicating your needs. Also, it is best to express your feelings and expectations clearly and directly. Start by telling your partner what you want subsequently in the relationship.
Calmly tell them you won't tolerate any more of their lies, and if they value the relationship, they need to stop lying.
For example, you can say, "I value honesty in my relationships, and I expect you to be truthful with me." Also, consider protecting your privacy, and avoid sharing private and sensitive information with them until you are confident in their honesty.
Finally, you should seek professional support if you've done everything to alleviate the lying situation, but nothing works. One way to do this is to go for marriage therapy. This is especially important if you are contemplating divorce.
10 things to consider when leaving a lying spouse
Discovering that your spouse has been dishonest to you can be devastating, and your first reaction may be to leave the relationship. However, it's important to consider some factors if you are contemplating when to leave a lying spouse. Here are ten things to know as you sail through this difficult decision:
1. Honesty
You can't compromise on honesty and trust to have a fulfilling relationship. Even if you don't want to leave the relationship, ask yourself whether you can deal with dishonesty for a long time.
Can you look at your partner with the same eyes as in the beginning? Can you listen to them objectively without judging or thinking they are lying? Honesty is a very important factor to consider to understand when to leave a lying spouse.
2. The severity of the lies
Another important factor to consider when you see the signs of a lying spouse is the extent of the lies.
If your partner mostly tells white lies or lies about minor things, and these lies don't harm your relationship, you can cut them slack. We have all lied at one point or the other in our lives.
However, if your partner lies about big things or hides things from you, and it affects your connection, you may start to choose the date to leave.
3. Communication
Before you decide when to leave a lying spouse, have you tried a dialogue with them? Remember, love is gentle, kind, and compassionate. Lovers look out to help each other, especially in a crisis.
Having honest and open communication when you see the signs of a lying spouse is great. It's a way to give your partner the benefit of the doubt. Who knows? They may have a genuine reason for being dishonest (this isn't in any way supporting dishonesty).
4. Consider your conflict resolution skills
Could your spouse lie because they don't know how to resolve issues amicably? Therefore, they switch to lying to make you feel better or make the issue disappear quickly. Again, only when you communicate openly can you learn the answers.
If the lying spouse signs have been linked to an inability to handle conflict effectively, consider whether these issues can be addressed and improved upon.
5. The ability to change
After communicating your feelings and fear, you should consider your partner's willingness to change. Indeed, chronic liars may find it challenging to change for their partners. They have lied so much that it's become part of them.
However, when someone truly loves you, they make a conscious and intentional effort to make you happy. One of these is being conscious when they speak and ensuring everything they say is the truth. If you have observed this in your partner, it is best to give them a chance.
Learn about things a man will only do if he loves you in this video:
6. Effect on your well-being
Another factor worth considering is your well-being. Lies from a loved one have the potential to cause emotional and psychological stress. It may also cause some physical defects.
Has your partner's dishonesty caused you significant stress, anxiety, or emotional distress?
It's best to prioritize your well-being even if you still want your partner. Then, determine whether staying in the relationship is healthy for you.
7. Impacts on children
When children are involved, you may need to think hard about your decision. Do the children know your partner lies a lot? Have they been affected by your lying spouse? Have they seen the signs of a lying spouse?
If it appears that the children will be affected by lies in the relationship, it is best to take a decision that is best for them.
8. Impacts on finance
Leaving a lying spouse might affect your finances, especially if you have properties together or your partner is the breadwinner. Also, when children are involved, you should consider how leaving will affect their well-being financially. Nonetheless, this isn't to say you should endure.
Consider seeking professional help like marriage therapy if you don't know a way out or are trying to learn when to leave a lying spouse.
Related Reading: 

Financial Advice For Married Couples
9. What support system is available?
As you navigate this challenging period, consider the support system. Do you have friends or family that can help you cope and support you? If there is none, what's the next option?
10. Consider your prospects
Leaving a lying spouse might create a gap in your life. How do you plan to live with this in the future? What are your plans for your next relationship? Reflect on what you want and whether leaving your relationship aligns with it.
How do you move on from a lying spouse
Once you know when to leave a lying spouse, you may wonder how to move on. The truth is moving forward from a deceitful partner is challenging. Remember, this is someone you've known and come to tolerate for a long time.
Nonetheless, moving on entails recognizing and validating your emotions, establishing firm boundaries, prioritizing self-care, seeking professional support through therapy or counseling, and prioritizing your well-being.
Some commonly asked questions
Here are some answers to some pressing questions that can clear up some of your doubts about the decision pertaining to when to leave a lying spouse:
Why does lying destroy relationships?
Lying destroys relationships because it breaks a partner's trust and makes them question each other. When a pattern of dishonesty repeats itself, partners find it challenging to relate or have normal conversations. When there is no honest communication, the connection between spouses weakens. In turn, the relationship ends.
Is lying a reason for divorce?
Whether lying is a probable cause for divorce depends on the partners involved and the severity of the lies.
Some people may choose divorce if the lies are enormous and often cause discord between spouses. On the other hand, some individuals believe there could be a way out. Therefore, they seek how to deal with a lying spouse.
In a nutshell
If you deal with dishonesty in your relationship, you may wonder when to leave a lying spouse. If you decide to leave a lying spouse, you are well within your right. After all, you wear the shoes and know where it hurts the most.
Nevertheless, it is worth considering some factors in this article before deciding when you see signs of a lying spouse. I hope you choose the right thing for yourself and your mental health.
Share this article on
Want to have a happier, healthier marriage?
If you feel disconnected or frustrated about the state of your marriage but want to avoid separation and/or divorce, the marriage.com course meant for married couples is an excellent resource to help you overcome the most challenging aspects of being married.
Learn More On This Topic
You May Also Like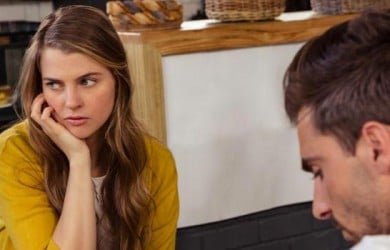 Popular Topics On Married Life