What Is Pillow Talk & How It Is Beneficial for Your Relationship
The only time some couples have to wind down after long stressful days is right before falling off to sleep, when walking in the morning, or after intimacy.
There are few hours, even minutes, in your partner's typical hectic week when there can be personal interaction in a quiet, serene setting.
Intimate pillow talk provides moments where partners can be alone, sharing affection and attention, reestablishing sensuality and their bond, along with expressing feelings and emotions they don't get to any other time.
It's not that you can't make time to engage at other times during the week if you try to "schedule" engagements into your routine.
Still, it's not as authentic as being comfortable under the covers with the one you feel most connected with and when you both feel relaxed enough to share freely and vulnerably. Here is a study that tries to explain the science of pillow talk.
What exactly is pillow talk
Pillow talk for couples is a conversation that develops in the bedroom, typically after experiencing the closeness of physical intimacy. Usually, in these moments, each person feels comfortable speaking openly about feelings, aspirations, goals, their life together, with a sense that in that quiet, alone time, they're being heard.
The bed represents a safe zone where the couple's connection can deepen without fear of rejection.
Why is pillow talk different
Pillow talk conversations are different from everyday interactions or discussions since these involve vulnerability and intimacy. Good pillow talk consists in sharing personal details that you wouldn't divulge to anyone else.
There are words you wouldn't openly speak even to your partner at any other point of the day except when you have already fully exposed yourself physically, emotionally, and now you want to do so mentally. No one else gets to experience this side of you.
What are examples of pillow talk
When looking at examples of pillow talk, these aren't meant to be difficult conversations.
It isn't the time to be discussing day-to-day stress or negative subjects. It's more about the time to talk about emotions, what the other person means to you or romantic topics, perhaps what you see for the future together.
It should be simple, not awkward. If it feels uncomfortable, maybe it's your first time with someone, and you're unsure what to talk about.
Here's a book that might help with some tips and hints on what to say; also, let's look at some pillow talk examples.
1. If the two of you were to go on a romantic excursion, what would be the ideal place
One or both of you should describe in detail the location you would view as the ideal place to get away.
Include when you would go, how you would travel, what you would do when you get there, including the various attractions you'd take in, the place you want to stay, the food, etc.
The fantasy that each of you has should then be something that you intend to work towards making into reality at some point.
That doesn't mean making the intimate conversation a matter of stress, especially if you're financially incapable of recreating the fantasy any time soon, but keep note of it for the future.
2. What is a sexual fantasy that you've been apprehensive about opening up
Whether you're new to the relationship or feel the other person might not be open to exploring different sexual experiences, pillow talk means that you can express these feelings openly by asking your partner first and then divulging your personal fantasies without inhibition.
In this case, pillow talk has the potential to lead to greater sexual satisfaction. Otherwise, you might not discuss your desires nor have them possibly met with a partner who will likely be willing to try new things.
3. Express your experience with the first kiss the two of you shared
Reminiscing about firsts is exceptionally romantic and allows each of you to return to a point when the relationship was new (unless you're still at that stage.) It's a chance to re-experience the "honeymoon" feelings that have since deepened into a more authentic bond.
Those initial awkward yet exciting, lustful months are thrilling, and it's fun to reveal to your partner what was going through your mind during those early days and find out the same in kind.
4. Have your partner describe you as they would to someone who's never met you
This is a prime example of what is pillow talk about or should be about since you will each get to reveal the things you most love about the other person. Complimenting each other should come naturally on an everyday basis, but it seems to get lost with "life."
Check out this video about compliments that keep the attraction alive in the relationship:
Fortunately, when our guard is let down and we're fully relaxed and comfortable, that's no longer the case.
We can be entirely natural with our partners, divulging how we genuinely feel about them with romanticism, affection, love, things that tend to get neglected until we have the peace and quiet of alone time or pillow talk.
5. What was your reaction when first seeing me
It would help if you answered this question as well when engaging in what is pillow talk. The response can be quite enlightening in some cases. There are times when it might surprise you since some partners aren't always initially attracted.
It can occasionally take a bit before that spark hits while others are immediately swept off their feet. It's a risky question but also all in fun.
6. Can you remember when you knew you were in love
When participating in what is pillow talk, remembering the moment you fell in love with your partner can be exceptionally romantic. It doesn't mean that moment in time was necessarily romantic or that you share the exact moment.
It could have been something frustrating like getting stuck alongside the road together, humorous like the two of you attempting to pop a tent in the rain on a camping trip (maybe funny after the rain stopped), or simple like over a candlelit dinner.
7. What do you see for the future
That isn't a question that you might choose when engaging in what is pillow talk at the start of a new relationship. It's more reserved for after you've determined you're in love and when you know there is a future for the two of you.
It reveals that each of you is serious about a longer-term commitment and can help you determine if your partner is following the same path you're working towards.
8. If life goals took me to a new location, would you come
This question might go a bit deep for what is pillow talk since it steers the other person to have to face commitment issues. It would only create a problem if that person had an issue with committing since you are so readily revealing that you're ready for one.
It can also put someone on the spot in a moment, having to decide if they would be willing to uproot from family, friends, or a job to follow the person they love. It might depend on how long you've been together whether you should ask this one.
9. Do you think of me when you hear a specific song
With a pillow talk question like this, you can bring up varied things from regular routines that make you think of your partner. Everyone wants to know that their significant other is reminded of them when they're not around.
10. How was your day
For a new relationship where you simply don't know what to talk about following physical intimacy, a good lead-in is always to show interest in the other person's life, to express a desire to hear your partner's thoughts and opinions will also be appreciated.
These behaviors show that you care and support each other regardless of whether the day was remarkable or not outstanding.
How is pillow talk good for your relationship
One of the primary elements of what is pillow talk in relationships is the connection you develop as a couple. The bond that you've been establishing as the relationship has been progressing strengthens; love deepens.
After being physically intimate, you're emotionally vulnerable, and yet couples take that a step further by choosing to communicate their deepest secrets without fear of retaliation or upset since the atmosphere is one of love, comfort, and relaxation and not negativity.
It's the period of the day when no one has to worry about interruptions, there are no distractions, and you can fully engage with each other present at the moment, making pillow talk unique even from taking an entire day for quality time. Pillow talk is the only time you can recreate the honeymoon phase.
How can a couple benefit from pillow talk
When learning what does pillow talk mean, people are surprised to find that the activity they find most endearing actually has a "label," if you will. For many individuals, pillow talk is the part of the day that they look forward to.
The misperception is that these conversations always follow physical intimacy, but that's not necessarily the case.
Pillow talk can occur before you drift off to sleep; it can happen if you wake up in the middle of the night or first thing in the morning, plus after sex. Check this research for more studies relating to pillow talk.
The idea behind the concept is that the two of you are lying in bed together comfortable, relaxed, and intimate, not necessarily sexual, leading to a carefree line of communication neither of you censors.
It's unnecessary since there's no worry about repercussions because anger and arguments are off-limits in this setting.
That allows for free expression of feelings, thoughts, and ideas in a safe space that doesn't happen in any other moment of interaction together if you genuinely think about it.
Involvement in the chaotic daily activities results in continuous interruptions, conversations filled with distractions, and racing thoughts that keep minds away from what's happening at the moment.
If someone attempts to open a serious dialogue or share intimate thoughts in these circumstances, the notion is often met with frustration at the timing of such a conversation.
There's almost a sigh of relief when lying down in bed that all the chaos from the day has been put to rest. Now each of you can simply be authentic. Couples benefit from this time together because it's theirs alone. They don't have to share it. It's priceless.
Related Reading: 

Best Tips For Growing Intimacy In Marriage
Final thought
Communication in a relationship is crucial to its survival.
Still, there's a distinct difference between that and what is pillow talk. Pillow talk is intimate and special. It doesn't mean sex; although, that's a common misperception. It does often happen following physical intimacy, but it doesn't only occur following sex.
Who is on pillow talk? There are two people lying in bed together communicating about anything that moves them without fear of retaliation from the other person.
In this setting, negativity, lashing out, and upset are off-limits; not that there's a conscious attempt to avoid these. There's no desire to share anger. It's a relaxed, effortless conversation, one that means to deepen a couple's connection, strengthen a bond, enrich love.
Share this article on
Want to have a happier, healthier marriage?
If you feel disconnected or frustrated about the state of your marriage but want to avoid separation and/or divorce, the marriage.com course meant for married couples is an excellent resource to help you overcome the most challenging aspects of being married.
More On This Topic
You May Also Like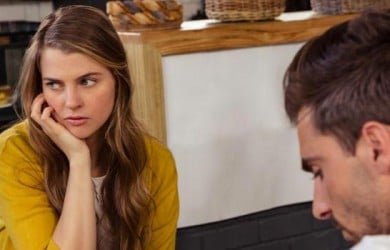 Popular Topics On Married Life