4 Ways Marriage Affects One's Social Life
Marriage is an important step in an individual's life. It means agreeing to spend the rest of the life with this special someone and building a family with them. Marriage tends to affect all aspects of one's life, be it financially, spiritually and, not to forget, socially.
When any two people get married, they become one. They tend to spend most of the time throughout the day together and make changes in their life that would incorporate both of them.
When talking about the social effects of marriage, 4 possible scenarios may come to mind. Although there are no major changes, they do affect the individual's daily life.
Listed down below are the 4 possible ways marriage can affect your social life.
1. Little to no change
Usually, couples tend to experience almost zero effect on their social life once they get married.
This is because marriage has nothing to do with how and who you socialize with. Moreover, most couples have similar friend groups and prefer hanging out with them just like they did prior to marriage.
Even if the two married individuals have different friend circles, each of them should have the freedom to enjoy by themselves and be independent of each other.
Couples should provide each other with space they need to have a private life that does not involve the spouse. This way each of them is able to have a good time with friends and family just like they did before getting married.
This is a temporary social effect of marriage.
When newly married, most couples are heads over heels in love each other. They prefer spending every minute of the day with each other and simply enjoy each other's company and hence, end up ignoring their friends.
Their new social life revolves entirely around their significant other, going to the movies, having romantic dinners, sweet weekend getaways and what not. However, this is usually a phase for many.
Once it dials down and couples return to their regular daily life, they tend to connect back to their friends and family. Secondly, initially, when couples have children they tend to distance themselves from the rest.
But gradually, they begin to ease up and try to make out time for themselves. This may include date nights for the couple or even deciding to take turns to take care of the child while one of them goes out to have some fun along with friends.
3. You distance yourselves from friends and family and keep it that way
This is a fairly rare occurrence.
Couples tend to get so caught up in their life and their busy schedule that they simply have no time for other people.
The upbringing of the children, work, house chores, there is simply too much for them to attend to. It is also seen that in order to cope up with the increasing finances of the family, one of the partners takes up multiple jobs while the other one stays at home to look after the house, kids and all other similar issues.
For such couples, social life becomes almost non-existent. However, there are also some couple who make their family and kids their social life. They go out together and do all kids activities together to enhance love amongst themselves and live as a happy family.
4. Your friend group cuts you off
All lovey-dovey couples can relate to this.
Couples who tend to be all over each other not only in private but public as well are usually the ones who face being cut off by friends.
Such couples are usually considered annoying by a social gathering because they are simply physically there but not contributing in any way to the topic of conversation or any activity that the rest of the friends are doing.
Another type of couples that are usually blown off my friends are the ones who are constantly fighting. No one wishes to be a part of a messy fight and wants to avoid it at all costs. All of us go out to enjoy ourselves and have a good time and not witness a couples arguing and spend our time trying to get them to make up.
At the end of the day, no matter what kind of social life you have, your family should be your top priority.
You should want to spend any free time with your kids and spouse rather than feeling the need to hang out with friends.
A marriage is built on communication, love, commitment, and trust. If you have all of this in your relationship, you should have no worries about what your friends think because you are happy with your spouse and that is what matters.
Share this article on
Want to have a happier, healthier marriage?
If you feel disconnected or frustrated about the state of your marriage but want to avoid separation and/or divorce, the marriage.com course meant for married couples is an excellent resource to help you overcome the most challenging aspects of being married.
More On This Topic
You May Also Like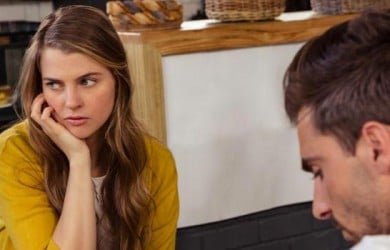 Popular Topics On Married Life