7 Ways of Handling Social Anxiety at Your Wedding Reception
Weddings can be a unique and memorable time while also being a cause for stress. For those with social anxiety, weddings and receptions can cause increased anxiety. But social anxiety at your wedding reception should not be allowed to ruin your day.
Research shows that more and more young people are dealing with social anxiety disorder, where socializing becomes the cause of extreme stress and concern.
Talking to lots of people, being the center of attention, and feeling like all eyes are on you may be a source of extreme discomfort. But you can deal with wedding anxiety associated with social interactions by considering a few things.
By following certain key steps, you can keep a check on this wedding nervousness by taking some precautionary steps.
Related Reading: 

What Causes Pre-Wedding Jitters and How to Tame Them
7 ways to deal with anxiety before wedding reception
The combination of social anxiety and marriage can be troubling for many people getting married. The prospect of meeting several people can be daunting if it is something that you are not comfortable with.
You are the center of attention at a wedding reception which can add to the wedding day stress. So, try out these suggestions to combat the crippling social anxiety at your wedding reception:
Also Try: Do I Have Social Anxiety Disorder Quiz
1. A non-traditional wedding and reception
One good news for many is that the rules for what is expected at a wedding and reception have become less strict in some circles. This may not be the case in your family or with your spouse, but many couples can create the wedding they want.
If you cannot dance to save your life, there is no need to dance at your wedding reception. Nobody will say a word about it, as the guests would be more concerned with enjoying themselves.
Perhaps you have a small wedding ceremony and invite friends and family to a casual backyard celebration. If you don't want to be the subject of toasts, perhaps skip them.
Keeping the guest list small may help you cope better. Destination weddings have become more prevalent in recent years, with couples often inviting a small group to travel with them to a relaxing location. Eloping may be an option for you as well.
Perhaps the ceremony is not what you are after as you are getting married as a form of commitment. Some couples choose to get married for financial reasons or might have been married before, and a formal ceremony may not make as much sense.
If kissing your partner in public makes you nervous, skip having a lengthy kiss. If walking down the aisle makes you nervous, know that most people are not in a judgment mode and probably won't think about your walk the next day.
Some couples may feel anxious about exchanging vows in front of others. A potential compromise is to share your actual vows in private and allow the officiant to recite vows while only requiring an "I do." Confiding in the officiant can be a positive step to help ease anxiety.
Related Reading: 

Best Wedding Vows Ever Heard
2. Rely on your partner and loved ones
Your culture, spouse, or family may have strong feelings about expectations at a wedding and reception. Maybe some of the things you fear are unavoidable, so it is best to find ways to deal with the situation.
If you are dealing with social anxiety at your wedding, you may not look forward to making small talk. The apprehension can be alleviated by walking around with your spouse and allowing them to do most of the talking.
Although not a long-term solution for fighting social anxiety, a couple of drinks with your partner at your reception may be perfectly acceptable as they can help loosen you up. The guests may have had a few drinks to lighten them up as well.
Even though it is your day and it may feel like all eyes are on you, ask yourself how much attention you pay to other couples at their wedding receptions? Aren't you usually more focused on socializing and having a good time yourself?
Sometimes it is healthy for those with social anxiety to realize that we aren't that important. People have their own wants and needs beyond judging what others are doing.
And suppose you do embarrass yourself at a wedding reception. In that case, you are not the first and will certainly not be the last (and others at your wedding probably did something more embarrassing).
3. Choosing a wedding party
Some people with social anxiety symptoms prefer to have a few close friends. There are no strict rules about how large a wedding party must be. Using siblings or cousins may be an option for those with few or no close friends.
Maybe you choose not to have a wedding party at all. You could also enlist your partner's extended family members to fill this role if your family is small.
4. Advance counseling may help
A counselor may help you challenge the accuracy of your social anxiety at your wedding reception. Perhaps your mind is tuned to fear the worst or expect people to judge you much more than is likely.
A counselor may help you focus on the positives of the reception, like gifts, memories for your friends and family, and being one step closer to a honeymoon and future together. You could collaboratively problem-solve around areas of concern.
Related Reading: 

Key Benefits of Going for Marriage Therapy Before the Wedding
Research into couple's counseling reveals that it has long-term and short-term benefits for couples facing different issues.
Maybe planning for dance lessons would alleviate your fears about a first dance. Perhaps preparing for other forms of social exposure in advance could show you that people may not care what you look like as much as you think.
Assuming the people at your reception know you or know about you in some capacity, they probably already accept you as at least shy. Most of your guests probably just want you to have as good a time as they hope to have themselves.
5. Remember, it is only temporary
Many socially anxious people have survived weddings and receptions. You are probably won't be as much of a center of attention as you might think.
Suppose a friend forgot her veil and was in great distress. What would people think about her?
The reality is that when you ask guests about it, most don't end up noticing everything. Some may notice the mishaps, but they realize that many moving parts go into a wedding, and things can easily get forgotten. Most guests won't even think about it after the marriage.
Guests at a wedding reception often want to focus on the food or having fun with other guests they know.
Suppose you can have the wedding and reception on your terms, fantastic. If you feel forced to do some things that may be uncomfortable, just know that it's only temporary.
6. Coping mechanisms may be effective
Navy SEALs face immense stress and anxiety. One technique employed by the SEALs is box breathing. The technique involves breathing in four steps as you imagine yourself moving across a square, and you can use this to handle social anxiety at your wedding reception.
The first step involves taking a deep breath through your nose as you count to four. You can imagine yourself starting at the top left of the square and moving from left to right along the top edge As you do this.
You then count to four as you hold your breath and imagine yourself moving down the right side of the square. After this, you exhale through your mouth or nose and count again. Finally, you hold your breath again for a count of four. Repeat the process until you feel yourself calming down.
Simple unstructured deep breathing may also be effective when learning to cope with social anxiety at your wedding reception. Things like getting enough sleep, doing yoga on your wedding day, and generally taking care of yourself leading up to the wedding could help you cope.
Taking frequent bathroom breaks to get some alone time may help you recharge your batteries and calm your nerves. Whether you have an official diagnosis of Social Anxiety Disorder or just feel uncomfortable, coping mechanisms can help.
Watch this video to learn more about social anxiety disorder:
7. Try to enjoy the experience
A wedding may be a once-in-a-lifetime experience. You just might surprise yourself and have a great time. Try to focus on the positives, seek advance counseling if you need it, and work on coping techniques.
Those with social anxiety often benefit from the exposure. You could look at the opportunity to expose yourself to an uncomfortable situation and experience that you can survive or possibly thrive through.
Related Reading: 

7 Simple Ways to Eliminate Stress on Your Wedding Day
Conclusion
Coping with social anxiety at your wedding reception can seem difficult, but it is possible.
If you are experiencing anxiety getting married by thinking about the reception, try to draw boundaries beforehand. Use the ways mentioned above to give yourself ways to handle things that may bother you at your wedding reception.
Your wedding will be a special day for you, so find ways to organize it in a better manner that does not negatively affect your social anxieties.
Share this article on
Planning to get married?
Just engaged or contemplating marriage? Discover how to transition smoothly into the next phase of your relationship with Marriage.com's Pre-Marriage Course. Begin your incredible journey with this guide designed by experts and lay a strong foundation for your path of togetherness - forever!
More On This Topic
You May Also Like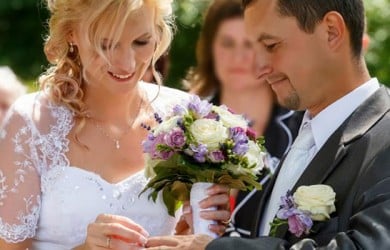 Popular Topics On Getting Married