Social Media and Marriage: Role of Instagram in Marital Life
If you are married and very active on social media, you probably use a variety of keywords to announce your advocate, or find a community of married people. These may be simple hashtags, but in reality, these hashtags are very powerful words in our social media awakened society.
Married people are using these hashtags to brand themselves as those who are living by the standard of what a married couple should be and should have according to what others want to see and perceive.
These hashtags are also used to inform and give married couples advice about what truly a marriage is.
Relation of social media and marriage
Let's delve into the role of instagram in marital life.
We can see stories on social media sites and platforms of married couples, like a 70-year old grandmother and grandfather having a date and taking photos of themselves like back to the days when they were young, circulating and giving an example of what a marriage should be.
The aforementioned kind of true to life example is an enlightenment to many married couples, and through social media, the way of relaying it to millions of people has been very sudden and effective.
Effective, in a sense, most people believe in what they see and read once on social media. For the young ones seeing and reading the story, they can perceive it as something that they should have when they get married.
Social media can strengthen a marriage
A struggling married couple can learn something relevant from social media expressive couples.
They can always find communities with the same preferences and experiences as them where they can relate to, share, and pick pieces of guidance. However, social media can also weaken the romantic bond between a couple, which is true if both are spending most of their time on social media, but can also not be true for couples who are using social media as a platform in showing the world how lovely marriage is.
Social media platforms like Instagram is a hub for married people.
It is easier to use, search, and very organized. Just type in the #marriage and #marriagegoals and you will be presented with so many presentations of married life.
How social media affects marriage and life
As mentioned above, searching Instagram about marriage and married life gives many presentations and ideas of the topic.
For instance, Instagram posts from different users reflect the reality of marriage. It is not always meeting the expectations of others, but living in reality.
Instagram has been very good at this, showing people what they need in the plainest ways and straight to the point.
Aside from the advice on marriage, parenting, cooking, home decorating, and many others can be looked up on Instagram.
Since it exploded in popularity and has hundreds of communities, it is not very hard to find something about marriage, lifeskills, parenting and relationships. It has millions of users, most are strangers, but are very helpful about the topic.
Here are examples of positive social media and marriage alliance :
A wife who doesn't know how to cook but was able to cook because of the cooking videos she found on Instagram is a milestone.

A wife who is struggling to look good when going out because she has a toddler found a video on how to do a quick makeup, is self-empowering.

A wife who has worked and has a lot of kids going to school learned how to prepare a 5-day easy to prepare snacks that can be stored in the fridge through Instagram, is a rest in the head.
Instagram makes a marital life easier because of the communities that share the same interests of married life.
Maintaining harmony between social media and marriage
Social media and marriage have a complex relationship. If not leveraged effectively there are ways social media can tank a marriage.
It is important to factor in the negative effects of social media on marriage and relationship to ensure scales don't tip.
Increased and unmonitored usage of social media can give rise to infidelity, and divorce.

If one of the spouses is spending excessive time on social media, it can lead to the other spouse snooping and seeking out information about their partner's social media interactions and activities.

Jealousy and mistrust can raise their heads in the most debilitating way in a marriage

Breach of boundaries and resentment creeps in the marriage equation, leading to regular conflicts.

If the balance between social media and marriage goes kaput, couples stop spending time on nurturing their relationship.

Couples start drawing unreasonable comparisons with other couples's apparently exciting lives.
Remember, paralleling your married life to someone on Instagram is not the goal here but picking advice and tips you can use throughout your married life from the other users are what matters.
To make your relationship work, don't create a separate social media life, rather keep your spouse in the loop about your social media life and don't let things get out of control.
Share this article on
Want to have a happier, healthier marriage?
If you feel disconnected or frustrated about the state of your marriage but want to avoid separation and/or divorce, the marriage.com course meant for married couples is an excellent resource to help you overcome the most challenging aspects of being married.
Learn More On This Topic
You May Also Like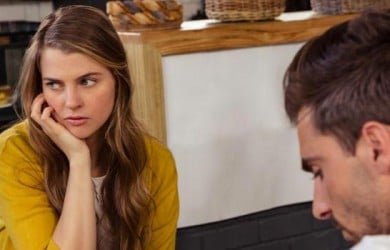 Popular Topics On Married Life