How to Meet New People After a Break up in NYC
What's even harder than the breaking up part, arguably, is getting back out there. Getting over the loneliness and shock and finding solace in new friends, new worlds, and hopefully a new, even more powerful love.
Don't despair. This article is going to help you get back out there and how to meet new people after a break up!
Quick tips for maintaining a peaceful break up
Before you understand how to meet new people after a break up, it's important that you move on from the past in a healthy way and know how to be friends after a break up. So, check out these tips on how you can maintain a peaceful break up:
And it's true, especially in New York City!
Finding yourself after a relationship can be tough, but you are not alone, even on those Mean Streets.
Here are some statistics that might bring you some comfort. Over two hundred sixty thousand people move to New York City every year. Around two-thirds of that number are singles in the eighteen to thirty-four demographic, and over fifty percent are from the United States. Thirty-five percent come from abroad.
So, if your ex has turned you off to Americans, or you really want to try something new and unknown, you have options. In any case, there are plenty of young single people out there, probably looking for love just like you.
New York City is a big place, and in this major metropolis, you also have the option of exploring diverse neighborhoods that are youthfully – skewing, which may ease your transition.
First, you will need to be certain you are fully recovered from the painful break up. Here are some tips on recognizing your recovery.
Face it. You will have to move on. One way to help this process is to reach out to old friends and try to make new friends. One of the most complicated parts of a break up is navigating who gets which mutual friend.
So, it is best to rediscover who you were before the relationship and start exploring who you are now, in the 'after' period.
Take care of yourself. It is easy to get compulsive after a break up and look for distractions and cheap thrills. But you have to stay focused and not get lost. Learn to love yourself. Work on improving yourself. Practice conversation since you will eventually be meeting new people.
Some people do want to remain friends with their exes. This is possible, despite most people's misgivings. Here are some quick tips for maintaining a peaceful dissolution.
Breaking up:
Act civil, meaning resolves issues amicably without tormenting each other.

Stay away from each other for a while.

Focus on self-care while exploring your 'new normal.'
Dipping your toes back In the water:
Leave the past behind.

Focus on your friendship

before you become romantically linked. What initially drew you to each other?

Take it slow and be careful in considering your interactions.

Say no when it feels right, especially in

intimate conversations

.

Don't let your family or friends influence you.
Maintaining:
Be certain the idea of getting back together has been properly extinguished.

Prepare yourself for new relationships

, yours and theirs.
Here's a video on how to keep your calm and maintain the connection (without blowing up the bridge):
In the end, the number one thing is to know what you want. Be clear on your values. For example, if you want someone fun and outgoing, practice being fun and enthusiastic yourself, so you attract this energy.
Go on sites like Quora and ask questions like 'What was the first thing you did after a break up?", "How can I get over a break up?" or even "If you had a five-year relationship break up, can you move on?"
You will be surprised at the honest, heartfelt replies and advice you receive from others who have felt your pain and want to offer their wise words.
Related Reading: 

10 Best Online Therapy Programs of 2022
Now that you have healed show yourself to the world! At your pace. Take it slow or announce it with a bang! Whatever suits your style. The most important thing is to BE YOU!!! Oh, and for the love of God, don't talk about your exes on dates. Or try to measure the new against the old.
How to meet new people after a break up
Wondering how to start a new life after a break up? Well, you don't have to dive right back into the dating pool. If you feel more comfortable with baby steps, since a break-up is often like a rebirth, then you can explore non-dating options that will ease you back into social interactions. Especially in New York City.
Related Reading: 

What to Do After a Breakup?
Here's a list:
Ready, set, options!
1. Fitness
This ties in with the self-care aspect of recovery. Exercise builds your body and your mind. Plus, to meet someone new, join a gym, and get out of the house!
Related Reading: 

9 Benefits of Working out with Your Partner
2. Develop your hobbies
Alone time is the perfect time to focus on interests that may have gone overlooked during your relationship.
Related Reading: 

6 Hobbies That Will Strengthen Your Relationship
3. Join a community group
As mentioned earlier, New York City is full of neighborhoods overflowing with young people.
So, if you are wondering how to make friends after a break up, join some community groups and maybe your neighbors will make good company and make you feel more at home, especially if you are the one who had to find a new place when the relationship ended.
4. Try sports
You can try active sports like basketball or passive sports like golf.
But the important thing is the feeling of camaraderie and teamwork that may help fill the void of a missing relationship. Plus, a regular routine of meeting for games can help give you a reason to carry on and meet new people after the break up.
5. Learn a language
Maybe with one of those new New Yorkers that moved from abroad? In any case, broaden your horizons. This falls under self-care also.
6. Volunteer
Have a heart, even though yours may be broken. Helping and giving can give you a sense of self-worth that might be absent post-break up.
The best advice: Try new things!!
But should you be ready for dating…
Then, by all means, go for it! There are quite a few options out there in our brave new technological world. Dating Apps. Tinder. There's a Tinder for every taste nowadays, from Grinder to an app for newly single moms. It's true!
If you want to look for potential relationships in your area, try meetups next door or even Facebook groups so that you can search for people with similar interests.
Want to date in person? Try Speed Dating. You might have heard about it. Well, it's still a thing. And there are even mobile apps that help you book a place and meet new people in New York City!
Be sure, most of all, to go out there with realistic expectations. Good luck in your search for new love and a new life!
Share this article on
Want to have a happier, healthier marriage?
If you feel disconnected or frustrated about the state of your marriage but want to avoid separation and/or divorce, the marriage.com course meant for married couples is an excellent resource to help you overcome the most challenging aspects of being married.
More On This Topic
You May Also Like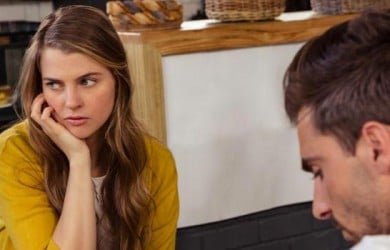 Popular Topics On Married Life