10 Telltale Signs of a Volatile Relationship & Ways to Handle It
Relationships are meant to be healthy additions to your life by contributing to your happiness and possibilities. However, volatile relationships can add to your stress and bring harmful negativity into your life.
Have you been concerned that you are in a volatile relationship? This is possible and there are a few ways to know for sure.
Here's a look at what this type of relationship entails and what you can do about it. Keep reading for helpful advice.
What makes a relationship volatile?
You may be wondering what a volatile relationship is. If you think about what volatile means to you, the term explosive may come to mind.
Volatile relationships can be pretty explosive. Perhaps you are sometimes unable to converse with your mate without having an intense argument with screaming and yelling.
You may have a volatile relationship when you and your partner cannot sit down and talk to each other about issues you are facing.
What are the signs of volatility?
There are things you can do when you have doubts about whether you are in a volatile relationship. You don't have to continue to fight or ignore each other but it is healthier to identify the problem first.
Is your relationship volatile?
What are the signs of volatility in a relationship?
In case you are unsure whether your relationship is genuinely volatile, here are a few common signs that help you figure out the truth:
1. Not talking for an extended period
If you and your partner do not talk for days at a time after you get into a fight, you may have a volatile relationship. In some cases, a couple may not talk for weeks after they have a serious argument.
Related Reading: 

Top 10 Causes of Relationship Communication Problems
2. Arguing for no reason
It is best if you also consider why you are arguing. If you don't remember what the problem was in the first place after you get into a disagreement with your partner, it may indicate volatile behavior in a relationship.
Related Reading: 

How to Win an Argument

 
3. Feeling like your mate is a stranger
Have you ever felt like you don't even know who your mate is and that your relationship might not work out? This could also indicate that the relationship is volatile, but it doesn't have to stay that way.
Allowing your mate to talk about what they are going through and express their opinions is also needed.
Imagine how you would feel if you weren't allowed to say the things you need to say. Take time to ask your partner how they are, what their day was like, and their opinions on things.
Related Reading: 

The 15 Signs of Relationship Disconnect and How to Fix This
4. You react in anger during fights
Anytime you react angrily when arguing with your partner, this can be detrimental to the relationship. This may mean you have volatile emotions that you need to address before they become something that causes you to experience mental or physical health issues.
For more information on working through conflict in a relationship, check out this video to learn how to fight smarter:
5. Lack of compromise
Something else you may want to change is how you approach situations with your mate. Do you try to get closer to a compromise when you have a disagreement? If the answer is no, it may be time to try this.
Compromise can be necessary, especially in terms of the longevity of a relationship.
Also Try: 

Do You Know How To Compromise In Your Relationship?
6. Lack of apologies
While you might not think you are wrong regarding arguments or things you do in your relationship, this may not be the case. This is why apologizing is essential when you are out of line or doing something wrong. This is even more important when you expect an apology from your mate when they hurt your feelings.
Related Reading: 

The 5 Languages of Apology & Ways to Figure Out Yours
7. Lack of compliments
Have you said something nice to your partner lately? If you haven't, it may be the time to do so. They need to know that you appreciate and care about them.
Additionally, saying nice things to one another could prevent fights and keep you from becoming volatile lovers.
In some cases, you may be holding your partner to a standard that you aren't meeting yourself.
A relationship should be fair, so consider how much you put in versus how much they are. If it is skewed one way or the other, this must be remedied as soon as possible.
8. Fear of being vulnerable
There are many reasons why you may have difficulty putting yourself out there when you are dating someone.
Perhaps you have been hurt in the past or have issues trusting others. However, if you don't allow yourself to be vulnerable, you will never know if you are meant to be with your partner.
Love is about being vulnerable and your significant other being able to make you feel safe and protected. If you aren't allowing yours to show that they want to protect you, think about if this can be changed.
Related Reading: 

16 Powerful Benefits of Vulnerability in Relationships
9. Lack of self-realization
In certain situations, one partner may blame all the relationship problems on the other person. This is unfair since you may also have certain issues or personality traits that prevent you from trusting the person you love or communicating with them as you should.
Both of these things may require seeking counseling to get better, and trust is needed within a relationship.
10. You don't communicate effectively
It is okay to argue with each other or have a different opinion whenever things need to be worked through or changed. However, if you are arguing and are not coming together to work through issues, this is something that can hold back a relationship.
Both parties should be able to express their concerns without feeling attacked by the other person. This can help prevent a volatile relationship.
Remember that your mate is likely not someone who can read your mind, so you will need to provide information to help them understand you better.
How do you handle a volatile relationship
There are several ways to handle a volatile relationship, especially if you are interested in fixing a relationship like this. Here are a few ideas to consider.
1. Talk to your mate
Talk to your partner before you end up getting into an argument.
When relationships are volatile, it may be challenging to have a conversation without a disagreement. This is why you should try your best to have calm and well-thought-out conversations with each other before a problem arises.
Related Reading: 

6 Steps to Effective Communication in Relationships
2. Think before speaking
Something else to think about is thinking before you speak to your mate. Even if you are in the middle of a heated discussion, thinking before speaking can keep you from saying things you may regret later. Moreover, it could help keep the situation from escalating.
3. Work together
With some volatile couples, it may be helpful to begin working together to meet goals or address problems within the relationship. For instance, instead of blaming each other for chores that need to be done, decide together who will be responsible for specific jobs.
Related Reading: 

How to Create Teamwork in Your Marriage and Relationships
Conclusion
When you are experiencing a volatile relationship, this is something you would probably like to work on and fix when possible. There are a few significant ways that you can go about this.
One way is to think about what you are going to say before you say it. Even if your partner is yelling and upset, this is no reason for you to be. You can calmly think about what you want to say and provide your side of things.
Another thing to consider is not engaging.
If your mate wants to yell and argue with you, this doesn't mean that you have to argue.
Instead, start conversations that are benign and won't cause a fight, and see if you can keep it going. This could take some of the stress and tension off of both of you.
Therapy may also be necessary when you are dealing with a relationship of this type.
Talking to a professional can help you learn how to communicate better, work through problems within your relationship, and it can also help you learn more about any possible mental health concerns that either of you is facing.
Overall, there are several solutions to volatile relationships, where they don't have to stay that way. Keep this in mind if you are in one.
Share this article on
Want to have a happier, healthier marriage?
If you feel disconnected or frustrated about the state of your marriage but want to avoid separation and/or divorce, the marriage.com course meant for married couples is an excellent resource to help you overcome the most challenging aspects of being married.
More On This Topic
You May Also Like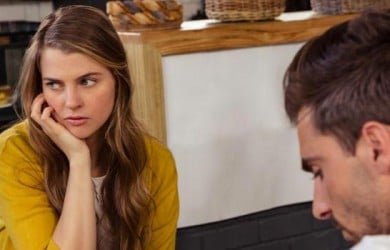 Popular Topics On Married Life