25 Signs of Unhealthy Attachment in Relationships
From the very moment that a person is born, making attachments and the need for attachment is indispensable. Every relationship that you have is an attachment.
But there are healthy and unhealthy attachments in relationships. Before we get into the signs of an unhealthy attachment, let's see why attachment matters.
The attachments you have established and will be forging in the future play a pivotal role in determining your happiness, fulfillment, and quality of life.
Your attachment style is how you find and establish connections with your family and friends. If you find something wrong or off with your way of establishing romantic attachments, it may indicate unhealthy attachment styles.
So, let's get into attachment theory, unhealthy attachment among couples, the various signs of an unhealthy relationship, and how to stop it.
Also Try: 

Romantic Attachment Style Quiz
Unhealthy styles of attachment and their impact
The long-term emotional and psychological connection that develops between two or more individuals is called attachment. John Bowlby, a British psychologist, proposed the attachment theory.
Attachment theory is primarily based on children's attachment styles with parents as it's the first time a person (the baby) sets out to establish a connection with their caregiver.
This paves the way for determining the type of attachment style and the quality of relationships that this individual will have in their life.
Research has shown that early childhood experiences shape a person's psychological and emotional responses, including attachment styles.
Secure attachment is the best attachment style as per the attachment theory. But there are three other types of unhealthy attachment styles that we'll look into. Let's also look at the impact of unhealthy attachment in relationships, especially romantic relationships.
1. Anxious/ ambivalent attachment
If a child receives inconsistent love and care from parents, this attachment style will likely form. Why? Because the nature of affection received by the child isn't consistent.
So, the child develops this intense need to remain connected to their parents. Hypervigilance and clingy behavior are common expressions of this attachment style.
Impact on relationships:
In romantic relationships, people go to great lengths to satisfy their significant others. People with anxious attachment styles assume that they're responsible for their partner's thoughts, feelings, decisions, etc.
Being in a relationship with a person with an anxious attachment style is characterized by instability, mind games, and conflicts.
Related Reading: 

Types of Anxious Attachment and How to Overcome Them
2. Avoidant attachment
The second style of unhealthy attachment in relationships is avoidant attachment which develops in children with parents who behave emotionally distant and rigidly with the child.
When a child's fundamental need for attachment is not met, the child becomes avoidant to avoid the pain of having fundamental needs unfilled.
Impact on relationships:
Such individuals grow up with a belief system that dictates that meaningful connections and intimacy result in loss of independence. So, they avoid it!
Although such people do desire intimacy, such people are careful to maintain a distance. They're clear about separating emotional intimacy from sexual intimacy and often suffer from commitment issues.
3. Disorganized attachment
The third attachment style combines avoidant and anxious attachment styles. A child brought up by emotionally unavailable/ distant caregivers can develop this attachment style. Such a child is often the victim of physical and/or emotional abuse.
Such children are caught between their need for security, proximity with their parents and the need to protect themselves. They do this as they fear abuse from their parents.
Impact on relationships:
Lack of empathy, poor communication skills, and lack of understanding are issues that such people deal with in romantic relationships.
Related Reading: 

What Is Disorganized Attachment in Relationships?
Emotional attachment: When does it get unhealthy?
Before identifying the signs, attachment issues and how to break an unhealthy attachment, let's focus on when emotional attachment between couples can get unhealthy.
Understanding what causes unhealthy relationships, which is one's upbringing, can make it easier to determine whether you're prone to unhealthy attachment in romantic relationships.
If you find yourself playing mind games with your beloved, constantly going out of your way to keep them pleased, feeling responsible for their actions or feelings, avoiding intimacy, and so on, there's a possibility that this is unhealthy emotional attachment.
It's important to learn how to fix unhealthy emotional attachment in romantic relationships because if you're already in a committed relationship, your unhealthy attachment style can significantly disrupt your beloved's life.
25 signs of unhealthy attachment in relationships
To clearly understand unhealthy attachment in relationships, it's imperative to identify the various signs of unhealthy attachment in matters of love.
Also Try: 

Attachment Style Quiz
1. Assuming that your beloved is ignoring you
One of the key signs of unhealthy attachment is assuming negative things about your partner if they don't respond to you. Say you've called them up or texted them and they haven't responded immediately, you instantly assume that your beloved is ignoring you.
2. Not prioritizing your needs (at all)
Another sign of getting too attached to someone is that you entirely forget about your needs. Even if you're aware, you're hardly bothered about fulfilling your own needs; this is people-pleasing.
People with unhealthy emotional attachment styles tend to focus on their partner's requirements and sometimes even fulfill these "needs" even when their partner doesn't want them to.
Related Reading: 

7 Reasons Why People Settle for Relationships
3. The "happily ever after" myth
Unhealthy attachment styles can often make people have this mindset for seeking companionship with the expectation that there will definitely be "happily ever after" or a "soulmate" or "the one." This happens because it's their way of gratifying their primary unfilled need for attachment.
4. No future without your partner
If you have attachment issues, there's also a high possibility that you absolutely cannot imagine your life or future without your beloved's presence. It's as if there is no possibility of a future (whether good or bad) without them.
Also Try: 

Do

 

I Have Attachment Issues Quiz
5. Constantly seeking approval
Along with not prioritizing or focusing on one's own needs, people with unhealthy attachment styles also spend a vast majority of their time focusing on their beloved's needs. The motivation to fulfill these needs is rooted in people-pleasing because they need constant approval from external sources.
Research shows that a constant need for approval can lead to anxiety and stress, making it unhealthy for you.
6. Avoidance of emotional intimacy
Individuals with avoidant attachment styles and even disorganized attachment styles often deal with the struggle of desiring intimacy and pushing away their beloved.
Related Reading: 

10 Effective Tips for Repairing Emotional Intimacy
7. Excessive jealousy
Since individuals with unhealthy attachment styles are always hyper-focused on their partner, they tend to scrutinize, meditate, and in turn, jump to negative conclusions about their partner's moves. This can drive such people to experience unnecessary and excessive jealousy.
Related Reading: 

15 Signs of Jealousy in a Relationship
8. Jumping to conclusions
The negative thinking patterns of people with unhealthy emotional attachment styles owing to their upbringing make them prone to constantly jumping to conclusions (often negative) about their significant other even without any solid evidence to think that way.
9. Not enjoying alone time
People with unhealthy attachment in relationships often find themselves focusing all their energy and time on their partner and what they're up to, what they're feeling, and what they need. They feel empty and unpleasant when alone.
10. Preoccupation about beloved's needs
This goes hand-in-hand with not focusing on yourself. People who have a high need to please their beloved and other loved ones don't focus on themselves, their goals or aspirations, and their interests at all.
They spend all their energy focused on their beloved which marks unhealthy attachment in relationships.
11. Rescue behavior
People with attachment issues in romantic relationships can often very controlling of their partner's life.
The need for control includes the most trivial things about their partner too. So, such people tend to jump in and solve their partner's problems without asking for help.
12. Constant reassurance
Low self-esteem and insecurities are common issues associated with attachment problems. People with issues of attachment struggle with the constant insecurity that their partner doesn't love them or care for them. So, they try to seek reassurance continuously from their beloved.
13. Feelings aren't mutual
Unhealthy emotional attachment styles often result in people feeling like they aren't loved enough or that their feelings for their beloved aren't reciprocated in the same way or intensity.
14. The "out of sorts" feeling
Avoidant or disorganized attachment styles can make people feel overwhelmed in romantic relationships because they struggle with general intimacy and proximity with their beloved. So, they can feel "out of sorts" in their romantic relationship.
15. Uncertainty about relationship
Along with the constant insecurity of whether their loved ones love them or care for them, unhealthy attachment in relationships can often cause people to feel uncertain about the relationship's future.
Related Reading: 

How to Deal With Uncertainty in Relationships
16. Lack of boundaries
Unhealthy attachment styles can often cause people to overstep their beloved's boundaries, not understand the concept of having healthy boundaries, get offended at the idea of boundaries, and not have boundaries of their own.
People with anxious attachment styles make their romantic relationships the center of their life.
To learn about how lack of boundaries can lead to disrespect in a relationship, check out this video:
17. Fear of abandonment
Not only are people with anxious and avoidant attachment styles uncertain about their romantic relationships, but they're also terrified of being abandoned by their loved ones.
That's why people with avoidant attachment styles avoid relationships and those with anxious attachment styles seek constant reassurance and approval in romantic relationships.
18. Dependence on communication
Although it's normal to seek regular, healthy, and direct communication with one's partner regularly, individuals with unhealthy styles of emotional attachment struggle to draw the line.
They want to constantly talk to their beloved or text them or chat with their lovers on a video call. They constantly want to be around their partners.
Related Reading: 

20 Ways to Improve Communication in a Relationship
19. Emotional dependence
Unhealthy attachment in relationships can also frequently lead to individuals allowing their mood to be affected easily for a long time because of their partner's behavior.
Although it's fine to feel sad if your beloved couldn't pick up your phone call, it's worrisome to have your mood ruined for the entire day (or longer) because of it.
20. The waterworks
This is a more subtle form of emotional dependence due to unhealthy attachment. If you find that you're easily prone to crying at even the most trivial things, it can be a marker of unhealthy attachment in relationships.
21. Compromising on your values
Since people with unhealthy attachment styles center their lives around their romantic relationship and are highly prone to people-pleasing, they often go to great lengths to impress or please their beloved. This could even mean compromising their values, morals, beliefs, and so on.
22. Selfish feelings
A strong sense of possessiveness and selfish feelings like if I cannot please my partner, then no one can, is common for people with unhealthy attachment patterns.
Related Reading: 

20 Signs You Are Being Selfish in a Relationship
23. Resentment
Playing mind games, having selfish feelings towards your beloved, jumping to negative conclusions (even without any solid evidence) can all lead to intense feelings of resentment towards your beloved.
24. Feelings are entirely dependent on your beloved
It's not just about compromising one's values or beliefs for a relationship. Unhealthy emotional attachment can even enable people to allow their feelings to be entirely controlled by their beloved.
25. Inability to let go
Excessive dependency from the end of the person with unhealthy attachment patterns can make it extremely difficult for them to deal with heartbreak or the idea of ending a romantic relationship.
How to work on unhealthy attachment in relationships
When it comes to breaking unhealthy relationship patterns, it is crucial to identify whether you or your partner exhibit some of the signs mentioned above of unhealthy attachment.
Understanding yourself and accepting the possibility that you've developed an unhealthy attachment style is the first step in fixing unhealthy attachment style.

Being patient with yourself through this process of self-discovery and improvement is essential.

Remember to take time to focus on yourself to pursue your interests and passions. Identify your needs. Fulfill them.

In learning

how to break attachment

issues, it's also crucial to know that it's alright to seek support and help from others. This can include considering counseling, psychotherapy, or doing a course on overcoming unhealthy attachment issues.
Conclusion
Consider implementing the tips mentioned above if you've identified any tendency of unhealthy emotional attachment patterns in yourself! Move ahead towards making your relationship healthier.
Share this article on
Want to have a happier, healthier marriage?
If you feel disconnected or frustrated about the state of your marriage but want to avoid separation and/or divorce, the marriage.com course meant for married couples is an excellent resource to help you overcome the most challenging aspects of being married.
More On This Topic
You May Also Like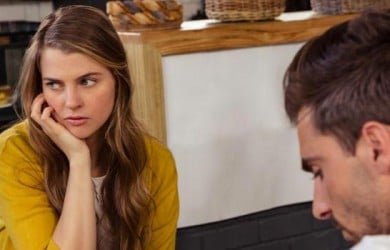 Popular Topics On Married Life