What Is a Trophy Wife?
A wealthy man with connections and a strong standing in society will likely have an attractive younger woman by his side to show off. A study has shown that the older men are when they marry, the younger their brides are.
So, what is a trophy wife? Are they merely accessories draped by the side of their partner? Or is the stereotypical view attached to trophy women incorrect?
What is a trophy wife?
A simple answer to what is a trophy wife is that a trophy wife plays a submissive role in the marriage.
Her role is to make her spouse look good. In public, she plays the role of an attractive, cultured woman to reinforce her husband's wealth and influence. This is a reason why men love trophy wives.
However, not every marriage with a significant age gap amounts to a calculated move to earn the title of "trophy wife."
A younger woman can prefer the company of an older partner for several reasons, and that doesn't automatically make her a trophy wife.
She can have independent wealth and interests and exists not just for pleasing her partner.
On the other hand, a trophy wife understands she has a role to play and plays it well. She is content with that title and swaps that role for an opulent lifestyle.
12 signs of a trophy wife
Not all women married to older men can be given the trophy wife label. So how do you differentiate them from trophy wives? What is a trophy wife, and how do you recognize one?
Well, here are 12 signs of a trophy wife.
1. Your partner is hardly interested in your personal life
If your partner has genuine feelings for you, they would be interested in you. Your hobbies, passions, and what makes you happy. So, what is a trophy wife? If you're a trophy wife, your partner will know little about your personal life.
Your partner will only be interested in how you look, not what is under the surface.
Your partner will hardly seek your companionship and will primarily be interested in you being their date for dinners and lavish parties just to show you off!
2. You always receive expensive gifts from your spouse
If your partner presents you with expensive jewelry or gifts for no reason, you just might be a trophy wife.
Your partner wants you to show your friends the gifts to reinforce their wealth and status. Your partner wants to be perceived as being able to provide for you by showering you with extravagant gifts.
Related Reading: 

Gift Ideas for Couples
3. Your partner manages the finances
What is a trophy wife? If you contribute little to nothing to your finances, then this is a sign that you are a trophy wife.
The partner of a trophy wife makes all the essential decisions finance-wise. If you have any, the partner decides the kids' education, where to take a vacation, live, and invest in.
A trophy wife is oblivious to the household income, how much is spent on expenses, and if there is a rainy-day fund.
Related Reading: 

15 Tips to Manage Finances in Marriage
4. You never have financial problems
You don't have a source of income, but you're a frequent customer at designer stores. Or do you have a job, but your income doesn't match your spending? Is the extra cash gotten from your spouse? Then this is a sign you're a trophy wife.
Trophy wives hardly worry about money because they are confident their spouses will foot the bill.
Related Reading: 

How To Avoid Financial Problems in Your Marriage
5. You care deeply about your looks
Taking care of your looks is not a negative attribute but can signify that you are a trophy wife if that is all you spend your time on.
A trophy wife has the spotlight on her and has to ensure she looks flawless. She spends a lot of money on her looks to stay attractive, not just for the public but her partner also.
6. Your partner controls every aspect of your life
A sign that you're a trophy wife is if your partner controls your life, how you dress, and even where you visit.
You live according to your partner's rules and decisions, and your opinions are of little value to them. As a trophy wife, you can hardly make a move without the go-ahead from your partner.
Related Reading: 

25 Signs You're in a Controlling Relationship
7. Lack of a personal connection
It's hard to build a personal connection or communicate with someone who doesn't see past your looks. If you're a trophy wife, it is hard to connect with your spouse personally or talk about serious topics.
Your partner might show little interest in your life or problems. Your partner will make decisions without informing you or even seeing the need to. Companionship might be missing from your relationship if you're a trophy wife.
8. Your partner compliments just your beauty
There is nothing wrong with your partner telling you how good you look. But if you're a trophy wife, your partner might not compliment you on anything else apart from your beauty.
Your partner hardly recognizes any other good attributes apart from how attractive you are. Your partner is always eager and proud to show you off to their friends.
Your partner won't hide their displeasure when you don't live up to their beauty standards.
Related Reading: 

Romantic Phrases & Sayings to Make Your Partner Feel Special Everyday
9. Lack of communication
If you're not a trophy wife, your partner will share their plans for the future with you. What their next project is or the promotion they are striving to get at work.
However, as a trophy wife, your spouse will hardly communicate with you or show you their world and be vulnerable around you.
10. You hardly get to see your partner
Your partner can be gone for days without giving you all the details of the trip. The statement "it's a work trip" should be sufficient enough to satisfy your curiosity.
Even when home, you never get to see or spend time with them. One problem or the other always has their attention.
11. Your partner is the definition of wealthy
If your partner is loaded and you don't conduct the basic tasks of checking a bill before making payments or checking the price tag of clothes; then this is a sign that you are a trophy wife.
Your partner can afford whatever they want, and their gadgets and cars are the newer models. The same applies to you; you live a lavish lifestyle with little to no income.
12. Your partner doesn't involve you in discussions
If you feel isolated when you're with your partner's friends and rarely ever join in on the conversation, then this is a sign you're a trophy wife.
When talking with his friends, your partner doesn't keep you in the loop. But will prefer your role to be limited to being quiet and looking attractive.
Related Reading: 

What to Do if You Are Not Feeling Heard in a Relationship
Popular misconceptions about trophy wives
Most people can hardly answer the question: what is a trophy wife? Also, the term "trophy wife" has been misunderstood for years.
This article seeks to clear the air and reinforce the position that not all roles trophy wives play are the same, and the qualities of a trophy wife differ.
1. Wealth equals happiness
One of the secrets of a trophy wife is that all the money at her disposal doesn't automatically translate to happiness.
No marriage is without its ups and downs, and overnight wealth doesn't mean the trophy wife will not experience challenges down the road.
Like any marriage, the couple must work hard to make the marriage last.
2. Unintelligent
Trophy women often have careers or ambitions, and they are involved in various activities and charities. Also, the term trophy wife doesn't automatically mean the woman doesn't have a job.
What is it like being a trophy wife? Watch this video to know more.
Is being a trophy wife a bad thing?
No, being a trophy wife is not wrong. There is an appeal to being a trophy wife, and it not only provides a sense of financial security but allows you to focus on other things because of the free time at your disposal.
Also, some people prefer not to be involved in any decision-making. They feel safer and more relaxed when someone is handling everything, down to what they wear.
You can also use the funds available to contribute to society positively. This can be done by donating to charities.
Although there can be downsides to being a trophy wife, it depends on the partner you marry. After all, no relationship is perfect.
Benefits of being a trophy wife
Being a trophy wife has its pros, regardless of the stereotypical opinions attached to that term.
1. Comfortable life
As a trophy wife, you have access to your partner's wealth and can lead a comfortable and cozy life. Your partner will provide for you and meet all your needs.
Although each marriage has its ups and downs, the chances of you experiencing financial problems are little to none.
2. You can fund your passions
You can quickly pursue your dreams and fund any ambition you want with access to wealth and connection.
You can easily take classes that cost hundreds of dollars to learn more about your art. Or you can open that bakery shop or retail store you have always wanted.
3. A great life for your kids
If you have kids, you can rest assured that they will be provided for and never go hungry. Raising a kid requires great effort and sacrifice. Apart from the love and happiness they bring into your life, they also dig deep into your pockets.
You have to make sure they eat healthily, wear good clothes, and do not forget college fees. This Is where being married to a wealthy partner has its advantages, and your kids will live a comfortable and luxurious life.
3. Freedom from making all the decisions
Some people prefer not to worry about finances, where to live, or where the next meal will come from. If you're a trophy wife, these decisions are taken from your hand, and you're free from the anxiety other households face.
The burden of being a trophy wife
When you approach people with the question, what is a trophy wife? They imagine an attractive woman with access to her partner's wealth and no problems in life.
Being a trophy wife is not rainbows and sunshine. You have an image to protect as the public attention will be on you constantly. You have to take the extra step to ensure your attractiveness doesn't wear off.
If you're a trophy wife, chances are, your partner may not always value your opinions or seek your companionship. However, all relationships are different, and one rule doesn't apply to all.
Some women are ready to trade the pressures attached to being a trophy wife for the lavish lifestyle.
Also, the constant public attention and need to maintain an image can get very tiring. Yes, being a trophy wife is exhausting.
Conclusion
Now that you can confidently answer the question, what is a trophy wife? Is that lifestyle alluring to you, or have you been a trophy wife for years without knowing it?
Nevertheless, the stereotypical views attached to being a trophy wife are not always accurate and depend on the parties involved.
There are two sides to being a trophy wife but if you think about it, isn't that life? Everything comes with its pros and cons.
Share this article on
Want to have a happier, healthier marriage?
If you feel disconnected or frustrated about the state of your marriage but want to avoid separation and/or divorce, the marriage.com course meant for married couples is an excellent resource to help you overcome the most challenging aspects of being married.
More On This Topic
You May Also Like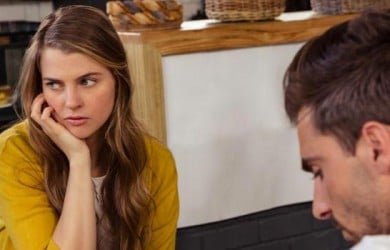 Popular Topics On Married Life