What Is A Trophy Husband?
Most people are familiar with the term trophy wife. Attractive young women, usually married to older, powerful, and wealthy partners. Does the same description apply to trophy husbands?
Yes. There is a concept of a trophy husband as well. Not as famous as the trophy wife, but it exists. Most of us are uninformed about trophy husbands, some think it's as similar as a trophy wife, and some are guessing what it could mean.
So, what is a trophy husband? Is it something that people only talk about, or does it exist for real?
What is a trophy husband?
How can you define a trophy husband?
You can equate a stay-at-home dad to a trophy husband. After all, they have similar roles to play.
Trophy husbands aren't familiar, mainly because the study shows the gender wage gap in the US is still vast. It also shows that women earn 84% of their male colleagues earn.
So, it's rare for a woman to be the sole provider of a family but not impossible.
However, the statistics are growing, especially in other countries. According to the Office of National Statistics, close to 2 million women with full-time jobs in the United Kingdom earn more than their partners.
Steps to become a trophy husband
Interested in being a trophy husband? Well, this article will guide you through the process.
Build the right connections
There is no point investing a lot of money in your appearance if you have no clue how to meet a wealthy partner and become someone's trophy husband.
You have to surround yourself with people that run in their circle, and you can do this by visiting all the right places. Even joining dating apps that are frequent by them will help tremendously.
There is a low chance of meeting a wealthy person in that run-down club or a barely operating gym you visit. You must build the right connections mingle with people in the upper class or the "in-crowd."
You might not have access to your potential partner, but you can know someone who does.
Related Reading: 

Finding a Suitable Partner- How to Get into a Relationship?
No one will be interested in you if you keep on flirting your way through different people. You won't be regarded as trophy husband material.
Don't be in a hurry to be a trophy husband but take your time to access all the potential partners in the room.
When you find someone you're attracted to, give them all your attention. Concentrate on just that person you like and let them believe and trust that you're only interested in them. This way, they can see you as a potential future husband.
They might walk away if they get the feeling that you're playing the field.
Places to meet wealthy partners
Knowing how to meet wealthy partners is the first step in becoming a trophy husband. It's doubtful that you will bump into one on the streets.
So, you have to up your game and visit places these influential people visit.
Online dating sites are the perfect place to meet people but remember, you can't connect with wealthy people on just any site.
If you're serious about being a trophy husband, you have to know some sites will not help you. Register for sites that influential people frequent. Although they might cost more, it will be worth it in the end.
Related Reading: 

Best Dating Apps- 10 Popular Sites for Online Dating
Watch this informative video about how dating apps works:
You can have access to wealthy people if you visit the right bar. Most potent people usually have a circle of friends they always surround themselves with or a private club they like to visit.
You have to make a conscious effort to meet them.
You will agree that the chances of meeting a wealthy person at a luxury store are pretty high.
However, don't start lurking around at luxury stores; you will probably be asked to leave.
You can plan your steps and budget enough money to buy something from the store.
6 signs you could be a trophy husband
Now that you can answer what a trophy husband is, you must know trophy husbands have a specific role. If you have the characteristics below, then there is a great chance you're a trophy husband.
Here are 6 signs of a trophy husband:
After reading these signs, you will get a clearer idea about the concept of a trophy husband.
1. Your partner earns more than you
Not all trophy husbands are stay-at-home husbands. Although you have a job, if your partner wears the money pants and controls every aspect of the relationship, you're likely a trophy husband.
You mustn't be a jobless man with no source of income to qualify as a trophy husband. Even though you have a job, if your income contributes little to your lifestyle, and your partner is the one funding all the bills and vacations, this is a sign that you are a trophy husband.
2. Your partner is interested in you being physically fit
Are you tempted to let yourself go and eat as much as you want, but you can't because your partner won't have it, and they are invested in your physical appearance?
Or does your partner control your diet, involve you, or convince you to invest in a skincare routine?
Let's break the news to you; you're likely a trophy husband.
Related Reading: 

9 Benefits of Working out with Your Partner
3. Your partner dictates how you dress
You must dress to impress in your everyday life. But it's different if your partner determines what you wear, how you look, or your partner takes it a step further to buy all your clothes.
So, what is a trophy husband, and how do you identify one? His partner often buys his clothes and dictates how he looks.
4. Your partner enjoys showing you off
If your partner enjoys showing you off as an accessory, then you're likely a trophy husband.
This doesn't mean that your partner doesn't care for you but wants you to represent them well in public and make charming conversation. All the while remembering that your partner takes center stage.
5. Your partner comes first
Being a trophy husband goes beyond good looks, but being a supportive husband and knowing your partner's career comes first.
A trophy husband always encourages their partner to follow their dreams even at their own expense. Also, the main aim of a trophy husband is to make their partner's life better.
Related Reading: 

Putting Your Spouse First: Truth About Balancing Your Family
6. Your partner controls the relationship and your life
Does your partner control every aspect of your life? Do they pick the place to visit for vacations, control what you wear, and even eat? Then you're likely a trophy husband.
However, don't assume trophy husbands have no freedom and can be likened to Rapunzel in the tower.
Most men that take on this role are content with their partner taking the lead in the relationship.
Related Reading: 

25 Signs You're in a Controlling Relationship
Different versions of trophy husbands
What does trophy husband mean? Most people have a picture in mind when they hear the term "trophy husbands." Which is an attractive man with low intelligence ready to spend the money he didn't work for.
Not all trophy husbands possess all these characteristics; it mainly depends on who their partners are attracted to.
Some women prefer to have a successful husband they can show off. At the same time, others prefer an attractive or intelligent man.
If you're still wondering what a trophy husband is? You must know that you can't easily fit them into one box. Their characteristics depend on the woman's preference.
Is being a trophy husband good or bad?
Being a trophy husband is neither good nor bad, and it is a choice you're entitled to make; if you are happy and content with such a choice, then kudos to you.
However, being a trophy husband is exhausting if your partner controls every part of your life and gives you no freedom at all.
But some relationships with trophy husbands can be healthy if the man respects his partner's success and is ready to lend his support when needed.
Also Try: 

What Kind Of Husband Are You?
Conclusion
To learn more about what is a trophy husband and how to be one? You can go for counseling or even take a course, and extra knowledge on the subject will benefit you.
Share this article on
Want to have a happier, healthier marriage?
If you feel disconnected or frustrated about the state of your marriage but want to avoid separation and/or divorce, the marriage.com course meant for married couples is an excellent resource to help you overcome the most challenging aspects of being married.
More On This Topic
You May Also Like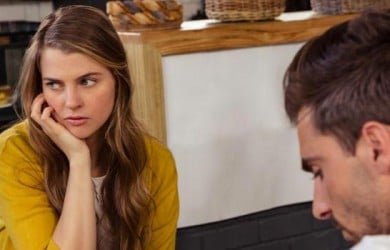 Popular Topics On Married Life