15 Ways a Husband Can Unintentionally Break His Wife's Heart
Marriages symbolize a long-term commitment between two individuals who are in love with each other. But this union is built on a strong foundation of concepts apart from love.
Mutual respect, healthy and open communication, loyalty, and trust are equally important. But yes, your spouse can break your spirit or your heart.
Although intentionally hurting one's wife is rare in healthy marriages, there can be times when a husband breaks his wife's heart or breaks her spirit.
Emphasis on the word unintentional.
Yes, although most husbands really wouldn't go out of their way to hurt their wives' hearts or spirits, it, unfortunately, does happen. Most of the time, when a husband breaks his wife's heart, they don't mean to.
Have you recently had your husband unintentionally hurt your feelings? If "my husband broke my heart" is what is going on in your head, don't worry.
Here you will learn about the various ways a husband can unintentionally break his wife's heart. Not only that, but you will also figure out the signs of a broken spirit and what can be done when a husband breaks his wife's heart.
Related Reading: How to Deal With Heartbreak: 15 Ways to Move On
Understanding the meaning of having your spirit broken by someone
It's not just your husband who can unintentionally or intentionally break the spirit. It is possible to have your spirit broken by anyone. It can be your acquaintances, family members (close or distant), friends, colleagues, etc.
So, when a husband breaks his wife's heart- what does this truly mean?
To put it simply, breaking a person's heart and spirit is when you deeply hurt their feelings. Breaking down a person emotionally, wrecking their willpower and resilience all count as breaking down someone's spirit.
If you're questioning your sense of self, your self-worth, or feeling worthless, someone has probably crushed your spirit or your heart.
So, in the context of marriage or romantic relationships, if your husband has behaved or done something that has deeply hurt you and you feel like my husband hurt me deeply, your spirit may have been broken by your significant other.
There are several signs of a spirit that has been crushed or broken. These include:
● Feeling inadequate most of the times
If your spirit is broken, you may often find yourself feeling inadequate. You may be thinking that you're not doing enough; what you're doing can be executed better, or you may feel unworthy. This feeling of inadequacy can manifest itself in various ways.
● The person wants to be alone most of the time
When a husband breaks his wife's heart, or he breaks his wife's spirit, she'll likely want to just be left alone a lot of the time. Even if the husband did it unintentionally, the wife might still feel the need to be alone.
People with broken spirits often have this feeling of a dark cloud looming over them. They deal with these dark clouds by experiencing a strong urge to stay alone.
Related Reading: How to Heal a Broken Heart?
●
It's challenging to trust in relationships
One of the easiest ways (although heavily flawed) of dealing with being hurt when a husband breaks his wife's spirit is trying to get over this pain as quickly as possible.
Repressing these complicated feelings can make it very challenging to trust in
relationships.
Related Reading: 15 Ways on How to Build Trust in a Relationship
●
Processing love is a major challenge
People with a crushed spirit struggle to reciprocate love. If someone is expressing their love to them, it may be difficult for the recipient (with the broken spirit) to understand love and reciprocate that love.
These are some key signs of having a broken heart or a crushed spirit. There are other signs to look out for yourself when your husband breaks your heart.
These include feeling stuck in life, robotic, reacting in anger (very often), experiencing irrational fears, and being excessively worried.
Also Try: Are You Suffering From Broken Heart Syndrome Quiz
15 ways a husband may be unintentionally breaking his wife's spirit and heart
Now let's take a look at the various ways in which a husband may be unintentionally breaking his wife's spirit and heart.
The top 15 ways a husband can do this (unintentionally) include:
1. Making and confirming plans without letting your wife know
This is possibly one of the most direct ways men unknowingly hurt their significant others. It can be very annoying and hurtful to a wife if her husband doesn't need to include her in discussing an upcoming plan.
For instance, if you had an upcoming wedding invitation (where both husband and wife have been invited) and had to RSVP, RSVP-ing the invitation without discussing it with your wife first could make her upset.
2. Speaking harshly and critically about her and with her
Even if your husband feels his criticism is justified, you may feel heartbroken because he was highly harsh about it. An abusive husband breaks his wife's spirit.
When a husband criticizes his wife harshly, it can be excruciating to experience.
Constructive criticism is acceptable, but the time and place matter. However, speaking behind your wife's back or blistering her can be very hurtful.
Related Reading: How to Deal With an Abusive Husband?
3. Not having meaningful conversations with your wife
A big part of understanding the concept of when a husband breaks his wife's heart and overcoming this issue is to value the importance of engaging in meaningful discussions and conversations with your wife.
Meaningful discussions about your future together, pertinent social issues, and other topics of interest to both of you regularly are important for the relationship.
If this doesn't happen regularly, your wife may be craving this type of communication from you and feeling hurt.
Related Reading: 4 Relationship Conversations You Can Have With Your Partner
4. Failing to compliment her or notice changes or anything new in her
This is one of the easiest ways a husband hurting wife situation takes place. Women appreciate it when their husbands notice the small changes in them. It makes a wife feel attractive and desirable to her husband.
Some amount of validation is necessary for any marriage from both ends. When a husband breaks his wife's heart, not appreciating the physical attractiveness of the wife may be one of the ways it is happening unintentionally.
5. Not expressing your gratitude for her regularly
It isn't easy to express your gratitude for your beloved when you're married for a long time. Even if you feel it inside, you may not be expressing it openly. This can break your wife's spirit.
Recognizing her efforts and hard work and validating her for being herself is fundamental in healthy marriages. Without this, your wife may feel insignificant. So, if you don't show your wife that you appreciate her, she may be feeling sad.
It's not about those grand romantic gestures. Just telling your wife that she is terrific and that you're lucky to have her or that you appreciate everything she does (regularly) is what matters.
Related Reading: 10 Ways to Show Gratitude to Your Spouse
6. Not admitting your mistakes or apologizing to her
Humility, honesty, and vulnerability are extremely important in any long-term romantic relationship. When husbands fail to acknowledge or accept their mistakes and apologize, they're not helping their marriage in any way.
Sweeping your misgivings or mistakes under the rug will jeopardize your relationship. Even if your wife (although hurt from your action) desires to forgive you, she won't unless you admit your fault and seek forgiveness.
7. Avoid communication with her through calls, texts, social media, and so on
If you feel like my husband is breaking my spirit, one of the reasons could be the lack of correspondence from his end when you try to communicate with him via calls, social media platforms, texts, etc.
Husbands, please listen. Although you and your wife aren't young and just dating anymore, it is still important to respond to your beloved's texts and phone calls. Consistently communicating with her is important to make her feel valued.
8. Not focusing on her needs when it comes to sexual intimacy
Sexual intimacy is pivotal in marriage. But as a husband, if you're focused on receiving pleasure but not giving it back, this is taking a toll on her. Self-centeredness, when to, comes to sex, is extremely hurtful.
When husbands focus on their pleasure when it comes it sex, it can make the wife feel very objectified and just as a means to achieve the goal. Husbands may be causing pain to their wives if they aren't responsive and giving in the bedroom.
Related Reading: 15 Essential Tips to Improve Physical Intimacy In a Marriage
9. Forgetting about planning date nights or spending quality time
Quality time is another aspect of marriage that is essential. If a couple isn't spending quality time regularly, it may impact the marriage's passion, appreciation, respect, communication, and trust.
It is important that you know how much your wife values quality time as a husband. So, if you're not initiating or ensuring regular date nights or other activities to spend quality time with your wife, she will be hurting.
Related Reading: The Importance of Date Night in a Marriage and Tips to Make It Happen
10. Speaking very curtly with her
If you feel like breaking my wife's spirit, then speaking with curtness to your wife may be one of the reasons. At a time of gender equality, no woman will appreciate being spoken down to.
Although you may be doing it unknowingly, it can deeply bruise her spirit when you talk down to your beloved. She may end up feeling inferior (even though she isn't at all inferior).
11. When a husband undermines how hard his wife works
No woman will appreciate a husband who does not value her hard work. If you're a husband, ask yourself this: how would I feel if my wife undermined the work I do for the family?
You'd be hurt and wouldn't like it at all, right? Your wife's spirit may also be crushed if you undermine her contribution to the family.
Here's what you can do if your husband ignores you:
12. Correcting her when she's communicating
If she's in the middle of a conversation with you or with someone else and then you suddenly try to correct what she's saying, you may be unknowingly embarrassing your wife. Not just embarrassing her, you may be hurting her deeply.
Your wife may feel devalued and demeaned if you do this, especially around your kids or in social settings.
13. Behaving suspiciously around your wife
Although there may be situations where you conceal some information from your significant other to protect them, it isn't helping. Your wife will notice your suspicious actions and inevitably feel hurt by them.
If your wife gets an eerie feeling from what you say, it hurts her.
14. Underestimates and minimizes what seems important to her
When a husband breaks his wife's heart, it may be because he underestimates and undermines what she considers to be important.
Whether it's something you said that hurt her or you undermine or underestimate her hobbies, passions, and interests, you're crushing her spirit.
15. Admiring other women
One of the top reasons a husband breaks his wife's heart is when he overdoes it by admiring or appreciating other women. Behaviors like staring at other women and admiring another woman a little too much will hurt your wife.
Related Reading: Admiration Is an Essential Part of a Relationship
My husband has broken my spirit: What to do now?
It is tough when a husband breaks his wife's heart. However, there are ways to tackle this situation effectively.
Firstly, introspection is essential. Think about the times when you felt hurt by your husband. What did he say or do that bruised your spirit and broke your heart?
Once you have some clarity on the situations and behaviors, the next step is to have open discussions with your husband about how you're feeling extremely hurt and upset by his behaviors.
Boundary setting and corrective steps are the following two things that you can do together. Apart from this, you and your husband may even consider couple's counseling or family therapy.
Having an unbiased mental health professional to help you both navigate through the difficulties in your marriage can be very helpful. Apart from this, you may both consider doing a course about being intentional in the marriage too.
Conclusion
Remember to introspect and think about whether your husband is unintentionally hurting you in the ways mentioned above. Consider couple's counseling for navigating your way through this matter!
Share this article on
Want to have a happier, healthier marriage?
If you feel disconnected or frustrated about the state of your marriage but want to avoid separation and/or divorce, the marriage.com course meant for married couples is an excellent resource to help you overcome the most challenging aspects of being married.
More On This Topic
You May Also Like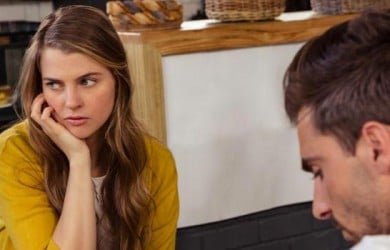 Popular Topics On Married Life