50 Best Things to Talk About With Your Boyfriend
Communication is beyond empty and dishonest words. It is about listening and understanding your partner's view and getting to know them more.
Particularly in long-term partnerships, it is simple to allow genuine connection and desire to wane. But admitting that you're not connecting as much as you used to is the first step in learning how to enhance communication in a relationship.
The next step is knowing the right things to talk about with your boyfriend.
50 best things to talk about with your boyfriend
It is easy to come up with topics to talk about with your boyfriend, but as time passes, it is hard to determine what to talk about with your boyfriend.
So arm yourself with the right things to talk about with your boyfriend, curl up on a sofa with him and spend the next couple of hours discussing everything under the sun.
1. What is your best food?
Knowing your partner's best food can help express your affection towards him. You can surprise him with breakfast in bed or make a reservation at his favorite restaurant.
2. Do you have a dream job?
Subjects to talk about with your bf include his dream job. It is crucial you know the aspirations and dreams of your partner. This will give you more insight into the person they are.
3. Are you allergic to any food?
Imagine surprising your partner with a homemade dinner only to find them gasping over the food and struggling to breathe. That would be disastrous, wouldn't it? Well, it is best to find out about any alleges beforehand.
4. What cartoon character will you like to be
If your boyfriend enjoys animation, he might surprise you with his answer. He can even pick a female character or a villain.
5. What is your love language®?
Your partner's love language® might differ from yours, which can create a misunderstanding if you don't express love to them in that way. So it's best to know if their love language® is words of affirmation, gifts, acts of service, quality time, or intimacy.
Watch this video to learn about the different types of love languages®.
6. Are you interested in taking a trip with me?
Does your partner love to explore the world or travel? Ask him if traveling interests him and surprise him with a trip.
7. Are you interested in marriage?
Is marriage your end goal? If it is, it's an important thing to discuss with your bf. Ensure you know if marriage is an option for him in the future.
This will prevent you from being emotionally invested in a relationship that isn't leading anywhere for you.
Related Reading

: 

21 Signs You Are Ready for Marriage
8. Do you want to have children?
This is one of the normal things to talk about with your boyfriend before the opportunity passes. If your boyfriend is interested in children and you are not, such a conversation should be discussed.
9. Have you picked out names for your future kids?
Discuss names for your future kids with him. If there are any disagreements, you must find out early.
10. Do you like spicy food?
Only some people can handle spicy food, so it's best you know what your partner enjoys. You want him to succeed to finish the food you made.
11. What is your least favorite chore?
You can learn about your boyfriend's likes and dislikes by learning about the little details. This includes the chores he dislikes.
12. Ask me any question
Allow your boyfriend to know you, and be prepared to answer honestly. Your partner can only be forthcoming if you are too.
13. What is the most embarrassing thing you have done?
Get to know about the partner's past, the good and bad parts. His embarrassing moments can be funny or tragic but ensure you respond sympathetically.
14. What was your first impression of me?
Regardless of his response, it would help if you were prepared to handle it. You might find out it was love at first sight.
Related Reading

: 

5 Reasons Why Are First Impressions Important in a Relationship

 
15. What is the worst thing you have ever done?
It's essential you know the conversations to have with your boyfriend, including the worst parts of your partner. No human being is perfect, and this question will let you know your partner better.
16. What celebrity would you like to meet?
His decision might expose a side of him you didn't know existed. Depending on who he picks, you can determine if he is attracted to powerful or intelligent women.
17. What country will you love to visit?
We all have that one country we dream of visiting, so it's important you know your boyfriend's dream country too.
18. What memorable experience do you remember from childhood?
Childhood experiences shape our personalities as adults. So knowledge about your boyfriend's childhood memories will give you an insight into who they are.
19. What is your favorite movie?
One random thing to talk about with your boyfriend is his favorite movie. Is your boyfriend fond of action or tear-jerking movies? Being aware of his preference will make movie night a lot more enjoyable.
20. What do you love about me?
Why is your boyfriend attracted to you? If you have always wondered about this, then stop tormenting yourself and ask him straight up.
21. Where do you want to be 10 years from now?
This question aims to determine if your boyfriend sees you in the future. Whatever plans he has in mind, are you a part of them?
22. Are you satisfied with your job?
If your partner is dissatisfied with his job, chances are his negative feelings will leak into his private life. But if he can discuss and express his feelings, it's a step forward in working through it.
23. Is saving important to you?
Having a boyfriend who spends outside his means can drain your finances in the future. Therefore, it is essential you know if he is interested in savings and investment opportunities.
24. Do you have a sexual fantasy?
Although most guys love to hear this question, if he seems uninterested, he probably just isn't feeling shy. But give him time to answer the question, don't push him or laugh at his sexual fantasy.
25. Do you believe in living together before marriage?
Is your boyfriend strictly for living together after marriage? If this is his stance, imagine how awkward and hurt you will be if he turns down a key to your apartment.
26. How close are you to your family?
If there is a future with your boyfriend, his family will become yours. His relationship with his family, whether good or bad, will significantly affect your relationship.
27. Tell me about your medical background
This is one of the most important things to talk about with your boyfriend. Mental health issues, STDs, and other issues can affect your relationship in the long run. Medical background is a complicated and touchy subject, but it needs to be discussed.
28. What do you love seeing me in, a dress or shorts?
Did your boyfriend invite you out on a special date? Then you can put a smile on his face by wearing something he will definitely appreciate and drool over.
29. Are you an introvert or an extrovert?
Does your boyfriend love going out or hosting parties, and do you prefer a quiet dinner at home? If so, discuss your preference with your boyfriend and find common ground.
 

Related Reading

: 

10 Essential Tips for Introvert and Extrovert Relationship
30. What is your best childhood memory?
It can be anything from pranking his friends to a trip he took with his parents. You can get a look into his boyhood with his fun childhood memories.
31. What are your hobbies
What does your boyfriend enjoy doing in his free time? Gyming, sports, pottery, or video games. Find out what he loves doing because chances are you won't figure out his interests on your own.
32. Do you prefer cooking or ordering in?
Is your partner a chef in the making, or can he barely find his way around the kitchen? It would help if you discussed this with your lover because it will shed light on a crucial aspect of his personality.
33. Do you still communicate with your ex?
This is a sensitive question but a necessary one to know if your boyfriend is still hooked on his ex. If he still keeps in touch with them, you can probe him for his reasons to figure out if you should be worried.

Related Reading

: 

Communicating With Ex: 5 Rules to Keep in Mind

 
34. What is something nobody knows about you?
This allows him to talk about himself and open up about any secrets. It is essential you are not judgmental but remind him he is in a safe space and can open up about anything.
35. Tell me about your worst date
We have all had that one date that made you cringe at the thought of it. You can exchange funny stories about past dates with your partner.
36. Do you plan everything down to the last detail?
Some people are more flexible than others and prefer going with the flow. While others have a tight schedule that they stick with. His response will give you more insight into his view of life.
37. Do you have a hidden talent?
Discover your boyfriend's hidden talent; you might be shocked he is a talented dancer or skater.
38. Do you enjoy discovering new coffee shops?
You can learn about your partner's characteristics over a cup of coffee. For example, you can have morning dates if your boyfriend is interested in visiting new coffee shops. This will also give him the opportunity to experiment with his brew over questions.
39. Do you prefer me with or without makeup?
Your boyfriend might surprise you by saying he loves you regardless of how you dress. So get to know his preference, but this doesn't mean you have to change your life to fit into it.
40. How did your last relationship end?
This conversation needs to be had in case his last relationship was toxic, or he is still into his ex. Then, both of you can learn from past mistakes and build a healthier relationship.
41. What is your biggest fear?
If your partner is afraid of failure or being judged, it is essential you avoid ridiculing him, even as a joke. Instead, always let him know you appreciate and are proud of him.
42. Do you love reading?
If both of you love literature, this is an excellent way to bond and can become your constant topic of conversation. You can even get him a book you have read and discuss the storyline together.
43. Do you have a favorite hero?
You can infer from your boyfriend's answer if he is interested in actors that use brute force or prefer subtle and calm heroes.
44. What is your most daring experience?
Is your boyfriend into extreme sports, or does he love adventures? Hear about his most daring experiences over a glass of wine; you might be shocked that he has been on backpacking trips worldwide.
45. Cuddling or intimacy?
Some people enjoy lazing in bed the whole day, cuddling, while others are more passionate. Find out which category your boyfriend falls under to get to know him better.
 

Related Reading

: 

Is Cuddling a Sign of Love

?
46. What would you like to receive as a gift?
Want to know what kind of gift your partner values? Then ask him this question; it can be as surprising as having a baby with you or a car.
47. What excites you?
Your physical appearance or the way you dress can be a turn-on for your boyfriend. Of course, it can also be your perfume, ethics, and characteristics, but you can only know the exact thing once you ask.
48. Who is that one person you can always rely on?
Whether it is a childhood friend, a parent, or an uncle, you should know that particular person. This will also give you an insight into the challenges and achievements.
49. What do you enjoy doing after work?
After a day of work, what does your boyfriend enjoy doing to unwind? Does he work out or have a games night with his friends? This gives you a sense of how he handles pressure and what you can do to support him.
50. I need your advice; can you help me with this?
Show your boyfriend that you trust him and you need his assistance. Then, don't hesitate to ask him for his help and advice.
FAQ'S
How do I keep the conversation going with my boyfriend?
Only through communication can you build a healthy relationship, so it's necessary to learn how best to know the right things to talk about with your boyfriend.
You can start by asking open-ended questions, reading non-verbal cues, and, most importantly, listening to what he says.
If you think that the communication between you and your boyfriend needs to be discussed with a professional, you can also opt for couples counseling.
How can I impress my boyfriend by talking?
You can only impress your boyfriend by being open and honest. Be affectionate towards him, and let him know you are proud of him and his achievements.
Conclusion
Getting to know someone takes time, attention, effort, and many questions. So if you ever run out of things to discuss with your boyfriend, don't be afraid.
Go through the questions above to determine the things to talk about with your boyfriend and fill that awkward silence.
Share this article on
Want to have a happier, healthier marriage?
If you feel disconnected or frustrated about the state of your marriage but want to avoid separation and/or divorce, the marriage.com course meant for married couples is an excellent resource to help you overcome the most challenging aspects of being married.
More On This Topic
You May Also Like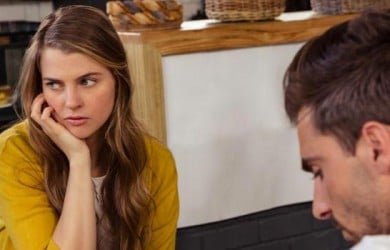 Popular Topics On Married Life