6 Simple Ways to Show Love to the People You Care About
Love is an incredibly sweet thing to experience and express. Affection toward a partner, parents, children, and even friends is what holds us together.
But, those we love can sometimes get disillusioned if we don't express it enough. So, when you love someone, there are times when you need to think through ways to show love and affection.
Strangely, love is better when given than received. So, how to tell someone you love them? To be precise, how to show someone you love them?
There are many ways you can show affection to those special people in your life and let them know just how priceless they are. When you are contemplating how to show love, you don't have to spend a lot of effort or money either.
To start you off, here are six simple ways to show love to the people you care about.
Love is the most intimate bond between two people, and its roots grow deeper where trust and honesty are found.
For starters, if you truly love someone, one of the best ways to show love is by being honest with them. Let them know what you're feeling, what you're planning, what you're thinking.
Many people shy away from truly being open with anyone because they fear it makes them vulnerable. Isn't that the whole point of love, though?
That person who adores you will protect your weakness, help you when you are down, and always watch your back. Truthfulness in love lets your loved ones know that you trust them with your life.
It shows them just how important they are to you, and it encourages a similar response, which, in turn, strengthens the affection even more. The majority of people think that trust is the most crucial thing in a relationship, according to a study.
Show love to your partner by baring your heart as far as you dare. Share a secret or two that you have never told anyone else.
It doesn't have to be a big secret either – tell them about something that happened in your childhood, which you have never told anyone else. That way, you can establish a deep sense of trust and truly show your affection.
2. Ask about things they care about
Everyone has that something they genuinely care about, enjoy, or that is important to them. One of the small consistent ways to show love instantly is to ask about such things.
Ask your friends or your loved one about their career, hobbies, parents, and other such things. This gesture shows genuine interest, and people like to associate with those who make them feel good.
If you are the type of person who people remember fondly, you will have fulfilled part of your duty as a friend.
You can also show your love and affection by participating in fun events and activities with those you love. Watch a movie they enjoy, participate in a hobby they like, or join in family occasions.
3. The little things count
The saying 'it's the little things that count' is so cliche, yet true. The smallest gestures can have grand interpretations when infused with the magic of love.
For example, you can buy your loved one a cup of their favorite coffee to show your affection.
Make sure that you memorize all the important occasions for your friends, including such as birthdays and anniversaries. It shows that you think about them and care about their welfare.
If you can remember back in your childhood, the purest of friendships and relationships sprouted from actions as simple as saving a seat on the bus for someone.
The most meaningful actions are often those that are most subtle in appearance.
Sharing a meal, taking care of each other's pets, and bailing them out of jail surely are some of the simple ways to show love.
4. Show solid support even in tough times
The most accurate mark of love is sticking with that partner, friend, sibling, or colleague, even when things get tough.
When they lose their job, follow up on their welfare to see how well they are doing. When sickness or bereavement occurs, you need to be there to offer support.
These are pretty easy yet effective ways to show love during tough times.
Also, remember to show love to someone by celebrating the good times and big wins with them. You are meant to be happy when a loved one achieves something big, and it means a lot to them that you are there to share all their significant moments.
Love is meant for times such as these. Helping a friend pick themselves up and get strong enough is one thing that only the most genuine care and affection can accomplish.
5. Get innovative
Flowers are the mark of gallantry and charm, but they are outdated. Chocolate speaks of love even more fluently, but it is still cliche in its own way.
If you really want to express affection, in a unique way, get creative.
If you are wondering what are the best ways to show love to someone freshly and innovatively, you can take advantage of online sites that allow you to send exciting gifts and services at the click of a button.
For example, want to surprise your friend with a massage? These and other special signs of affection can be given from anywhere in the world.
6. Keep in touch
Sometimes, showing love is as simple as keeping in touch. In today's world where everybody is getting busier and busier, your time and attention is your most precious resource.
Taking time off your crazy schedule is undoubtedly one of the best ways to show love.
Obviously, you cannot always afford to hold an hour-long conversation with someone, no matter how much you love them. However, with today's technology, you can still figure out how to keep in touch and show them love and support.
Talking to your loved one is important because it keeps your memory fresh and sweet in their minds.
Also Watch:

Conclusion
Saying you love a person is good, but the real deal comes when you have to think of ways to show love.
In reality, there are a thousand ways to show love and affection, but these six ways are pretty easy to implement and can fetch you a fantastic response from your loved one.
Share this article on
Want to have a happier, healthier marriage?
If you feel disconnected or frustrated about the state of your marriage but want to avoid separation and/or divorce, the marriage.com course meant for married couples is an excellent resource to help you overcome the most challenging aspects of being married.
More On This Topic
You May Also Like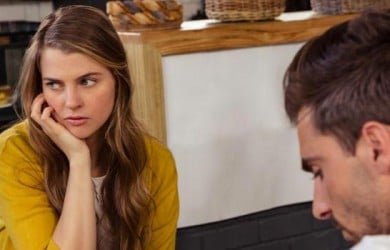 Popular Topics On Married Life