5 Excellent Ways to Bond with Your Spouse in Your Busy Lives
Our hectic, busy, modern lifestyles filled with technology, unhealthy habits, extended working hours, and all our endless responsibilities, can often leave us with depleted energy stores. It is during these times that you start wishing for just a few minutes of alone time to close your eyes for a few seconds and just breathe. Let us sketch a scenario of a typical daily routine, in an ordinary household. You struggle to get out of bed, are temporarily rescued cup of coffee, which carries you through your mundane morning routine. After dropping the kids off at school, you make a quick stop at any store keeping a regular supply of your favorite energy drinks, that you will consume during the day, in an attempt to at least be able to sustain, and conserve your barely noticeable energy level. On your way home, you are already starting to feel discouraged, because you know that your second shift eagerly awaits you. The moment you realize that all your household responsibilities for the day are done, you suddenly experience an involuntary system shutdown. Now, when you are a bit of a workaholic, and still need to complete some assignment for work, the matters get worse. You and your partner might be together and might share or discuss matters of immediate importance, but you can hardly call that communication attempt, your way of truly trying to connect with your partner. Well, you force yourself to complete that earlier mentioned assignment, while your partner falls asleep, which means that you will only see and talk to each other the next morning.
Because you are already tired and lethargic,I am almost certain that you are definitely not going to jump out of bed at five o'clock in the morning, bright eyed and bushy tailed to either go for a quick, yet refreshing jog together with your partner. You will neither be able to make an effort to get up that early to have any form of communication while knowing that you can never find the time for it at night, even though you really, really try with the best intentions.For this reason, we need to create alternative shortcuts and time hacks to bond with our partner.
5 ways to sustain positive connections throughout any busy day:
1. Transform the things you need to do every day, into bonding opportunities
You need to cook or prepare food every day, invite your partner to cook with you, at least three times a week. Furthermore, you need to eat. You know that old school notion, which required the whole family to have dinner together at a table, without any form of disturbance? Insist on bringing back a little old school, into your home. Dining together as a family, resulting in precious and invaluable bonding time, will increase your family's
relational, psychological, and social well-being.
2. Never underestimate the power of touch
I can guarantee you; chances are good that you and your partner continuously move around in close proximity to each other. Instead of just rushing to the next room, become mindful of every opportunity to just reach out and touch your partner. This can include anything from a slap on the bum, a quick hug, a stolen kiss, etc. I am sure you will be able to think of an extra few creative,"quick-touching" ideas to add to your list.
3. Little notes everywhere
You need to take a daily shower or bath, resulting in the fogging up of glass and mirrors. Use this opportunity to leave a finger drawn picture note or keyword to brighten up your partner's day. Your children will also enjoy the revelation of your secret notes to each other, and will once again be reassured of their parents love for each other. When you pack the lunch boxes for the next day, write a quick note and slip it into his or her lunch box, they will love the unexpected surprise. When you make that quick stop to buy your energy drinks, buy a small treat for your partner and hide it under their pillow, for example. You can also just send your partner a quick message saying something like, "thinking about you", "have I told you lately that I love you?", "Miss you!", etc.
4. Let your body language and intentions do the talking
When you do get the time to watch a movie or series together, make an effort to curl up against or hold your partner, you do not have to say or do anything; you can just relax and be together.
5. Declare that Sundays are your exclusive family day
According to scientists, happily married couples need to spend at least 5 hours of quality talking time to ensure marital satisfaction and happiness. Plan a few fun and exciting activities for your exclusive family day. It does not have to be something extravagant and grandiose, a picnic in nature, a stroll in the park, or taking out your old photos and relive your memories together, will be sufficient. Remember that it is not about what you do, it is about how it makes everyone feel.
Please share your experience, after implementing these alternatives. We appreciate your feedback and are always grateful for the privilege to celebrate positive changes in your life and marriage with you.
Share this article on
Want to have a happier, healthier marriage?
If you feel disconnected or frustrated about the state of your marriage but want to avoid separation and/or divorce, the marriage.com course meant for married couples is an excellent resource to help you overcome the most challenging aspects of being married.
Learn More On This Topic
You May Also Like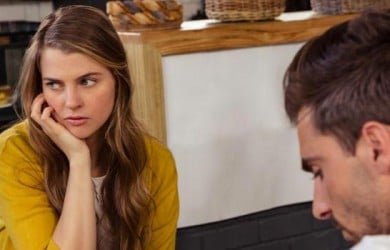 Popular Topics On Married Life