7 Signs of Being Unsatisfied in Relationship
Are you feeling unsatisfied in relationship? Do you feel like your relationship has come to a standstill? Are you not getting what you expected from it all?
The tragic fact is that even though they are feeling unsatisfied in marriage or are in an unsatisfying relationship, a lot of couples choose to stay together and not make any efforts to bring back the lost spark.
Sometimes you get so used to the idea of being unsatisfied in a relationship and have a partner that you can't even think of parting ways.
If you are unsatisfied in relationship and feel happier without your significant other, it clearly means that there is something wrong.
The fear of being alone or abandoned may give you feelings of uncertainty. But you should always remember that it's better to be on your own than to be unsatisfied in relationship.
Unless you are in an abusive relationship, you must try to find ways to rejuvenate your relationship.
If you are indeed someone who feels unsatisfied in relationship, here are some of the after-effects to look out for:
1. Short temper
While it is true that every couple fights but the way it affects you surely explain why you are unsatisfied in relationship.
You'll realize that you are acting in unhealthy ways. Instead of having a mature conversation, you'll argue more and more with your partner.
This behavior can also start affecting your professional life. Also, brooding, overthinking and uncontrolled anger are some signs that you are feeling extremely unhappy.
2. Lack of communication
If you and your partner often find yourselves in uneasy situations, then it means things are definitely going downhill. You find it hard to discuss the smallest of issues or prefer not telling everything.
You start keeping secrets and avoiding confrontations.
Instead of feeling excited, your heart sinks when your partner calls or texts you. The simplest of activities start to feel dull and mundane. Maybe it's time to reevaluate your relationship or you'll start feeling even more terrible.
3. No trust
You'll find yourself checking your partner's phone history. Trust is the glue that holds any relationship together. Also, you might be questioning your partner's behavior or actions. It means that you need to reassess the status of your relationship.
If there is no trust, there is no understanding. Gradually, there will be further deterioration ultimately causing the relationship to fall apart entirely. Hence, you should talk it out or take action before the situation worsens.
4. Thoughts of being with someone else
Your partner not might be your soulmate if you keep on fantasizing about some other person who in your view, might be a better match. Also, you don't feel comfortable with them.
If you have a specific person in mind who you believe would be more compatible then it's time to reconsider stuff.
Your significant other is not the first person you want to spend your time with after a busy day at work or an occasion. You might start contacting your exes or feel curious about what's happening in their lives.
This surely indicates that you are terribly unsatisfied.
5. Feeling depressed
Regardless of what you do in your everyday life, you will have great and awful days. Your relationship is the same.
In any case, what you're experiencing should not make you feel uncomfortable in your own home.
In the event that you continually fear returning home on the grounds that your spouse is there, there's an issue.
When that longing to be distant from everyone else turns into a voracious fixation, it's time to acknowledge that you are depressed and unhappy in your relationship and you must take the necessary steps to make yourself smile.
Here are some signs of depression when you feel unsatisfied in relationship:
Loss of sex drive.
Constantly arguing.
You feel like isolating yourself.
You feel turned off to things you used to be enthusiastic about.
Everything feels overwhelming.
Also watch: 7 signs your relationship is making you depressed.
6. Feeling uncomfortable
Recall every one of those things you discovered about yourself when you initially got together, the way they made you feel, they joy they brought in your life.
In the event that they don't make you to feel that way any longer or make you fell awkward about being you, at that point her or she is just hauling you down.
You should be alright with what your identity is. This implies being happy in your skin and the manner in which you walk, talk, look, breath, move, and the various things that make you extraordinarily you.
In the event that your partner, who once adored you, doesn't make you to feel great about yourself, know that it is time to move on from such a relationship.
7. Unsure about the future
It is all too easy to be lured into a false sense of comfort and security. However, if you'll analyze things you'll conclude that you might not want to end up with your significant other.
Both of you avoid making future plans or meeting each others family members. Commitment won't feel like a priority.
If you are unable to share life's joys with each other, it's time to take a look at how you really feel.
You never know you and your partner might reach a mutual understanding.
Your relationship should be something that makes you feel positive about life. It should propel you forward. If it's not going anywhere and daily tasks become monotonous, then there is something lacking from the beginning.
The best thing would be to take charge and discuss it with the person involved in order to avoid further damage.
We hope that these signs were enough to make you realize that you're not satisfied with your relationship. Lastly, remember to stay strong and don't forget to express your concern.
Good luck and Good riddance!
Share this article on
Want to have a happier, healthier marriage?
If you feel disconnected or frustrated about the state of your marriage but want to avoid separation and/or divorce, the marriage.com course meant for married couples is an excellent resource to help you overcome the most challenging aspects of being married.
Learn More On This Topic
You May Also Like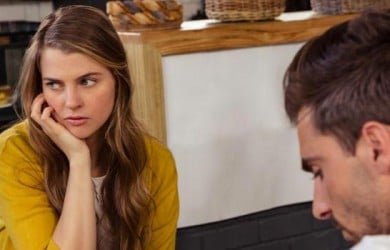 Popular Topics On Married Life