15 Signs of a Clingy Partner & How to Stop Being Clingy
Wanting reassurance of your partner's feelings is considered natural when you're in a relationship. After all, it's always nice to hear how much you're valued and appreciated, especially by someone you care about.
However, balance is crucial when it comes to this, as you can easily end up having a clingy partner or becoming one if you're not careful.
Fortunately, there are certain signs of a clingy partner you can look out for to avoid being involved in a too-clingy relationship. You can check them out and what you can do about it here.
The definition of clinginess – what it means to be clingy in relationships
Before we dive into the signs of being clingy, let's first discuss what it actually means to be clingy when you're in a relationship.
In relationships, clinginess is typically defined as constantly needing reassurance or support from your partner, often compulsively or frantically.
What is a clingy person?
Clingy partners tend to ask their partners for repeated reassurances and support, even if their partners already went out of their way to prove how much they care and love them.
There are many reasons for clingy behavior, ranging from fulfilling unmet needs low self-esteem or relationship anxiety. It can even be caused by conditions like Rejection Sensitivity Dysphoria, which can manifest as clinging to someone they want approval from, like their romantic partners.
Of course, it can also be from simply being eager to be in a new relationship, which can sometimes lead them to become needy and clingy.
Examples of clinginess in relationships
Clinginess can be subjective. What is clingy, according to one person, may not be problematic for another. However, there are some things that can qualify as examples of clinginess in relationships. Those are –
Calling your partner several times a day, even when you know they are busy

Overthinking

where they are and who they are with if they do not respond

Texting them frantically throughout the day

Creating a scene if they decide to go out with their friends or do not take you along

Feeling insecure or threatened by work friends, friends, or acquaintances of the gender they are attracted to
What causes clinginess in relationships
Clinginess in relationships doesn't just happen. There are various factors and reasons that may
contribute to clinginess in relationships. Read on to learn what causes clinginess in a relationship.
1. Insecurity
If you are an insecure person innately, chances are that you will be clingy in relationships. You have a subconscious fear that your partner will find someone better than you, and that fear makes you want to be around them all the time so they do not get that chance to replace you.
2. Low self-esteem
Low self-esteem or self-esteem issues can be another reason for clinginess in relationships. This is because you do not think of yourself as good enough, which makes you think that your partner can always find someone to replace you with.
3. Abandonment issues
If you grew up with an emotionally unavailable parent or have abandonment issues from your childhood, they might make you clingy in relationships. This is because you fear that everyone you love will leave you. To avoid that, you tend to cling to people you love so they do not abandon you.
Related Reading:

 15 Signs of Abandonment Issues and How to Deal With Them
4. Anxiety and fear
Another reason why people get clingy is because of fear and anxiety. Anxiety is the fear of the unknown, uncertain situations, and apprehension. The anxiety of where the relationship is going and if it will turn into what you want it to be can cause you to become clingy.
5. Mate value discrepancy
Male value discrepancy basically means the difference between two people's attractiveness levels. For instance, if you are a 5 on the scale of attractiveness, but your partner is a 9, you are likely to feel insecure and that they could pull anyone they want. A feeling like this can make you clingy in relationships.
To understand why we may think our partner is too needy, watch this video.
Top 15 signs of a clingy partner
So, how do you know if you have a clingy partner?
How do you know if you're clingy yourself?
Here are the top 15 signs of a clingy person in a relationship.
1. Constant calls and messages
Communication is critical for any relationship's success, but clingy partners can sometimes take this too far by continuously blowing up your phone with calls and messages. In this case, they may appear as wanting to always have access to you and your life.
2. Expecting immediate responses
Wanting your partner to respond to your messages as soon as possible is only natural, especially when you're excited to hear from them. However, one of the signs of a clingy partner is when your partner expects you to respond almost immediately.
So, they don't take it too well if five, ten, or fifteen minutes go by without a response from you. They may end up sending you multiple consecutive messages or calling numerous times in a short period.
3. They don't give you enough space
Even when in a relationship, having enough time to yourself and grow as an individual is crucial. So, another sign of a clingy partner is that they don't give you enough personal space, always wanting to be where you are, even when you'd rather be alone.
4. They always ask for reassurance
While it's always nice to be reassured of someone's feelings for you, a too-clingy partner will constantly ask for reassurance. However, they will still feel skeptical or doubtful about its truthfulness.
5. They don't like it when you make plans with others
Spending time with other people outside of your relationship is vital for your growth as an individual. However, one of the signs of clingy behavior is when your partner expresses displeasure whenever you make plans with others, whether it's with your friends, family, or colleagues.
6. They are too dependent on you
Being able to stand on your own even when you're in a relationship is essential for your growth as an individual. However, a clingy spouse or partner will be too dependent on their partner, often making their entire world about the relationship and nothing else.
7. They always want your attention
Wanting to be noticed by your partner is only natural, but it can be a sign that you're with a girlfriend or boyfriend who is too clingy when they want you to notice them and only them. So, they can become frustrated when your attention is elsewhere.
8. They're constantly checking your social media
Social media has undeniably done wonders for couples worldwide, bringing them closer even when they're apart. However, clingy people tend to use these platforms to constantly check up on you and may even use what they dig up to ask you what can sometimes be considered invasive questions.
9. They constantly feel insecure about the relationship
Having a few fears or insecurities about your relationship is only natural, especially at the beginning. However, a clingy partner will frequently feel insecure and unloved, and this can manifest in clingy behavior, such as repeated requests for reassurance and updates when you're not around.
Related Reading: 

10 Causes of Insecurities in a Relationship Not to Overlook
10. They don't have hobbies or friends of their own
Having interpersonal relationships beyond your romantic one is essential to becoming a well-rounded person. However, a girlfriend too clingy will often center their world around their partners, and you may notice that they don't have many other friends or interpersonal relationships aside from you.
Likewise, they may also end up dropping their hobbies before the relationship and adopting yours instead so that they can have as much in common with you as they can.
11. They tend to be too possessive
Jealousy and feelings of possessiveness are natural when you're in a relationship, but too much can harm your relationship.
When you're with a clingy partner, you'll notice that your partner is clingy when they tend to be too possessive of you, often expressing their frustrations and suspicions when you interact with other people. This is especially true if they think they can be potential romantic rivals.
12. They tend to speed up the relationship's pace
Every relationship has its own pace, and it's essential to respect that if you want to have a healthy and long-lasting relationship. However, when your partner is too needy and clingy, they will often want to speed things up to solidify the relationship.
This often means wanting to meet your parents after only having a few dates or saying "I love you" before either one of you is ready.
13. They always tag along, even when they're not supposed to
Wanting to spend time with your partner constantly is only natural when you're in a relationship. However, one of the most apparent signs of a clingy partner is when they always want to tag along to where you go, even when they're not supposed to.
They will often insist on going with you to events, outings, and even just errands. Sometimes, they might even attend gatherings with you even when they don't have an invite.
14. They hold back their true self
Being in a loving relationship often entails a level of comfort that allows you to be your true self, even when it can cause some disagreements. However, when you have a clingy partner, you'll notice how they always seem to be holding themselves back to avoid upsetting you.
15. They're overly physically affectionate
Physical affection is often an essential component for relationships since it can help bring you and your partner closer together, literally and figuratively. However, when your partner is too affectionate, this can be one of the signs of being clingy, especially if they tend to cling onto you.
How to stop being clingy – what you can do
Being in a relationship with a clingy partner can be admittedly tough, and the constant requests for reassurance can take their toll on your relationship. So, how can you stop yourself or your partner from being too clingy?
1. Accept there's an issue
Changing your or your partner's clingy behavior won't be easy, and it won't happen overnight. Still, you can be off to a good start if you accept that clinginess negatively affects your relationship.
Accepting that there's an issue is crucial to any change, and it's also considered integral to many types of behavioral therapy. So, before starting any changes, it's best to accept the situation first.
2. Start the conversation
Once you have accepted that being clingy has become a problem, you can then have an honest and meaningful conversation about it. Talk to your partner and respectfully let them know about how you feel regarding their clingy behavior.
Not only can this give you both clearer insights into the relationship, but doing so can also help you come up with solutions that can work for both of you.
Related Reading: 

How to Start a Conversation With a Guy: 30 Charming Ways
3. Pursue your passions
How to be less clingy in a relationship?
When we are too clingy in a relationship, we tend to make the other person the center of our universe, to the point that we forget that we have and should have a life beyond them. Pursuing your own passions, things that make you feel happy and content is one effective way to stop being clingy in a relationship.
4. Hang out with your friends
If you want to stop being clingy in a relationship, one of the simplest things you can do is hang out with your friends. Being around your friends reminds you that you are loved beyond your relationship with your partner.
It can give your self-esteem a boost, and you will definitely have fun in a setting without your partner. This can help you become less clingy in your relationship.
5. Give your partner space
Space in a relationship is way more important than we realize. With so many things to do – work, household chores, handling a social life, taking care of your health, etc. – anyone can get overwhelmed. Add an extremely clingy or needy partner to the picture, and the problem worsens.
If you want to become less clingy in a relationship, the best way to do so is by giving your partner some space.
6. Work on yourself
Tapping into the reasons why you are clingy in the first place can help you find ways to not be clingy. If you are clingy because of your self-esteem issues, you can try to work on yourself and build your self worth.
Similarly, if you are clingy because of abandonment issues, then speaking to a professional and handling these issues can help you become less clingy in a relationship.
7. Establish boundaries
Healthy boundaries in relationships can make the relationships smooth and easy. One way to stop being clingy in relationships is to establish boundaries. This will help you become less possessive and obsessive about your partner and give them the space they need to function healthily.
8. Understand that your partner does not have to meet all your needs
We all have emotional needs. However, one reason why we end up being too clingy in relationships is also because we expect to meet all these needs through the romantic relationship in our life. However, if you want to become less clingy, you have to understand that not all your emotional needs will be met by your partner.
Some of these needs will be met by your friends, others by your family, and some, in fact, by yourself.
9. Take time to focus on yourself
Sometimes, no matter how much you try, you may be unable to become less clingy in a relationship. If your clinginess has started to harm your relationship, it is not a bad idea to move away from it and take some time to focus on yourself.
10. Seek the help of a professional
Changing your or your partner's clingy behavior can undoubtedly be challenging, especially if you're tackling it independently. Moreover, clinginess can sometimes manifest something more complex, such as anxiety or low self-esteem.
So, if you or your partner feel like it's impossible to handle this change on your own, it might be a good idea to seek relationship counseling. They can guide you while you make these changes and even help you realize and deal with the root causes.
FAQs
Here are some frequently asked questions about clingy partners.
Is being clingy toxic in a relationship?
Clingy behavior can become toxic in a relationship. When your partner gets no space and is constantly asked for reassurance or explanations about where they are and who they are with, it can get too much to deal with for them.
How do I talk to a partner who is being clingy?
Talking to a partner who is too clingy can be very difficult to deal with. While you do not want to hurt them, you may end up feeling trapped in the relationship. One of the most effective ways to navigate a conversation about clinginess with a clingy partner is by talking to them in a solution-oriented manner instead of blaming them. This can help them see the situation in a better light.
The bottom line
Wanting to be close to your partner as much as possible is a natural part of being in a relationship, but it's also crucial to give them their space and allow you and your partner to grow as individuals.
After all, being in a relationship doesn't have to mean the end of your individuality and vice-versa.
So, knowing the signs of being clingy can help you identify them when you or your partner does them, which can help you better address them for a healthier and longer-lasting relationship.
Share this article on
Want to have a happier, healthier marriage?
If you feel disconnected or frustrated about the state of your marriage but want to avoid separation and/or divorce, the marriage.com course meant for married couples is an excellent resource to help you overcome the most challenging aspects of being married.
You May Also Like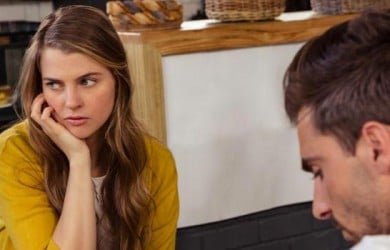 Recent Articles
Popular Topics On Married Life